Helen Sear, artist: 'I am trying to slow down the instantaneousness of the camera'
Karen Wright meets the artist in her studio in a large shed in Wales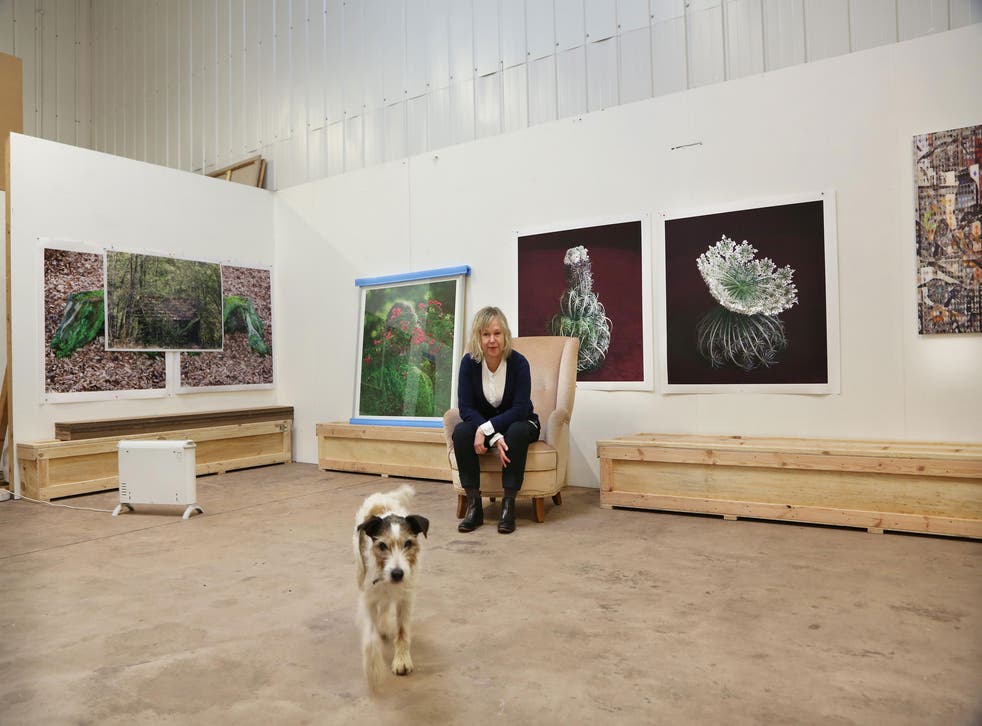 Helen Sear lives and works in Wales, and will be the first female artist to represent Wales in the forthcoming Venice Biennale. She has been in her current studio, a large shed, for the past six years. Today it is hung with the photographs that form most of her practice, although there is also a sculpture, one of several that will appear in Venice. It is in a "rural industrial estate" near to the village where she and husband have bought a former shop, transforming it into a comfortable home for themselves and their dogs.
Sear was born in 1955, "looking into Wales in Worcestershire", the daughter of a surgeon who imparted his love and knowledge of nature on long walks in the country, intoning the names of flowers and animals. "It was a point of connection as a family, getting away from the constriction of family life," she says. Walking is something she continues to do with her dogs, Marshall and Mazzy Star.
In the past she has been described as a formalist feminist, and she cites her influences as Max Ernst but also Britishness, citing the paganism of Samuel Palmer, William Blake and Paul Nash, but unashamedly quoting the Pre-Raphaelites as well.
The studio is also a store-room. There are crates of images packed and ready to be shipped to Venice. She shows me a strip, part of a larger work that will be shown. The image is a simple wood stack, an everyday sight in Wales: on the metallic background the image gleams allowing the viewer to clearly see the chisel marks of the trees' ends: "I am trying to slow down the instantaneousness of the camera, to allow the viewer to see behind the normal, adapting the surface when necessary."
A photograph of wild flowers rests against a wall. Arranged in jugs and vases found in charity shops, the local flora are a rich source of material for her. The richly textured background is made from crumpling the images and then photographing them again, reminiscent, she says, of her childhood hobby of pressing flowers.
Sear happened upon a nearby beechwood seven miles from her home. "I noticed that the trees had been marked with numbers from one to 83; they were marked for felling. It is the age of my mother." The forest has become important for her.
Much of what Sear does is to film or shoot again and again. Meticulously selecting the right print, or in some cases gardening the area to focus the lens on a specific image, she highlights the ordinary, making it extraordinary, forcing the viewer to engage with the work and puzzle out the image. "It has to be a process of discovery for me. People think that it's easy – but actually its not."
Helen Sear represents Wales at the 56th Venice Biennale (www.labiennale.org/en), 9 May to 22 November.
Register for free to continue reading
Registration is a free and easy way to support our truly independent journalism
By registering, you will also enjoy limited access to Premium articles, exclusive newsletters, commenting, and virtual events with our leading journalists
Already have an account? sign in
Register for free to continue reading
Registration is a free and easy way to support our truly independent journalism
By registering, you will also enjoy limited access to Premium articles, exclusive newsletters, commenting, and virtual events with our leading journalists
Already have an account? sign in
Join our new commenting forum
Join thought-provoking conversations, follow other Independent readers and see their replies