Honeysuckle Weeks: A new battle for a Shining star
Honeysuckle Weeks is best known as jolly-hockey-sticks Samantha in Foyle's War. She tells Charlotte Cripps why her role in a hard-hitting play about women's rights in Twenties Chicago makes a welcome change
Charlotte Cripps Comments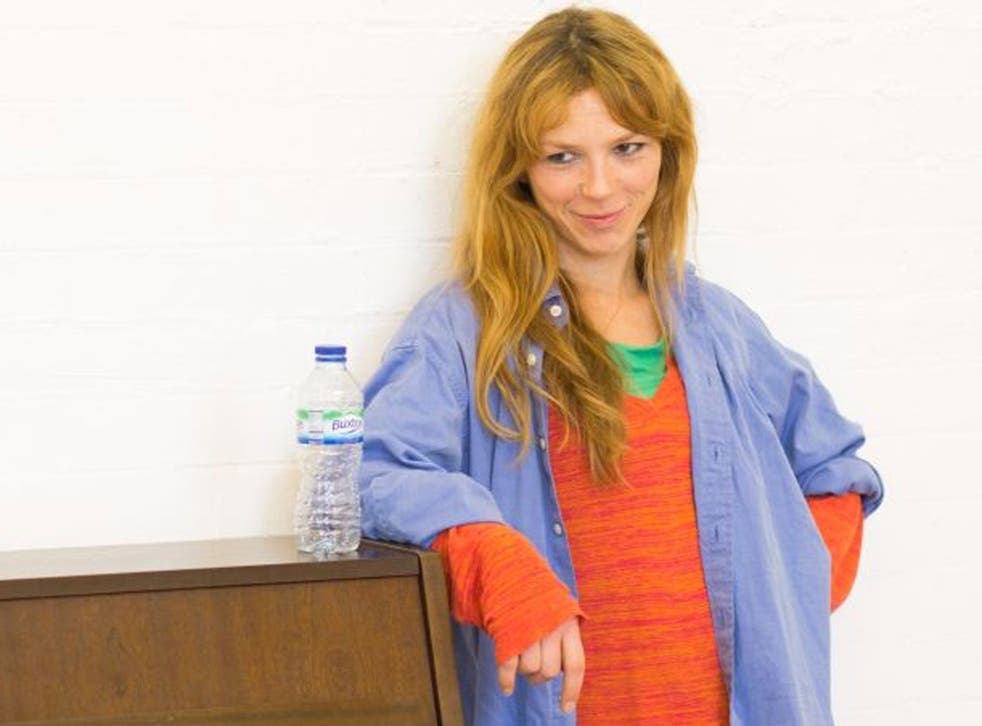 With the names Honeysuckle Weeks and Charity Wakefield starring in the UK premiere production of These Shining Lives directed by Loveday Ingram, you can only imagine what rehearsals are like. It sounds as if they should all be in a Jilly Cooper novel – not a hard-hitting play about employees' rights in the workplace. The American playwright Melanie Marnich's moving play about a group of women who get radium poisoning at work in the Roaring Twenties is the inaugural production at the newly built Park Theatre in north London, a former vacant office building in Finsbury Park, with two auditoriums, a café-bar and gallery.
As I walk into a very light rehearsal space, Weeks, 33 – who was named after the Honeysuckle plant that was in bloom when she was born, is sitting at a table wearing a fluffy Tibetan jumper and jeans. She is best known for her role in ITV's long-running series Foyle's War as Samantha Stewart, the jolly-hockey-sticks driver of Detective Chief Superintendent Christopher Foyle, played by Michael Kitchen. Now she is lapping up playing a new character and practising her Chicago accent for her role as Charlotte, a feisty and sophisticated worker at Radium Dial who is, according to the script, "like Mae West".
Based on a true story, it tells the shocking tale of employees of American company Radium Dial, who were paid well to paint dials on watches – unknown to them with paint containing radium. "They believe they are being paid extraordinarily well as unskilled workers – this is what seduced them to work at this dodgy company," says Weeks, who has been swatting up on her research.
Playing real-life women who filed lawsuits against the company and who died from radium poisoning is challenging. "In the play we just get more and more ill and we start to glow on stage as the radium leaks into our bodies," says Weeks, who will be covered in glow paint so she radiates on stage.
This play is a welcome interlude for Weeks in between filming Foyle's War – a detective series set against the backdrop of the Second World War – the last series of which finished last month. "They always say it's the last series – but it looks as if we will start shooting the next series in the autumn," she says.
She landed the role when she left Oxford University in 2001 and it is a part that has given her plenty of stability ever since. "Samantha and I have grown up together. It can make you lazy playing the same character – if you are familiar with the character you just waltz into the workday – that's why I wanted to do something different," she says.
"They did used to threaten to drop a bomb on me," says Weeks, "just to let me know I could be kicked off anytime – but I managed to survive all five of them thankfully."
It's not such a lucrative deal as it seems because she gets endlessly typecast. "I spend a big effort getting that 1940s posh accent right for Sam – but many casting directors are convinced that's what I'm like and that's what I sound like," she says. "So they won't send me things, it is so frustrating."
This play reunites Weeks with Alec Newman, who plays Tom, the devoted husband to Wakefield's character Catherine. The pair last appeared together when she was 17 years old in Catherine Cookson's The Rag Nymph in 1997, alongside her sister Perdita who played the younger version of her sister's character. "I was the rag nymph and Alec was a hunchback," she laughs.
Born in Wales, but raised in a farmhouse in West Sussex, the Roedean- educated actress got her first role aged 14 in the BBC adaptation of Anne Fine's Goggle-Eyes playing the lead. She went on to more grisly adult roles such as Tania Thompson – based on a real-life Canadian serial killer – in The Inspector Lynley Mysteries. On stage, she has appeared most recently in Agatha Christie's A Daughter's a Daughter at London's Trafalgar Studios alongside Jenny Seagrove, and with Rupert Everett in Pygmalion at the Chichester Festival Theatre.
Once engaged to poet and musician Alexander Birkin, Jane Birkin's nephew, who died aged 20 in a car crash, she married her husband Lorne Stormonth-Darling, a hypnotherapist and a Tibetan-antiques dealer, in a Buddhist wedding in the Himalayas in 2006, before they tied the knot formally at home in West Sussex in 2007. They have a son, Wade, who is 20 months old. Now she is living in north-west London and enjoys gardening when she finds the time. "We filmed Foyle's War in Ireland last year – it kicked off the work thing again for me. When I was a child I thought anybody could act – now I want to choose roles that test my limits because that's how you get better."
'These Shining Lives', Park Theatre, London N4 (020 7870 6876) to 9 June
Register for free to continue reading
Registration is a free and easy way to support our truly independent journalism
By registering, you will also enjoy limited access to Premium articles, exclusive newsletters, commenting, and virtual events with our leading journalists
Already have an account? sign in
Join our new commenting forum
Join thought-provoking conversations, follow other Independent readers and see their replies