How Eugène Delacroix's flame still burns bright in the National Gallery's latest blockbuster
He took safe, 'respectable' subjects then electrified them with colours that take your breath away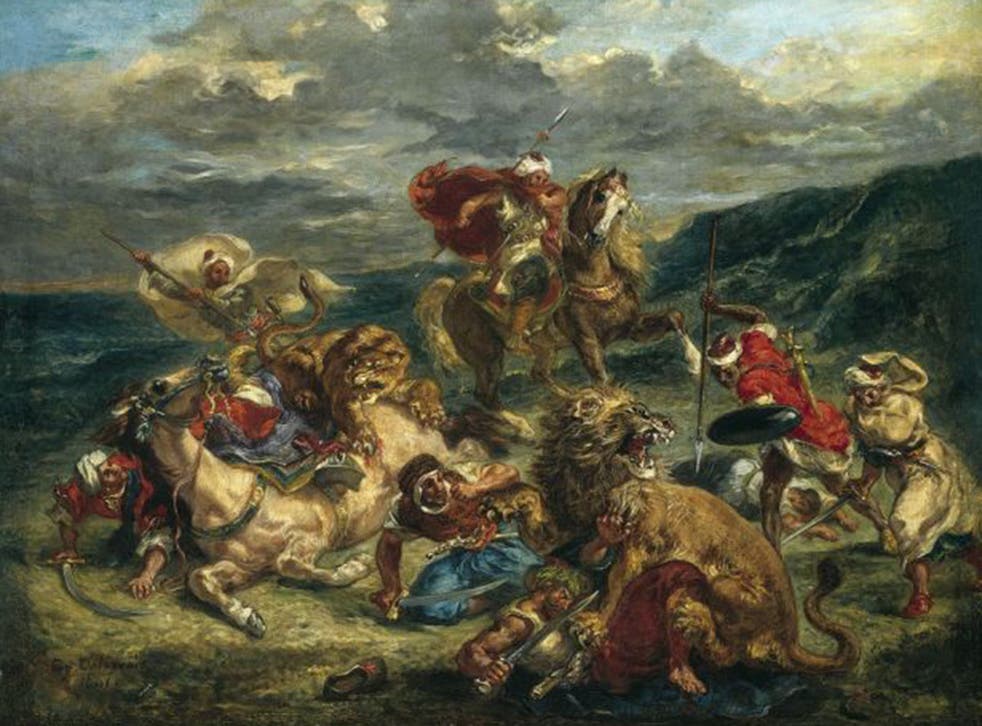 When, for its new exhibition devoted to Eugène Delacroix and those he influenced, the National Gallery chose as its livery the image of a cornered lion, so vivid you can hear its roar, it was deemed too violent to be shown as a poster on the Tube network. London Underground is sensitive when it comes to images. Advertisments for Jenny Eclair's tour and the Saatchi Gallery's Rolling Stones show in April also failed its wholesomeness test (though the comedian's was subsequently approved, after a Twitter storm), in a pleasing synergy of French Romanticism with improv and rock'n'roll. So spectacular is Delacroix's portrayal of the raging animal, that it takes a moment to realise that beyond the bared fangs, livid tongue, flying mane and bared claws are, at the lion's back, a spear, and, at his belly, a sword, and that both are poised to pierce the creature with a violence as tangible as a slashed canvas by Lucio Fontana.
Lion Hunt (1861) is one of three smaller versions that followed a larger painting on the same subject, later fire damaged, that was commissioned by the French Ministry for the international exhibition on the Champs Elysees in 1855. Here, it would have been seen by nearly a million visitors (although by far the greater part of the show's five million ticket-holders, at a time of rapid technological change, shunned the beaux arts displays in favour of the show's industrial section). Now, it is one of the showstoppers at an exhibition in which works by Delacroix will be punctuated by those of painters who admired him. And while the names of some may come as no great surprise – his compatriot Gustave Moreau, for instance – others may: Matisse, Gauguin, Van Gogh, Kandinsky.
So, how do we get from a painter who dominates the mighty Salle Mollien at the Louvre, who clambered to the ceilings of important public buildings in his home city of Paris to paint complex allegorical scenes, whose elegant, desirable home on the Left Bank is thought to be the only artist's house to be rescued posthumously by other artists, and who compiled a lengthy and worthy Dictionary of Fine Arts, to all these 20th-century artists distinguished by their conspicuously unconventional profiles?
The answer may be that, like his near contemporary Turner, whom he admired and whom he attempted and failed to meet while on a visit to London, Delacroix often chose "respectable" subjects – biblical, historical, literary or classical scenes – and then electrified them with compositions and colours that can take your breath away. He admired the heavyweight literature of Sir Walter Scott, revered the Elgin Marbles, on a visit to the British Museum, and antiquity in general and seemed, in short, to be conventional in his tastes. But close examination of his vast canvases or the walls of the Chapelle des Anges at the church of Saint-Sulpice, near his home, reveal dots and dashes of pure colour apparently totally unrelated to the subject. Flashes of blue and yellow are particularly arresting, and were much admired and copied by the Impressionists, whom he influenced hugely. (Turner, too, would incline to misty blues and sun-drenched yellows, particularly in his last paintings.) Delacroix even coined a word for this technique – flochetage. From there it's but a brushstroke to the colour-sorting and -swapping Divisionism of Seurat and Paul Signac. And, in his fascination with the link between art and music, he was a friend of Chopin, List and Paganini – and by borrowing musical titles, he paved the way for the Schoenberg- and Wagner-loving Kandinsky.
Signac's Snow, Boulevard de Clichy, Paris – itself notably blue and yellow – is among the Delacroix-influenced paintings to feature in the exhibition, the first in Britain dedicated to him since the Edinburgh Festival's in 1964. The lovely street scene is on loan from the Minneapolis Institute of Art, which drew on its important collection for its centenary Delacroix exhibition, the basis of this National Gallery show. Also crossing the Atlantic from the MIA is the artist's own frenzied Convulsionists of Tangier (1838), the result of one of Delacroix's many trips to Northern Africa, a teeming street scene to which the curators, Paul Noon of MIA and Chris Riopelle of the National Gallery, see prominent links in scenes by Renoir, a particular admirer.
Degas owned scores of drawings and watercolours by Delacroix, and 13 oils, two of which are in the show. He often copied the master's works, sometimes from memory. His Dance Examination (c1880) has many of Delacroix's hallmarks: irregular poses, a dense layering of characters, a diagonal swoosh and bravura swipes of colour. Degas also bought into the Delacroix legacy by acquiring the work of Paul Gauguin, who also borrowed from the master.
Gauguin admired both Van Gogh, until their falling out, and Delacroix, and his downcast self-portrait in his Christ in the Garden of Olives (1889) shows his own facial features haloed by the red hair and beard of Van Gogh, borrowed from that artist's self-portait in his Pietà of 1889. Van Gogh had earlier asked his brother, Theo, to send him prints by Delacroix to decorate his room at Arles, writing warmly of the older artist's passion "for the two colours most disapproved of … lemon and Prussian blue". His Pietà is dominated by those two colours – and his self-portrait/Christ echoes Delacroix's unperturbed central figure in the Turner-esque Christ on the Sea of Galilee (1853). All three pictures are in the show.
Among a host of "-ists", Impressionists, Post-Impressionists, Neo-Impressionists, and Symbolists were influenced by Delacroix, many taking heart, perhaps, as they struggled for attention, from the fact that their mentor was only received into the prestigious Academie des Beaux Arts at his seventh attempt. Renoir said of him that the artist who had painted The Women of Algiers in their Apartment (now in the Louvre, but Delacroix's own copy will be at the National Gallery) could sleep easily.
When Delacroix died in 1863, the studio, apartment and garden in the Rue de Furstenberg, upon which he had lavished the equivalent of £3m even though it was only leased, was saved for the nation by his peers, while unsold works were put up for auction. Among those who looked on were the writer George Sand, a friend, whom Delacroix had used as a model, as he had his friend and Sand's companion Chopin, in his ceiling paintings for Paris's Senate library.
As with so many artists, death put a premium on Delacroix's work. "The slightest drawing sold for two, three, four hundred francs," exclaimed George Sand. "This poor man sold paintings for that price!"
Delacroix and the Rise of Modern Art, National Gallery, London (nationalgallery.org.uk), 17 Feb to 22 May
Join our new commenting forum
Join thought-provoking conversations, follow other Independent readers and see their replies