How Rodin's tragic lover shaped the history of sculpture
Camille Claudel inspired one of the world's great artists. A new play aims to give her the respect she deserves.
Arifa Akbar
Tuesday 14 August 2012 00:55 Comments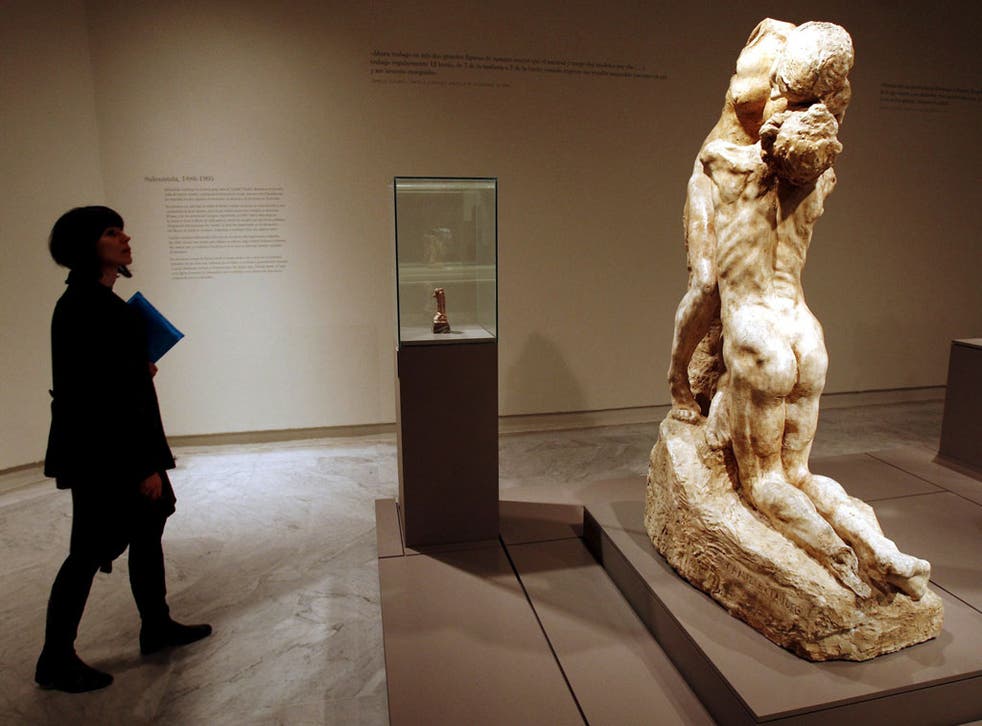 As one of the first women on the arts scene of belle epoch Paris, Camille Claudel made quite an impression when she arrived at Auguste Rodin's studio at the age of 19 to work as his assistant. Rodin was quickly drawn to her – and her evident talent – and before long, she was his model, lover, inspiration and artistic equal. What followed was a story of art, passion and self-destruction over a tumultuous 10-year relationship that left Claudel mentally scarred.
The affair with Rodin both made her and destroyed her. Rodin, already in a committed relationship and 25 years her senior, was not prepared to leave his long-term partner, Rose Beuret, though he promised her that he would. The destructive aftermath of the affair consumed her to such a degree that she threw away much of her work and was admitted to an asylum, where she lived for 30 years.
Since her death, this fiercely independent figure in Rodin's life has led to much revisionism, and an Oscar-nominated film capturing her tragic life story and starring Isabelle Adjani and Gérard Depardieu, was made in 1988. Now, the Brazilian-French actress and writer, Gaël Le Cornec is directing a play, Camille Claudel, which will be staged at the Edinburgh Festival (followed by an international tour), in the hope of bringing the lesser-known story of Claudel's life and art to British audiences. The drama will revolve around the letters that Claudel wrote and received at the two asylums she was confined in, in the last three decades of her life, and in it, Le Cornec argues against the assumption that Claudel was "insane".
"She was an incredible artist who changed the history of art. As a woman sculptor working in the 19th century, she was also one of the first women to work at Rodin's studio as an assistant," she says.
He introduced her to all the famous figures in Paris; she, for her part, helped change the course of his work. In sculptures such as The Waltz and The Wave, she sought to capture a fleeting moment in motion, or the ephemeral moment "just gone". Contrary to the assumption of the 19th-century's academy (who thought she was imitating Rodin's work) Claudel's presence in Rodin's studio cast an important influence over his work, rather than the other way around, Le Cornec says.
"You can tell the difference in his sculptures before and after Camille appeared in his life. Also, there are some works which we don't know if Rodin or Camille made; they are not signed but show signs of being made with four pairs of hands, by both of them."
By focusing on figurative sculpture – sometimes nude – Claudel attracted public outrage. Griselda Pollock, professor of social and critical histories of art at Leeds University, confirms that Claudel was "a major force in the experimental and transformative partnership that occurred artistically in Rodin's studio"; yet her work was subject to gendered censorship.
"For instance, to get a clay maquette made in bronze you needed the funding and the approval of the official Institut. When the inspectors visited Claudel's studio, they refused to give her permission to cast The Waltz because it showed two nude bodies in close proximity. The very idea was not acceptable from a woman's hand, whereas from Rodin's hand, work influenced by Claudel's daring, became acceptable as men are allowed to know about sexual desire and the body."
Gradually, Claudel began to feel persecuted. She even accused Rodin of plotting against her.
What made her public profile all the more contentious was her unmarried status. Rodin refused to leave Rose, but he did show his commitment to Claudel by signing a contract designed to prove that he was hers. "It said that he would leave Rose and have no other woman or model, but he never did leave. He was just scared to lose Camille," says Le Cornec.
Professor Pollock notes that Claudel was of menopausal age when she became more destabilised – and their relationship broke down.
"Alone as a woman of her class, not married to the man with whom she had a sexual relation, perhaps deeply distraught by the loss of love and undergoing major changes in her life cycle, while she watched her own sculptural ideas make Rodin the lionised figure of French sculptures, she may well have had some kind of psychological breakdown."
While her artistic career had its highlights, she never managed to earn enough money to be fully independent and, at times, Rodin paid the rent on her studio. Claudel came from a rich family and her father, having spotted her talent, supported her sculpting, but after he died, her diplomat brother and mother – more suspicious of her lifestyle – held the purse strings. It was after her father had died that she found herself on the streets of Paris, dressed in beggar's clothes. Now at her most vulnerable, her brother admitted her to a lunatic asylum. Le Cornec believes she languished here for decades for being a woman who was "ahead of her time".
Camille Claudel, Pleasance Courtyard, Edinburgh (0131 556 6550) to 27 August
Register for free to continue reading
Registration is a free and easy way to support our truly independent journalism
By registering, you will also enjoy limited access to Premium articles, exclusive newsletters, commenting, and virtual events with our leading journalists
Already have an account? sign in
Join our new commenting forum
Join thought-provoking conversations, follow other Independent readers and see their replies