Huge ants are the stars of the show at the Saatchi Gallery
Colombian artist Rafael Gómezbarros' horrifying insects are among the highlights of an uneven show of work from Africa and Latin America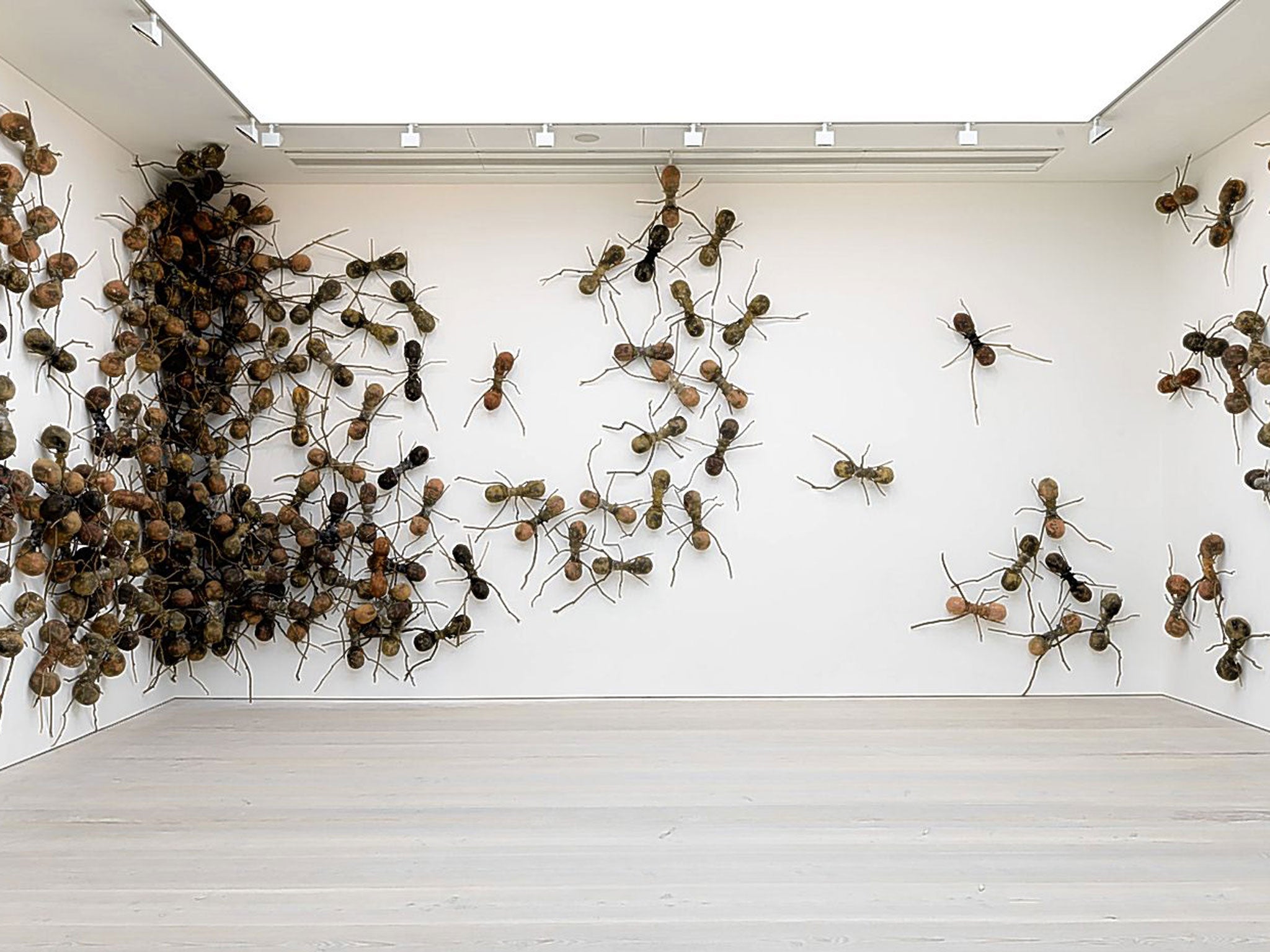 The visitor to Pangaea: New Art from Africa and Latin America at the Saatchi Gallery is confronted by sculptures of huge ants, crawling all over the walls of the first room. They are monstrous – the size of human babies. They clamber over one another, desperate to gorge on some hidden patch of honey. Some are solitary, others cluster in corners. They call to mind Kafka's travelling salesman Gregor, who transformed into an insect overnight and spent the rest of his days crawling up and down his bedroom walls.
Rather than Western alienation, however, these ants signify the plight of migrant workers in Latin America. The installation is the work of Colombian artist Rafael Gómezbarros, and it is a powerful, viscerally unnerving beginning to the exhibition.
"Pangaea" refers to the pre-human landmass that once united Africa and Latin America, before it began to break apart 200 million years ago. These two very different nations were once a "supercontinent". The work of 16 contemporary artists has been "brought together by the utopian notion of a unified Pangaea", according to Argentinian-born, London-based curator Gabriela Salgado. If you google "Pangaea", you find that it's also the name of a vegan store and an organic skincare company. The term has been claimed by "one love" hippiedom. It seems suspect to me: rather than utopian, the exhibition runs the risk of committing the Modernist crime of lumping all "primitive" art together under one banner.
However, it is self-aware. Some of the artists are outstanding, some are mediocre. Whatever you think of Charles Saatchi, he did a great thing by donating the gallery to the public in 2010 and providing free admission. There are mostly paintings, but also photography, installation, and some sculpture. The most compelling works are those that do not appear in thrall to the Western art tradition and assert their own distinct visual language.
Pangaea: New Art from Africa and Latin America
Show all 4
Gómezbarros' ants are most horrifying when you look at them up close. Each is made from two casts of human skulls, bound together by dirty white cloth, like bandages. Their legs are sticks cut from trees. These objects of death seem very alive; they appear to swarm in the corners of your vision. They symbolise how the world too often sees the migrant worker: as vermin.
The next room is the most spectacular by far. It is filled with paintings by Aboudia, a young artist from Ivory Coast, who is thrillingly talented. His is the kind of art I love: formally brilliant and suffused with a death-defying energy, an insistence on life. These large canvases radiate a special kind of exuberance, though their subject matter is the trauma of the country's civil war.
Aboudia's life has transformed over the last few years: in 2011, he was painting the escalation of violence in Abidjan, following the disputed presidential elections. He had been homeless. His work came to the attention of the new Jack Bell Gallery in London, which specialises in African art. Now celebrities such as A-Rod, the American baseball star, are buying his work. And you can see why
Aboudia has been compared to Jean-Michel Basquiat; he too started off as a street artist. He creates layers of collage of found-images on canvases, before painting over them in thick, bright colours.
His paintings show figures, shocked by violence. Le Couloir de la Mort (2011) is a staggering painting that is slow to reveal its story. The canvas is dominated by blackness, but a figure with a white skull for a head hovers to the right, splattered by green paint, which is suggestive of blood. His eyes are shocked and cartoonish; he appears horrified by what he has done. His weapon is pointed at a girl on the left. She is drawn very faintly. She is holding her hand up, seemingly begging the skull man not to shoot. But the faintness of her form suggests that it is too late. She appears like a ghost, or the chalk outline of a body on a pavement. The skull man's body is effaced by dark red paint. It seems that he is doused in blood that is not his own, a sign of his guilt. The painting is searing.
Another phenomenal work by Aboudia is Enfant dans la Rue 1 (2013). It shows a white naked figure lying across the bottom of the canvas. With a claw-like grip, he holds on top of him a red-brown figure, who turns towards the viewer with Aboudia's trademark expression of stunned terror. The white figure is seemingly violating the brown figure from behind. This is an apt and forceful symbol of colonialism and the on-going injustices of global trade.
Above, photographs of tribal objects have been pasted on to the canvas, as well as photographs of African women's hairstyles. These images point to a history mired in plunder: the fetish for "primitive" art in the West, the objectification of Africa as an ethnographic case study, the dominance of a Western beauty ideal, which makes hair a political issue.
African art in particular seems to be emerging fast in the global art market. Last year, the first contemporary African art fair, 1:54, was held in London. Of course, not merely race and ethnicity but class is a factor in defining these artists' oeuvres. Leonce Raphael Agbodjélou from Benin is another outstanding artist represented by Jack Bell Gallery. Rather than depicting street scenes of violence, Untitled Triptych (Demoiselles de Porto-Novo Series) (2012) consists of sumptuous colour photographs of the interior of a colonial mansion, which has belonged to the artist's family for generations. His grandfather built it in 1890 after making a lot of money selling lemonade to the French and Portuguese armies. Benin was key to the slave trade: 12 million slaves once departed from the country's ports.
The central image of the triptych is grave and unsettling. A bare-breasted woman from Porto Novo leans against a vivid blue wall. She wears a white painted Egungun mask, which she has unhooked from the nail in the wall above her head. To the right, there is a Pentecostal religious calendar. Because the viewer can't see her face, the image is inscrutable. Is she mocking the viewer by mimicking the conventions of Western "primitivism"?
The series possibly references Picasso's painting Les Demoiselles d'Avignon (1907), which marked the beginning of cubism. The painting shows five naked females, some of whom are wearing African masks. Picasso reworked the painting after visiting the African and Oceanic collections in the Musée d'Ethnographie du Trocadero in Paris, and the geometric forms and bold lines recall some of the art of the continent. But the rich and complex histories on which the Modernists drew for inspiration were often not credited as such. Instead, they were perceived as "backward".
Not all of the work in this exhibition is strong. It is uneven. There is too much abstract painting, which makes no impression and seems indebted to the Western tradition. I wasn't convinced by the Pop Art-inspired room. However, I liked the work of Ibrahim Mahama, Boris Nzebo and Oscar Murillo. And the frenzied, mixed-media expressionist drawings of black South African artist David Koloane stand out. They are wonderful.
Now in his seventies, Koloane co-founded the first black art gallery in Johannesburg under apartheid. The Night Has a Thousand Eyes (2007-8) is a startling, eerie drawing of dogs with glowing yellow eyes roaming under a full moon. Owls watch over women in pink dresses marked with crosses. The dog is a recurring symbol of greed and police brutality in Koloane's work. While well-fed dogs bark behind the high-security fences of wealthy whites, mongrels prowl the black townships and scavenge. "Apartheid was a politics of space more than anything," Koloane has said. "Claiming art is also reclaiming space."
Pangaea: New Art from Africa and Latin America, Saatchi Gallery, London SW3 (saatchigallery.com) today to 31 August
Join our commenting forum
Join thought-provoking conversations, follow other Independent readers and see their replies