In the studio: Annette Messager, artist
'I am interested in this kind of dummy because it wants to be human but it's not'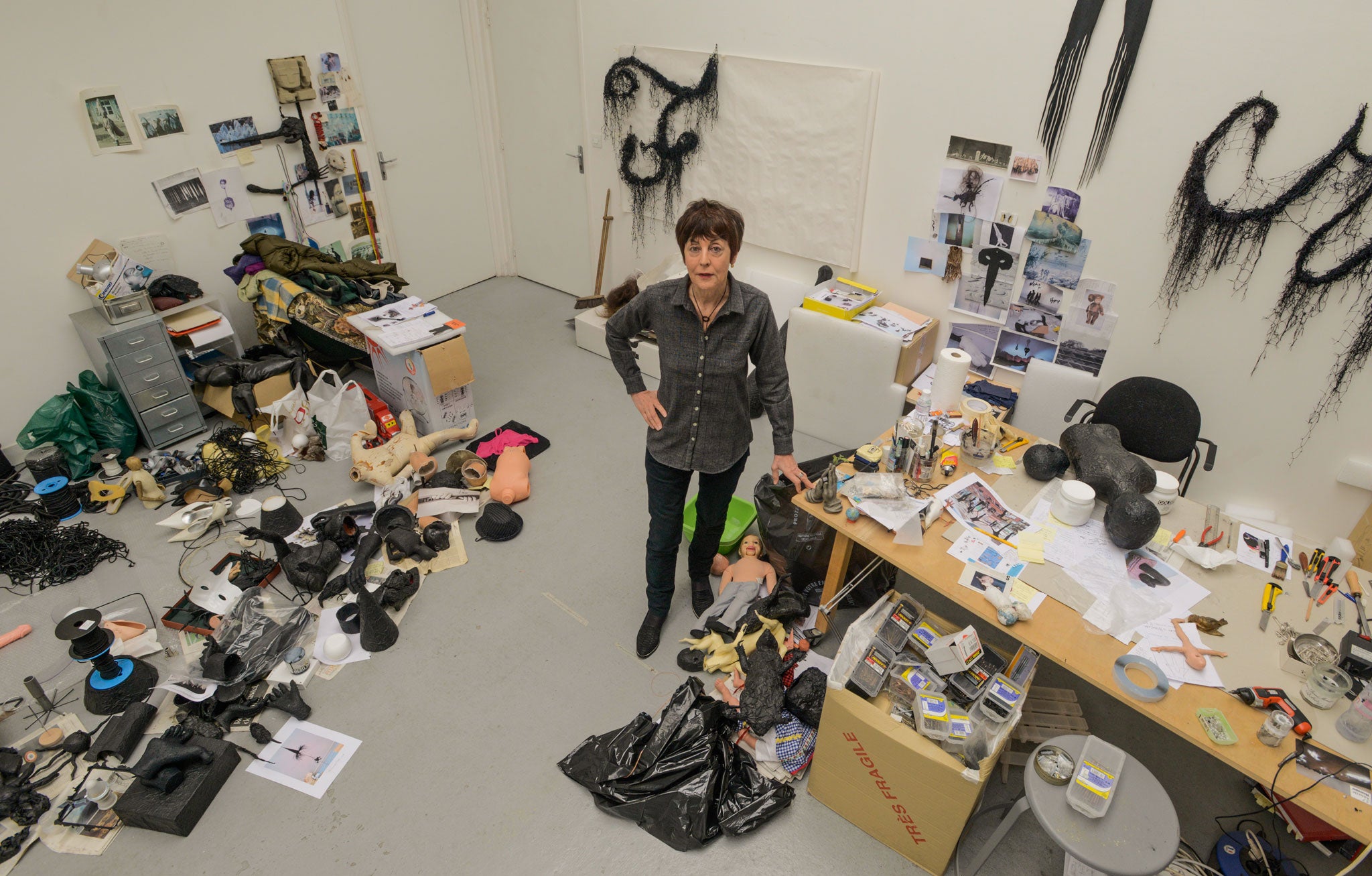 Annette Messager lives and works in Malakoff, just outside the Paris Périphérique. She moved here "around" 20 years ago with artist Sophie Calle and some other friends.
Her living space is light and bright and is accessed through a garden, inhabited today by her tigerish cat, Lola. In summer Messager draws here, using black India ink so generously that "sometimes the windows become obscured".
She shows me her most recent drawings of copulating animals – giraffes, elephants and tortoises. It is bizarre being shown drawings of couplings, even animal ones, by a woman who is so effortlessly elegant. The installation of drawings will be interspersed with smaller drawings of images she has taken off the internet of copulating humans.
She recalls typing "amateur photo" (into Google) and adds: "You think that you will find mothers with the family, children, and cats and dogs. And you find only sex." She leads me across the internal driveway to her studio, a former garage, accessed up a steep concrete ramp lined with stuffed toys. It conjures up images of Messager's work, which often include toys manipulated beyond recognition.
She points at a group of sculptures for her imminent show, some of which include parts of ventriloquist's dummies. She orders them from the internet – they need to come from the US as they are not made in France. "And the reason why I am interested in this kind of dummy is because it wants to be human, but it is not human."
In 2005, Messager stunned visitors to the Venice Biennale with her interpretation of Pinocchio that "transported" the French pavilion into a place of delight filled with billowing and seemingly breathing objects. It won her the Golden Lion for Best National Participation. I comment on my memory of the experience and she points at a comfy-looking bed, saying that is where she likes to read and gain inspiration, most recently from Jonathan Swift's Gulliver's Travels, and smoke slim menthol cigarettes.
Born in 1943 in Berck, France, Messager elected to study at the École Nationale Supérieure des Arts Décoratifs, winning the student prize. Returning from three months of travelling the world, including Japan, Thailand and Greece, her head full of ideas, she failed to regularly attend to her classes and was told to leave. She got her "revenge" when she was asked to come back and speak, and told her enthralled audience that the teachers at the school "were not very good".
Today, she is waiting for the "transporters" to move the separate elements of her large installation to her gallery. Most have wheels and many are covered in part with black wrapping paper normally used to obscure theatrical lights. It is the only artistic thing that she allows her two part-time female assistants to do, admitting that she needs silence and solitude to make her work. The studio will soon be clear, ready for Messager to conjure up new work from her fertile imagination. "When I begin a new work I want to be completely empty, completely stupid – to be a new girl."
'Annette Messager: Mes Transports' continues at the Marion Goodman Gallery, Paris, until 21 December (mariongoodman.com)
Join our commenting forum
Join thought-provoking conversations, follow other Independent readers and see their replies