Jerusalem Season of Culture: A cultural melting pot with no dividing walls
As Middle East peace talks begin, David Lister reports from Jerusalem on how art is bringing Jews and Arabs together
David Lister
Monday 12 August 2013 16:58 Comments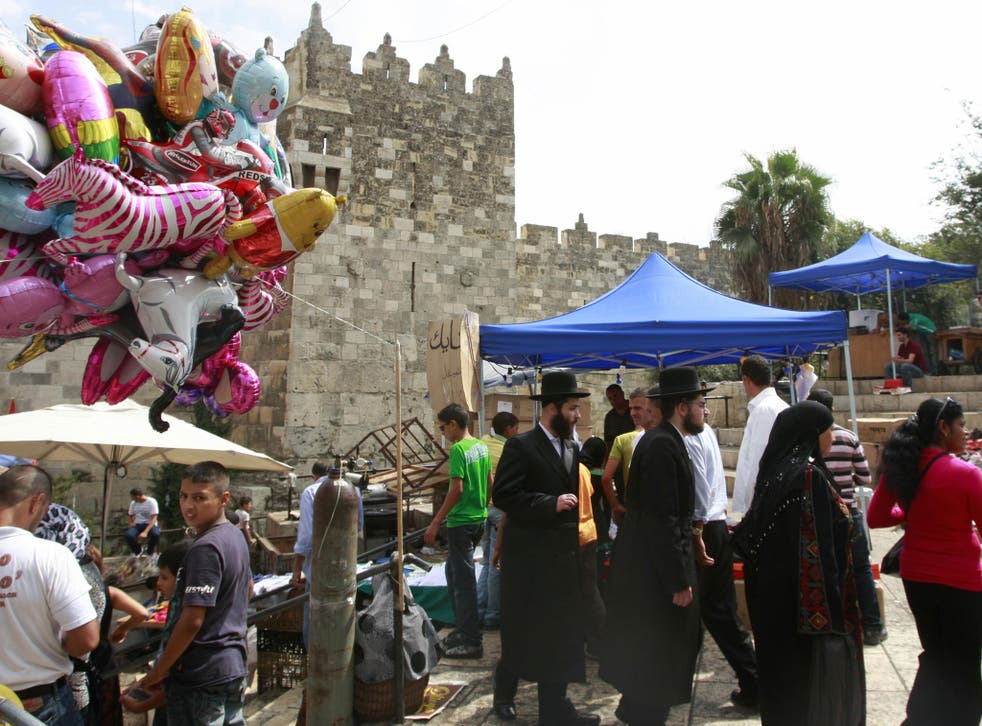 One of the highlights of the Jerusalem Season of Culture is an event called Contact Point at the city's Israel Museum. It involves contemporary performance taking place to the background of the museum's world-famous treasures. A jazz band here, a piece of theatre there. I was captivated by haunting ambient music being played by DJs as you looked at the Dead Sea Scrolls. Two male warders in uniform walk around the museum, nothing out of the ordinary in that – except that they are holding hands.
Public and museum staff alike look surprised at this little piece of performance art. It was a secret few were let in on. But then this arts festival is full of surprises: a 90-year-old Ethiopian nun who lives in a Jerusalem convent is one of the composer stars of the sacred music festival; venues that include caves, citadels, towers, forests, monasteries and private homes
But, all that could be a conventional if enthralling international arts festival. The Jerusalem Season of Culture, currently on in the city until the end of August, is made much more important because there is a subtext to it. As the peace talks begin it is trying to succeed where politics and international diplomacy has so far failed. It is trying to bring Arab and Jew together, to bring the largely Palestinian population of East Jerusalem to the arts events taking place in the western part of the city, and for the two usually separate communities to come together over culture. And in one of the most complex cities on earth with a bewildering array of communities, it also aims to bring the ultra-orthodox community into more contact with its secular neighbours. In Jerusalem about a third of the city is Palestinian, about a third ultra-orthodox Jewish and a third either secular Israelis or practising liberal Jews.
Bringing such disparate communities together is a lot for culture to achieve, (the ultra-orthodox for example can't attend a concert where a woman is singing; Palestinians are unlikely to attend anything too directly linked to Israel) but as became clear when I visited some days ago, inroads are being made.Take two of the season's more unusual ventures. One is a food truck (yes this is apparently an artistic event), astonishingly the first in Israel which stops at a different part of the city each night with a top chef aided by a celebrity making a dish to serve the crowds to the background of music. It brings together young people from the different communities, as do the bands that play throughout the season, as does a particularly resonant nightly event, the gathering at the "watermelon stand".
This area by the Damascus Gate along the road that separates the east and west of the city was in the Seventies and Eighties full of watermelon stands where it was common for Israelis and Palestinians to hang out together. Now, on the same spot, bands play, teens and twentysomethings gather, sit and chat and listen to music, before the Palestinians cross the road back to the east of the city and the Jews stay in the west. They eat watermelons as a reminder of how what the area used to be.
It is a slow but sure coming together. And that's not to pretend it isn't without problems. There is a no-dancing rule, a rule instigated because last year the youths from both communities did dance, and this proved a bit much for parents in both communities. But on the evening I attended, there was evidence of young Jews and Palestinians sitting together listening to music and beginning to chat.
The season's artistic director is Itay Mautner, a man who grew up in Jerusalem but left traumatised, as he says, by the suicide bombers that were commonplace in his youth. Now his mission is to bring back the many in his generation that fled the city for similar reasons (with most of the creatives moving to Tel Aviv), and he sees the arts festival as doing this as well as bringing together Jerusalem's Jews and Arabs.
He says: "There isn't one Jerusalemite who doesn't have a flashback or a bad memory of buses exploding in the market… it sounds bad to say that this can be inspirational but it is culturally fertile ground. So we showcase all kinds of cultural activities that are about Jerusalem and can only take place in Jerusalem. So we can have in a synagogue in West Jerusalem a performance of ultra- orthodox dance company with men dancing together, then on the same evening drive to the east and on the roof of a Muslim sheikh's house a choir of Palestinian and Israelis singing together. That's why I see the food truck as important. It's because food is not elitist and it unites people. kosher and halal together."
The coming together also takes place "virtually" over the internet. Neta Elkayam, a young Jewish-Moroccan artist is one of those contributing to the season with the aim of breaking down barriers and using the arts to bring in communities who usually remain aloof. "I have opened my studio, "she says, "and in the living room play my new show and explore the source of Jewish-Moroccan music. I sing in Arabic and publish it on the internet and there is a big response from Arab and Palestinian friends."
Itay Mautner says: "You can find yourself enthralled by the musical compositions of a 90-year-old Ethiopian nun, drawn into a week-long tribute to Jerusalem's radical music scene, sample the tastes of the city with a famous chef, dance in caves and towers. The Jerusalem Season of Culture will try to listen to the voice of the 'other' in an attempt to generate dialogue through culture and maybe, ultimately, open hearts and bring about change.
The season runs until 25 August (jerusalemseason.com)
Register for free to continue reading
Registration is a free and easy way to support our truly independent journalism
By registering, you will also enjoy limited access to Premium articles, exclusive newsletters, commenting, and virtual events with our leading journalists
Already have an account? sign in
Join our new commenting forum
Join thought-provoking conversations, follow other Independent readers and see their replies