John Byrne and Tilda Swinton: The painter and his muses
Artist and screenwriter John Byrne has a major exhibition of his portraits. His wife Jeanine features – and so does a former lover, a certain Tilda Swinton. He talks to Hannah Duguid about art and relationships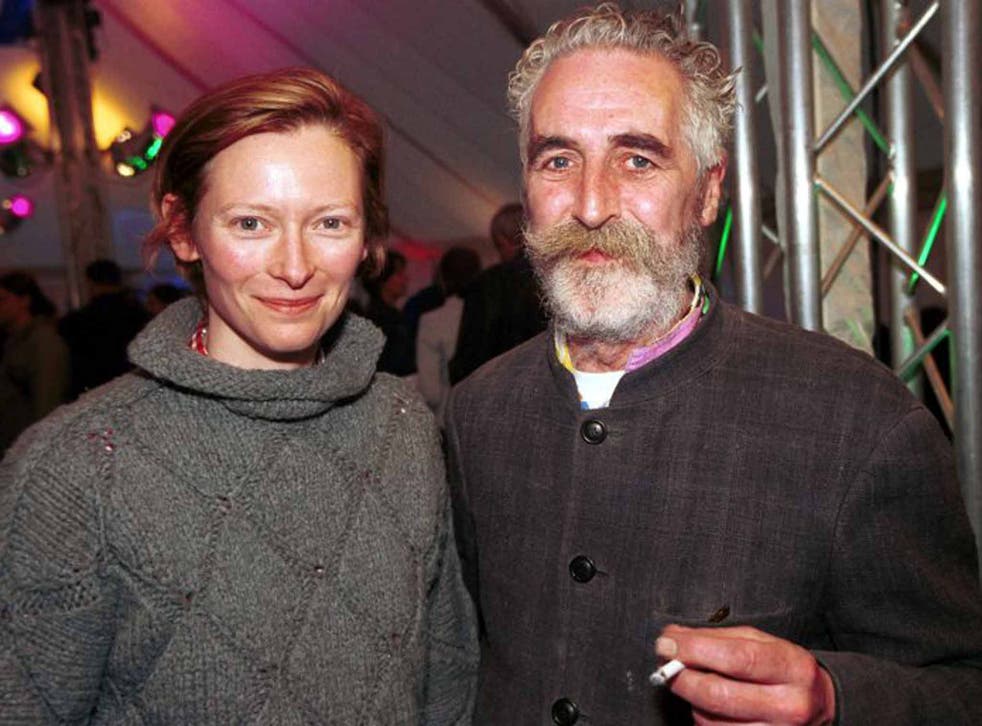 A portrait of Tilda Swinton by her former lover John Byrne shows her dressed in a dark Pierrot costume and mauve stilettos, one arm raised over her head in a ballet dancer's pose. A foot balances on a small pile of read scripts. She sits on a larger pile of scripts, which are unread. Her elongated face appears sharp, her hair's short, unkempt and vibrant red. The colour red's important because as Byrne points out with a wry grin: "She was a Communist at the time."
The painting feels emotionally complex – particularly when compared to more serene images of the painter's wife, Jeanine Davies, which also hang in the show. It's an affectionate if not overtly flattering representation. Pierrot's the sad clown or naïve fool, which seems a decision worth considering, but Byrne says that ideas just come to him, he doesn't think them through consciously. He says the Pierrot outfit came to Swinton from the fashion designer Christian Lacroix. When she wore it, Byrne says, with notable tenderness: "She looked very lovely."
Byrne occupies a unique position in Scotland's cultural life. He trained at Glasgow School of Art, which he left in 1963 as one of their star painters. But he found fame writing plays and television dramas such as The Slab Boys (1978), Tutti Frutti (1986) and Your Cheatin' Heart (1990). Early in their careers, he worked with Billy Connolly, Robbie Coltrane, Emma Thompson and Swinton. Throughout this time, he continued to paint and his life is reflected in some of the famous names on show in his exhibition of portraits at the Scottish National Portrait Gallery in Edinburgh.
Artists don't always look like artists these days but Byrne presents himself impeccably – a dark suit and cravat, with clipped white hair, a full white beard and moustache. He's handsome at 74, with a thick smoker's voice, strongly accented. An easy charm makes him enjoyable company.
He's a well-known figure in Scotland even though, as he points out, "I have no Scottish forebears." His family's Irish Catholic. He considers himself an outsider, someone who defies fashion and taste. Glasgow leads the way in contemporary art at the moment but Byrne has no wish to be associated with any hint of conceptualism in art, which he describes as, "bollocks".
"The art world is a frightening bunch of people," he says. "I'm on the outside and I don't want to be on the inside. I don't want to be part of a big gang and tarred with the same brush. I kind of do what I want and continue to do what I want."
His paintings, whether of famous friends, self portraits (of which there are many) family or scenes from his imagination, are executed with rigorous skill, but an old fashioned approach. He paints moody portraits and surrealist scenes, which don't follow current taste. Self portraits in various guises are often psychologically intense – a brooding inward gaze, or with religious symbolism such as the artist covered in thorns or a particularly dark self portrait in a camouflage jacket. His defiance, almost a refusal to engage with new ideas about art, doesn't always make him popular, particularly within Glasgow's art scene.
"Very often I get people who come and ask for a photo. But I also get abuse. People coming up to say, 'You fucking cunt you cannae paint to save your life.'
"I have to shrug it off because it happens quite often. People are very nice to you and they're also threatening and painful."
Not that he's without a desire for wider recognition as a painter. He reckons Outsider Art – which would include him – to be the next big craze.
His self-styled outsider status – "I was always an oddball," he says – along with a lifelong intellectual curiosity, may have been what drew him and Swinton together. He's the kid from Paisley who made it from the notorious Ferguslie Park housing estate to a life of fame as an artist and writer – it's a remarkable achievement. She experimented her way from the social constraints of an upper-class life, to a career that's gone stratospheric from when she began her relationship with Byrne in 1990. He agrees that their intellectual energy united them.
"It does not matter what background you come from," he says. "My intellect was enriched by the background I came from. Everyone seemed more alive and all the streets were alive: morning noon and night.
"I have an identity as very Scottish and it is what made me, and Paisley in particular. Every bit of information I ever needed came from there."
He had a difficult time from the press when a story came out that he and Swinton were living at their home in Nairn, Inverness as a ménage à trois with her new lover – the painter Sandro Kopp who she met on the set for The Chronicles of Narnia in 2004.
"It was really horrifying, people following you and coming to the door. I hope they [the press] all go down because the ménage à trois is totally and utterly untrue. I never lived as a threesome ever. Why would you do that? God Almighty. It made me look like a total idiot, like I was downtrodden, and it was nothing of the kind."
He and Swinton found their way through the scandal. Byrne married Jeanine Davies – a stage lighting designer who he now lives with in Edinburgh. It all seems very civil. For this show, Swinton lent her paintings by Byrne of their twins Honour and Xavier (born in 1997) and a particularly beautiful one of his wife, which interestingly, Swinton owns.
"She's in America at the moment but Tilda will come to see the show in a couple of weeks. She wouldnae come to the opening because she'd become the sole focus if she were around. She'll come in her own good time."
Byrne may have a rebellious streak, but it's a soft one, and he presents himself lightly. As a man who wrote comedy his exhibition titles are particularly sharp. He called this exhibition of portraits: Sitting Ducks.
John Byrne: Sitting Ducks, Scottish National Portrait Gallery, Edinburgh (nationalgalleries.org) to 19 October. John Byrne: Dead End, Bourne Fine Art, Edinburgh (0131 557 4050) to 30 August
Join our new commenting forum
Join thought-provoking conversations, follow other Independent readers and see their replies