Katy Moran, painter: 'I want the viewer to see what I see in the works ... the titles are an aid'
Karen Wright joins the artist in her studio in west London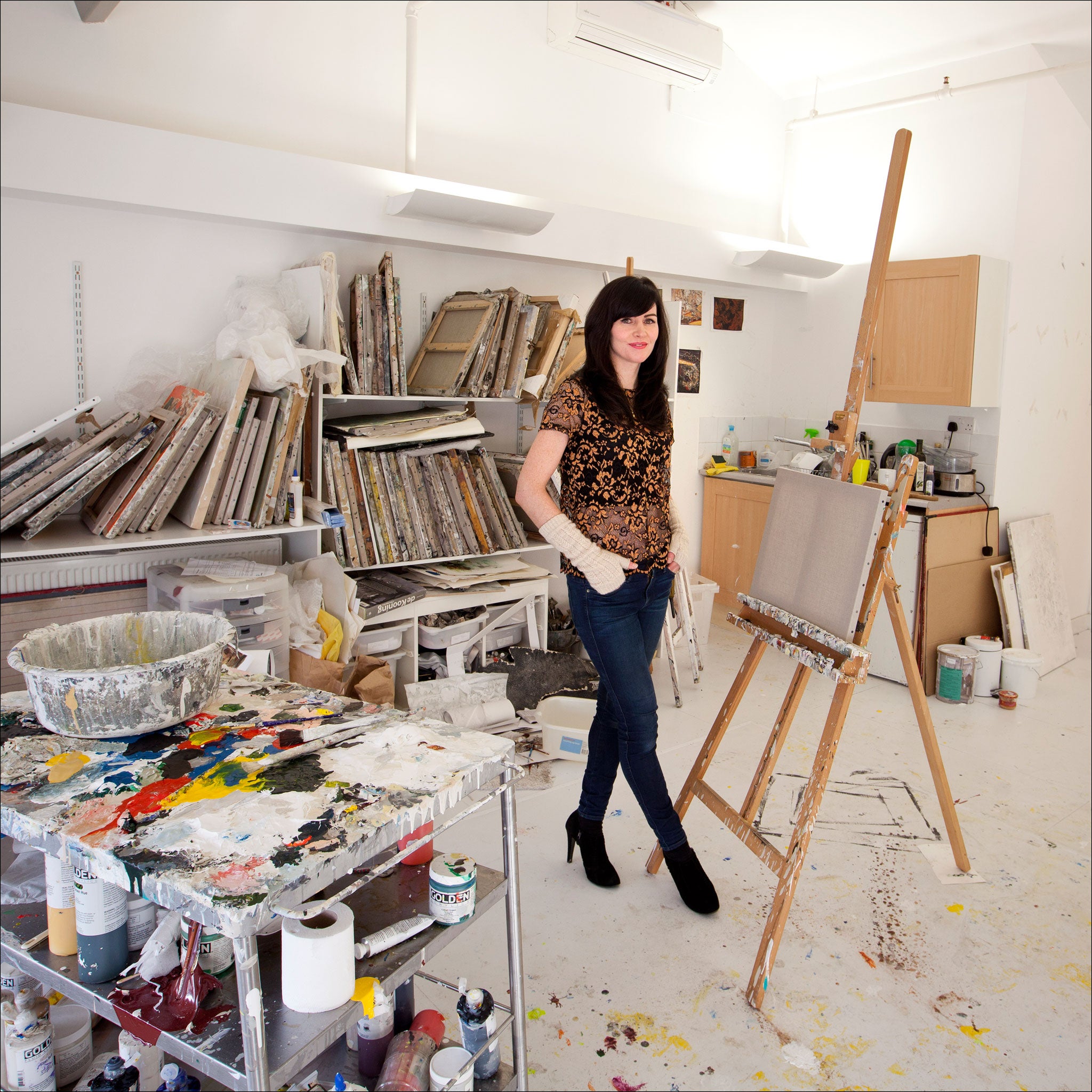 Katy Moran has been in this studio in west London for just a year, forced out of her former space by Crossrail and subsequent gentrification. The current studio is in a block filled with diverse businesses – fashion, music and sport. "I am the only artist here, but I come here to work so I hang out with my artist mates in the evenings".
On the top floor tucked into the eves, it has lovely big windows with views, but the easel is set up with its back to the windows. The floor shows the stains of a painter, put down at the behest of the landlord. "I told him I did collage and it sometimes stuck to the floor, so he insisted on putting down the vinyl".
On the wall there are a few small paintings in various stages of completion. I comment on the light neutral palette, which is very different from the colourful semi-abstract paintings I have seen that launched her into the art world shortly after leaving college. She was born in Manchester in 1975 and got her MA in painting at the Royal College of Art. Soon there were trendy galleries in London and New York and collectors queuing up to buy her works.
"I recently did Tomatis sound therapy. I did not do it for my art and did not expect it to have any effect on my work. I listened to Mozart and Gregorian chant for two hours every day." She points at a small phonograph on the floor: "I listen to that over and over when I am painting. I used to listen to pop and loads of other stuff and the therapist said it was the musical equivalent of junk food. Nothing has ever affected my work like that before".
It has been a tough year. Moran's father was diagnosed with terminal cancer, and he died recently. She wonders if that has had something to do with the change in palette. Her working process remains the same: she works on a canvas turning it so she can see the four potential views. She is looking for an image to emerge. It is then that the painting gets its orientation. The titles, often humorous, relate to the image or a recent event. "More and more I want the viewer to see what I see in the works, so the titles are like an aid."
Moran comes into the studio every day, except weekends, to escape the demands of her two small sons. Her husband, Sam Wallace writes for this paper on football. "I like coming in with fresh eyes and new clarity."
Moran is still a young painter experimenting with her medium, but speaks with the maturity and wisdom of someone aware of the irony of creativity. "It is like trying to make a masterpiece – it normally happens when I am trying the least".
Katy Moran continues at the Parasol Unit, London N1 (020 7490 7373) to 8 March, and is at Andrea Rosen Gallery, New York (andrearosengallery.com) 30 January to 28 February
Join our commenting forum
Join thought-provoking conversations, follow other Independent readers and see their replies