state of the arts
Keith Haring: The too-brief life and joyful work of the gay, bespectacled pop artist
The new BBC documentary 'Keith Haring: Street Art Boy' explores the life of the Eighties artist, whose often politically charged work lives on through mugs and T-shirts the world over, writes Fiona Sturges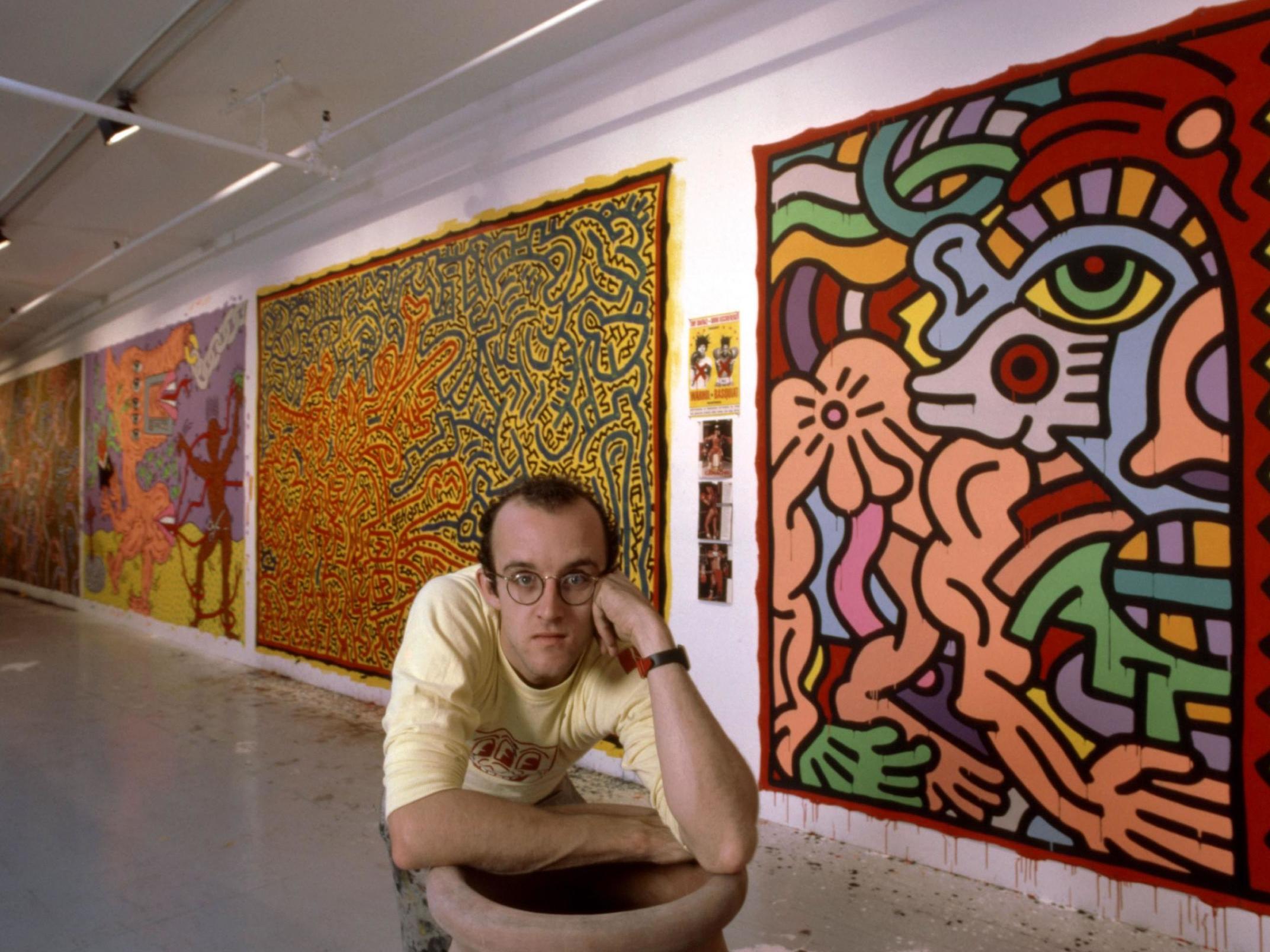 In June 1986, a now-famous photograph was taken of a group of young people out on the town in New York. These were not your everyday revellers, but some of the greatest innovators and creative upstarts of the era, all miraculously caught in a single frame. Taken by Andy Warhol – because, who else? – the picture features the artist Jean-Michel Basquiat, wearing a suit and staring impertinently into the lens, as if to say, "Why yes, I am beautiful. Drink me in." To the left of him is the Afrobeat pioneer Fela Kuti, looking glamorous, if a little lubricated, in an embroidered shirt-and-trousers combo. Next to Kuti is model and singer Grace Jones, all cheekbones and hard stares. She is deep in conversation with a goofy white man with sticky-out ears and glasses, and whose eyebrows are comically raised.
This man, who looks startlingly like the boy in the Where's Wally? books, was the US artist Keith Haring. Many won't recognise him now, but in the mid-Eighties he was every bit as famous as his new celebrity playmates. His joyful cartoon images of crawling babies, barking dogs and dancing men were on walls, billboards and in galleries everywhere – for a time, a Haring baby even lit up Times Square.
The forthcoming BBC documentary, Keith Haring: Street Art Boy, by director Ben Anthony, tells his story and reveals why, 30 years after his death from an Aids-related illness at the age of 31, his work bestrides popular culture like a bespectacled colossus. Indeed, given the ubiquity of his drawings on mugs, T-shirts, key rings and posters in gift shops the world over, it may feel as if a documentary is superfluous to requirements. His posthumous status is similar to that of Frida Kahlo – who is cherished for her painting, but in danger of being eclipsed by the postcards, prints, cushions and clothing sold in her name.
But as Anthony's documentary reveals, Haring loved his merchandise so much that he wore it himself – and gave it to friends and family to wear too. There's a lovely moment in the film in which Haring's elderly father, Allen, puts on a pair of yellow, graffiti-smothered shoes given to him by his son. "They're a little bit flashy and on the loud side," he says. "I'm not a flashy, loud guy." Inspired by Warhol, Haring bought wholesale into the idea of art as a commercial entity and wanted his work to be ubiquitous and accessible. He despaired of the elitist pretensions of the American art scene and liked art that was playful and entertaining.
Decades before Banksy started redecorating public property in Britain, Haring was drawing all over the New York subway, on billboards and on derelict buildings, bringing vast splashes of colour to neglected neighbourhoods. Haring, who was gay, also redecorated the bathroom of a Manhattan LGBT Community Centre with scores of happy penises variously squirting, dancing, being climbed or being hugged by other happy penises; now the urinals have been removed and you can see the piece by appointment. In 1986, he opened his bijou Pop Shop in New York's Lafayette Street, which was crammed with Haring trinkets including hats, badges and bags – even the floor was covered in his art. He said that while he wanted to appeal to collectors, he also wanted his work to be enjoyed by kids from the Bronx.
The film, which is warm, insightful and artfully built around a lengthy audio interview with Haring by his biographer, John Gruen, reveals not just the work but the man, from his early years as the eldest child of middle-class, conservative parents in Pennsylvania to the art-school arriviste who would hang his work in the corridors uninvited. Often, these pieces would be torn down, and he would simply stick the fragments back up again, having decided they looked better that way. Even then, he was a master of self-promotion.
It also shows us Haring the activist. Amid the primary colours and the cartoon figures, his work was undoubtedly political. His famous Crack is Whack mural raised awareness about a new drug that was ruining lives. He marched against apartheid and for nuclear disarmament, handing out free posters to fellow protestors. He celebrated black music and culture, and famously smothered the naked bodies of Grace Jones and the dancer Bill T Jones with graffiti. "Sometimes as a kid I had this tremendous guilt about all the things that white people had done, from f***ing over the Indians to the whole civil rights movement," he tells Gruen. "I felt a much closer affinity to the culture [of] people of colour than I did to white culture, in a way." Haring also talked openly about Aids at a time when the disease, and its sufferers, were feared and stigmatised. His Ignorance = Fear poster from 1989 still stings 30 years later.
Haring's career was brief and bright, but he lives on through the 10,000 or so pieces he made in his lifetime, in his foundation that has raised millions for Aids and LGBT+ charities, and in the mountains of Haring merchandise that continues to fly out of gift shops. Last year, I visited an exhibition of Haring's work in Amsterdam. The queue for the shop stretched out of the door and into the garden. I joined it and bought a hoodie with Haring's barking dog splashed across the chest. I love it. Now I wish I'd got a badge, too.
'Keith Haring: Street Art Boy' is on BBC Two on Saturday at 9.15pm
Join our commenting forum
Join thought-provoking conversations, follow other Independent readers and see their replies