Koen Vanmechelen, artist: 'I need the living material inside my work... the feathers, the eggs and the corn'
Karen Wright visits the artist in his studio in the small town of Hasselt, Belgium
Karen Wright
Thursday 07 May 2015 12:05 Comments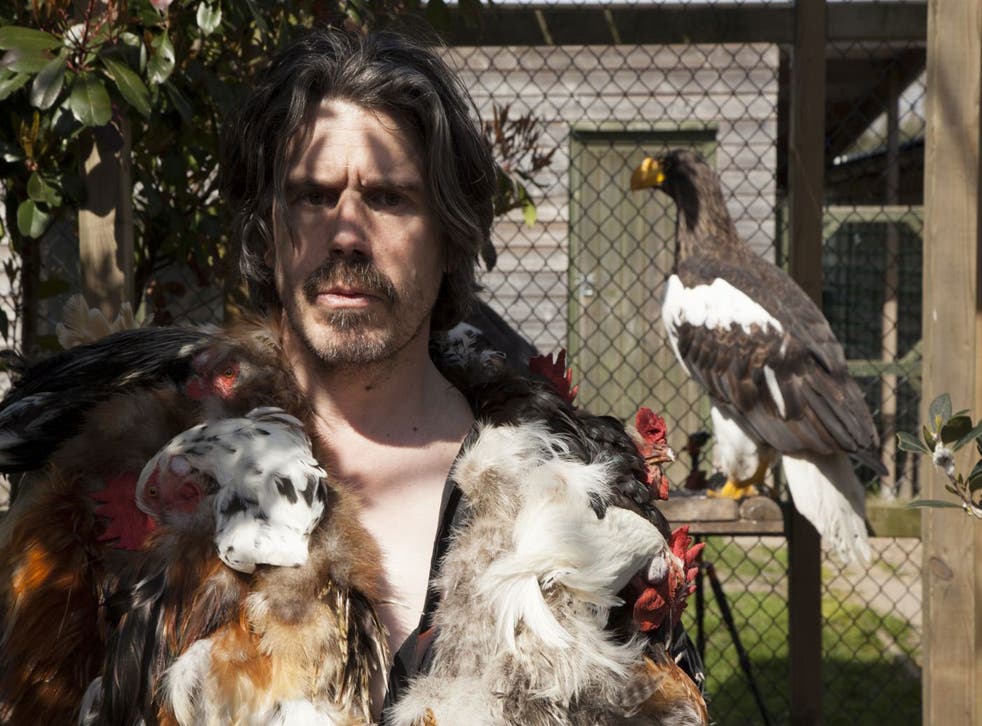 The utopian artist Koen Vanmechelen has been working in the small town of Hasselt, Belgium, for the past seven years. Writing this column, I have seen some wonders but none surpass the surprises contained within the sprawling building, formerly a glue and gelatine factory, that announces itself as the "University of Diversity".
Vanmechelen has been working on his "cosmopolitan chicken project" for the past 20 years. He has been breeding and crossing chickens from different countries, producing new crosses – 18 so far – as part of his investigations into the relationship of humans to the natural world. So I was prepared for the chickens, but not for the parrots, peacocks and vultures.
Vanmechelen was born in 1965 in nearby Sint-Truidin. His fascination with animals was fostered by his biologist godfather. His father was an artist and philosopher. When he was five a local baker brought him two chicks in a cage: "That guy was carrying my future," he says.
The obvious question is, "But why is this art?" Vanmechelen counters it with his beautiful objects made in glass, bronze and other materials. "I need the living material inside my work. Even in my paintings, I use the feathers, the eggs and the corn."
His current work started when he was employed in the kitchen of a local restaurant. Aged 16, he was bold enough to ask for some of the land surrounding the building in order to start a chicken-breeding programme. The owner thought about it overnight before saying yes, and giving him the land.
Visiting his home and farm nearby is a completely different experience. Here the birds are strutting, the eagles and owls are preening, the ostriches, alpacas and llamas are in the field, and his farmer, one of eight full-time employees, oversees proceedings with an eagle eye. Scientists are welcome to visit and share their data in the working lab.
There are chicken runs with the different cross-breeds including the Cubalaya that Vanmechelen is helping to reintroduce to Cuba. This week he has shipped a dromedary camel, rare black Javanese chickens, and specially cultivated mushrooms down the Grand Canal to the Venice Biennale to make a point about the global abuse of food production.
In the meantime, his current studio is due to be demolished soon to make way for a shopping mall. A new one in nearby Genk is being planned by the architect Mario Botta who visited Vanmechelen in Hasslet. "He said, 'This is something else and I have never seen anything like this.' I said, 'This is my reality and I live in this.'"
The mayor of Genk, also a fan of Vanmechelen, heard of the plans to demolish his studio and phoned him, to give him the land and an existing large villa to house Vanmechelen's four charitable foundations. "He said, 'We will have you in my town.'"
Koen Vanmechelen is included in Glasstress 2015 Gotika, a collateral event of the 56th Venice Biennale, today until 22 November
Register for free to continue reading
Registration is a free and easy way to support our truly independent journalism
By registering, you will also enjoy limited access to Premium articles, exclusive newsletters, commenting, and virtual events with our leading journalists
Already have an account? sign in
Join our new commenting forum
Join thought-provoking conversations, follow other Independent readers and see their replies