Laura de Santillana, glassmaker: 'We love the material. It is like Jacob and the angel'
Karen Wright meets the glassmaker in her studio on Venice's Giudecca Island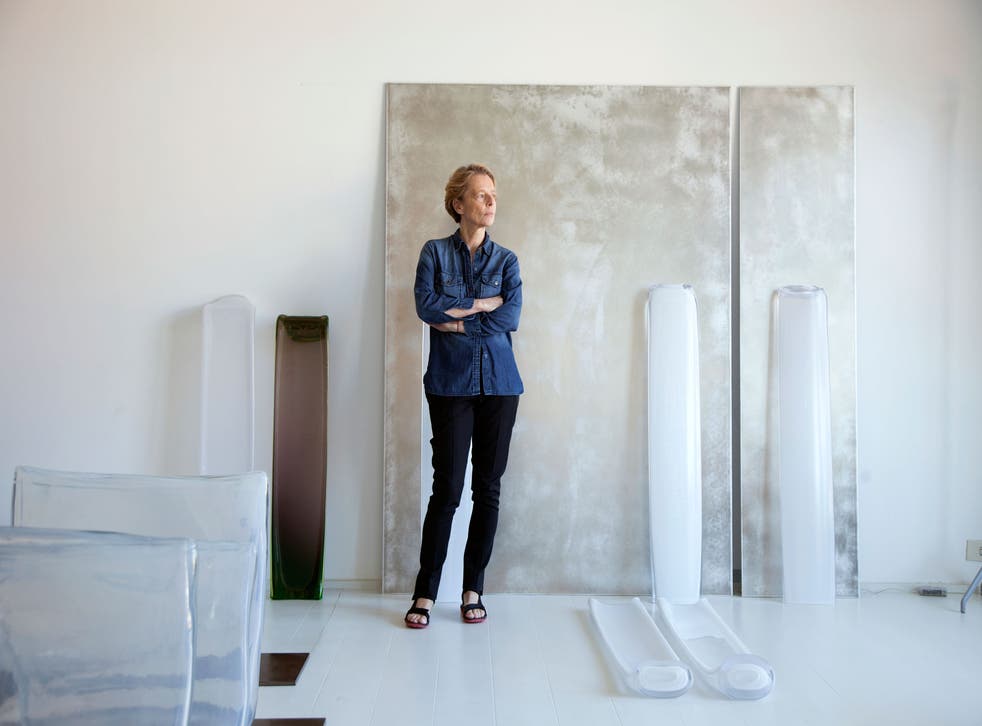 Glassmaker Laura de Santillana lives and works on the Giudecca Island in Venice. Down a narrow alley past neat doors we arrive at her building, climbing up a few flights of stairs to enter a bright loft-style space.
She has been here since 2008, moving from a much smaller studio, buying the apartment and then putting ibedrooms into a mezzanine. Her computer faces a huge semicircular window, the sun now lighting her glass, familiar to me from having recently seen her show with her brother Alessandro in the Yorkshire Sculpture Park. She is the older of the siblings by four years and I get the feeling she is still protective of her brother, who lives and works facing her across the canal.
De Santillana was born in Venice in 1955 into a glass dynasty; her grandfather Paolo Venini founded the Venini company and her father ran it until there was a hostile takeover. Glass is in their blood. "We love the material. We are stuck with this love. It is like Jacob and the angel."
Sadly they do not work much in Venice any more. Murano has become too expensive, she says, charging €1,000 an hour, which means that you can only use it when you are not going to experiment. Otherwise, the glass will simply be too expensive to sell. I ask where she works. She points at a lurid green almost glowing sculpture.
"That comes from the Czech Republic. When I think of a project I look around to try to find the best place to make the work. In this case, I went there for this uranium colour. That was the excuse, that yellow 'wow' colour." The virulent hue was fashionable in 19th-century glass but has fallen into disuse now.
This factory gets a delivery twice a year, the men with vans coming with men "all dressed like on the moon". Once heated the molecules change and the glass is no longer dangerous, so she then blows the glass into a mould, eventually coming back to work on the final pieces. This is where the process becomes much more "hit and miss", experimenting with heat to get the "slump". You have to learn with each attempt. "You want a surprise but not too many."
The transparent examples of glass in the window, also abjectly slumping, come from working in Seattle, with the same blower as Dale Chihuly. "These gave me headaches. I was asking myself, why am I doing this? I need a bit of stress and excitement and mystery."
The loft is beautiful, meticulously organised with wooden storage units similar to bookshelves containing examples of her past endeavours, a solution that she needed when all the work arrived en masse. What is it like living surrounded by your art, I ask her. "I was missing living with my work; now I am missing living without it."
Laura de Santillana and Alessandro Diaz de Santillana continue at the Yorkshire Sculpture Park (www.ysp.co.uk) until 6 September
Register for free to continue reading
Registration is a free and easy way to support our truly independent journalism
By registering, you will also enjoy limited access to Premium articles, exclusive newsletters, commenting, and virtual events with our leading journalists
Already have an account? sign in
Register for free to continue reading
Registration is a free and easy way to support our truly independent journalism
By registering, you will also enjoy limited access to Premium articles, exclusive newsletters, commenting, and virtual events with our leading journalists
Already have an account? sign in
Join our new commenting forum
Join thought-provoking conversations, follow other Independent readers and see their replies