Lego breaks out of the toy box and heads for the gallery
American artist Nathan Sawaya is making art from a million pieces - and he's on his way to Britain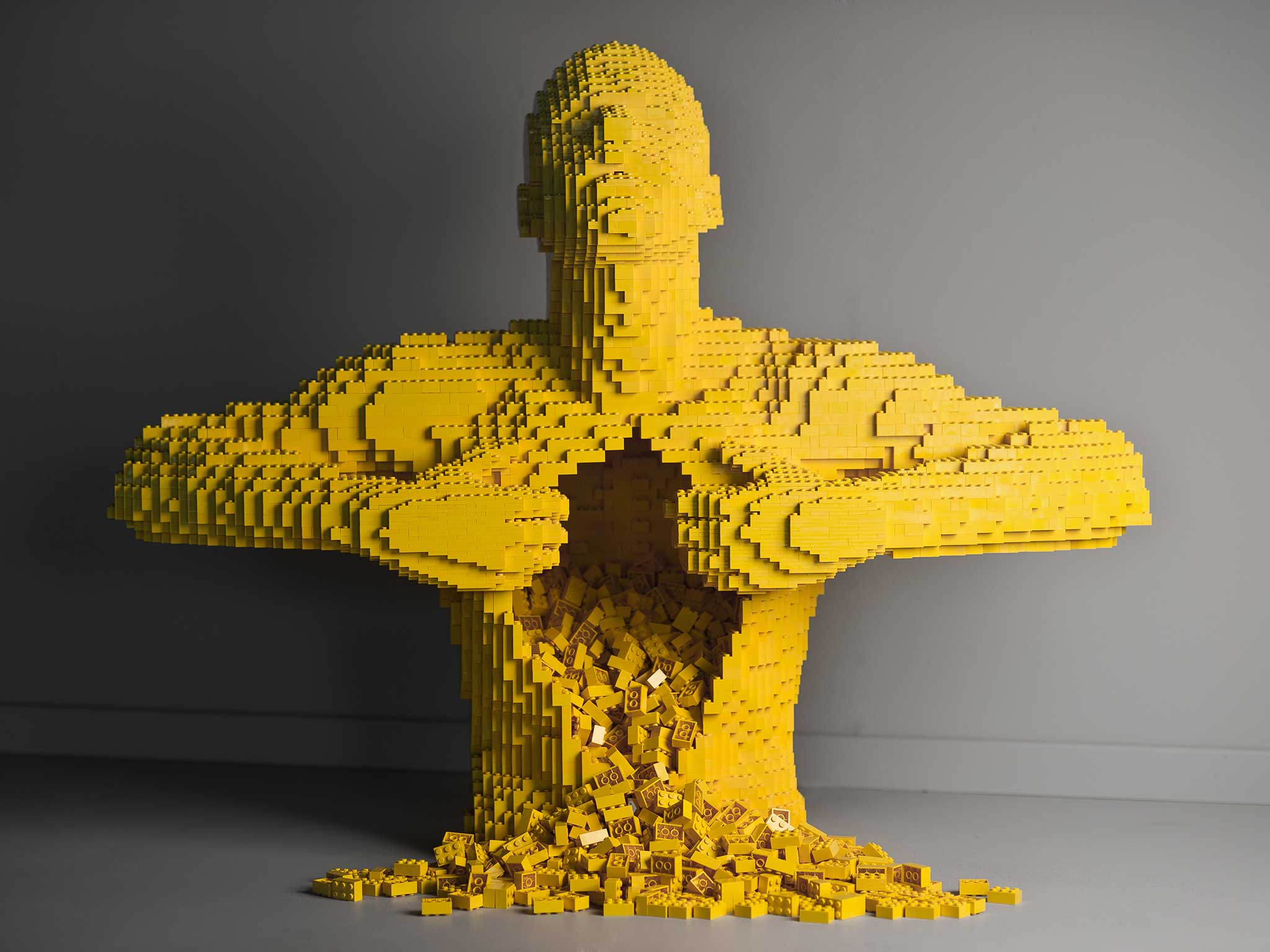 Monet was an oils man, Michelangelo was set on stone, Moore was a gentleman who preferred bronze. For an acclaimed American artist on his way to Britain, only plastic will do. His medium: a million Lego bricks.
Nathan Sawaya has built a global following with works crafted in the blocks that have inspired generations of children. He represents the artistic end of a growing movement among adults for whom Lego is anything but a toy. His giant sculptures, many of them human figures, include Yellow, a man ripping open his own chest and spilling out Lego innards (11,014 pieces make up the work), and a blue swimmer, as well as interpretations of masterpieces including the Mona Lisa.
In its first visit to the UK, Mr Sawaya's painstakingly constructed "Art of the Brick" exhibition, which has no official link to the Danish toy company, opens at The Old Truman Brewery in east London on 26 September. The Wall Street lawyer turned full-time Lego artist has more than four million bricks inside his studios in Los Angeles and New York. His works sell for five-figure sums, and he has filled dozens of exhibitions across four continents.
An art critic at The New York Times said of his exhibition in the city last year: "It is difficult to pass a version of Rodin's Thinker (4,332 pieces) or see Mr Sawaya's life-size piece Blue Guy Sitting (21,054 pieces) and not smile in amazement at the ambition or admire the skill.
"Bricks, once designed for children to build towns and buildings, are now used to evoke human shapes and brush strokes."
Nathan Sawaya's structures
Show all 7
Mr Sawaya, 41, received his first Lego set aged five. As a law student, he hid his bricks under his bed and built Manhattan cityscapes by night. A job at Legoland California followed until he struck out alone in New York. "Part of my mission is to make art accessible," he said from Los Angeles. "If someone sees a marble statue, they can appreciate it, but it's doubtful they'll go home and have marble they can start chipping at."
The artist is part of a global movement of Adult Fans of Lego or Afols. Richard Hayes launched the Brick Fanatics website in 2010, financing his hobby as the manager of a Sheffield coffee shop. "Since then I've seen the community almost triple," said Mr Hayes, who displays works at the annual Brick show at the ExCeL Centre, London. "Adults are a growing market for Lego. This year alone they've launched half a dozen sets aimed at us." But can Lego really be art? "I'll leave that to the critics to decide," Mr Sawaya said. "But when I started galleries were slamming their doors in my face. Now they're knocking on my door."
Join our commenting forum
Join thought-provoking conversations, follow other Independent readers and see their replies