From William Morris to Anna Wintour: How Liberty made an art out of fashion
An exhibition in Edinburgh explores the history of Liberty and their famous prints, from their Arts & Crafts roots through to collaborations with young designers and artists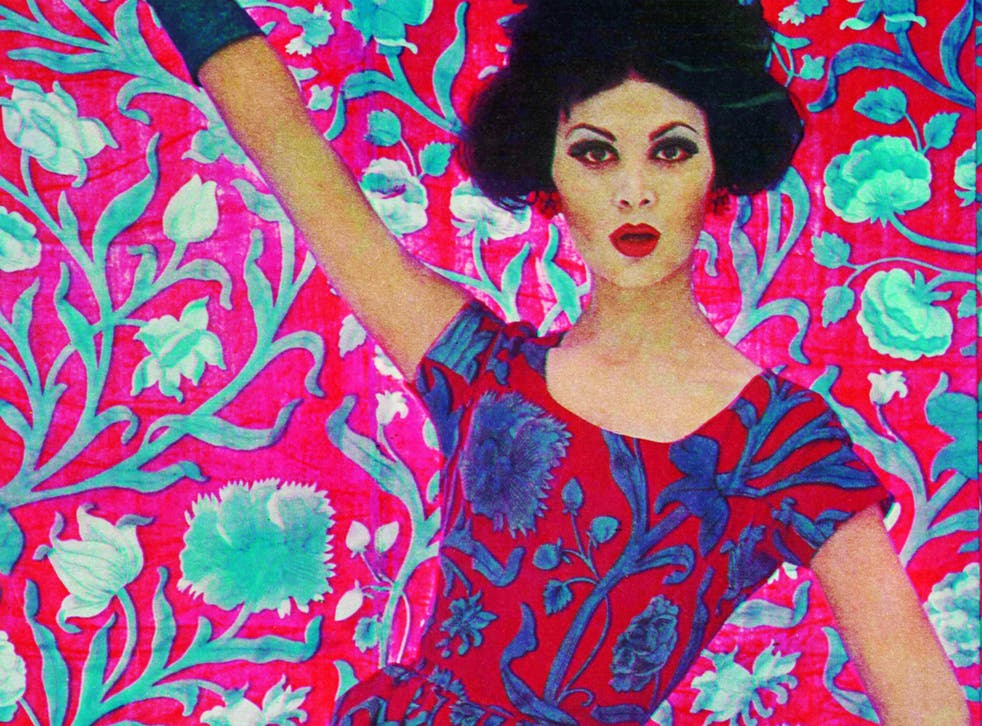 "It's about the art of wearing clothes." This is how curator Kate Grenyer describes Liberty: Art Fabrics & Fashion, an exhibition of more than 100 Liberty items at the Dovecot Gallery in Edinburgh. The show's opening coincides with the annual Edinburgh Art Festival, and contains fabrics and clothing from across the 143-year history of the London company.
The Dovecot exhibition has evolved out of a show originally staged at the Fashion and Textiles Museum in 2015. The Edinburgh gallery, however, features various new additions and some distinctly Scottish twists in telling the story of this much-loved fashion label, whose famous prints are something of a work of art themselves.
The first is to bring into the spotlight Glaswegian designer Marion Donaldson. Although less widely remembered than Barbara Hulanicki of Biba, Donaldson spearheaded one of the most successful Swinging Sixties brands in Britain, and is credited with bringing the psychedelia of London north of the border. One of the highlights of the show is Donaldson's own quintessentially Sixties wedding dress, made in blue paisley with a mini-skirt, and worn on the big day with fishnet tights and knee-high boots.
The company bearing Donaldson's name became Liberty's biggest customer in the UK, using its distinctive florals and other prints in designs that helped create the now instantly-recognisable trends of Sixties, Seventies and Eighties fashion. Most surprisingly, Donaldson did all this without any formal training in fashion and design, starting out at the kitchen table with only a £50 budget.
The second big addition by Dovecot is the showcasing of a contemporary designer with a similarly stratospheric career trajectory. Richard Quinn only established his label in 2016, after graduating from Central St Martins, yet Grenyer describes his career so far as "phenomenal", and she's not wrong: he recently dressed Amal Clooney for the Met Gala.
He's now perhaps the only fashion designer able to credit Anna Wintour and the Queen of England among his fans (the pair famously sat next to each other in the front row of Quinn's London Fashion Week show after he won the Queen Elizabeth II Award).
After digitally manipulating a Liberty print to use in his MA show, Quinn was invited by the company to make use of their archive. His professional debut was held at the famous store in London and, in July 2018, an accessories line collaboration between Quinn and Liberty's went on sale.
Like the other floral-loving British brand Erdem, Quinn's calling card is an ability to make such a traditional element of the UK's fashion heritage feel fresh, modern and – in Quinn's case – edgy and even daring. It's also worth noting that Quinn's catwalk designs are the type of fashion that often feels closer to sculpture or works of modern art (it would be interesting to see HRH wearing one of his hound's-tooth Lycra gimp suits – apparently it's the silk scarves she actually favours).
And it's this crossover between art and fashion that this exhibition emphasises. Grenyer talks enthusiastically about Liberty's first links with the Arts & Crafts movement of the late Victorian period, and how the fabrics became the "talk of the anti-establishment artists of the time".
Arthur Lasenby Liberty established his company in 1875. The brand's initial success owed a lot to the era's obsession with Japan and China, a cultural trend that could be seen as clearly in furniture and painting as it could in fabric and jewellery.
Most famously, the Victorian Libertys worked with William Morris, who designed some of Liberty's best-known prints. There's also a neat link here to the Dovecot, as the studios' founding weavers learned their craft at Morris's Merton Abbey workshops in Wimbledon, south London. The first wave of interest in Liberty fabrics coincided with the tellingly named Artistic Dress Movement, which saw women loosen corsets, bodices and waistlines in favour of the billowing, free-flowing styles whose influence could be seen decades later when 1970s hippies took up the Liberty print mantle.
In Morris' day, art and fashion were inextricably linked, with women encouraged to seek inspiration for the new styles in Pre-Raphaelite and Aesthetic paintings, which in turn were filled with references to Medieval Europe and Ancient Greece.
And that's not to mention the links between Liberty and Art Nouveau (in Italy the term "Stile Liberty" was in fact coined to describe Art Nouveau style), Liberty and Bauhaus, Liberty and Pop Art.
The exhibition in Edinburgh, however, also demonstrates one more link between contemporary art and Liberty. Throughout its run at Dovecot, visitors to the gallery can see a series of sculptures by Lucy Wayman.
The Welsh artist specialises in mesmerising, tactile artworks made with craft techniques including weaving, knotting and macrame. Accordingly, Wayman was invited to respond to the 1970s part of the Liberty display (the era when macrame, crochet and other similar crafts were big news in fashion).
Having an artist now respond to clothes made using Liberty's designs – a brand that has traditionally responded to artistic movements – creates a nice full circle of call-and-response between fashion and art. This is also something Dovecot as a company are familiar with in more ways than one.
Established in 1912 by the Marquess of Bute, Dovecot Studios were later consumed into the Edinburgh Tapestry Company. As with fashion, craft practices like weaving sometimes struggle to be taken seriously as "art". But the Dovecot's output – like Liberty's – is stunning. If you need proof, just Google Alison Watt's Butterfly tapestry, created for the Scottish Opera. Dovecot has also worked directly with numerous other artists including David Hockney and RB Kitaj.
The relevance of the Liberty exhibition to Dovecot can be felt in other ways too. Along with Donaldson, the show features designs by Jean Muir. She was born in London, but her father was from Aberdeen and the Jean Muir archive is owned by the National Museums of Scotland.
Muir started out working in the stock room at Liberty's, before being promoted to sketching designs for them. Following this, she opened her own company but continued to use Liberty fabrics in the designs. In fact, the Fashion Museum's Dress of the Year Award for 1964 was given to Muir for a frock made from – what else – Liberty's silk.
One of the most impressive things about Liberty's is its longevity. More than a century after Arthur Silver first designed the celebrated 'Peacock' print, Liberty has worked with Yves Saint Laurent, Loewe, Susie Cave's cult label The Vampire's Wife, and many more. Grenyer mentions its ability to keep "reinventing itself for each generation".
So what is it about Liberty's that means we still can't get enough of it – and, indeed, want to fill our art galleries with it? "Quality" is the word Grenyer keeps returning to: the quality of the fabric, the quality of the print and the quality of the designs it then becomes.
There's nothing disposable about a Liberty dress; the brand is almost the exact opposite of "fast fashion", despite the fact it's managed to remain on trend so consistently. Perhaps this is because Liberty's is always fashion – but it's also always art.
'Liberty: Art Fabrics & Fashion' is at Dovecot Studios, Edinburgh until 12 January (dovecotstudios.com)
Register for free to continue reading
Registration is a free and easy way to support our truly independent journalism
By registering, you will also enjoy limited access to Premium articles, exclusive newsletters, commenting, and virtual events with our leading journalists
Already have an account? sign in
Register for free to continue reading
Registration is a free and easy way to support our truly independent journalism
By registering, you will also enjoy limited access to Premium articles, exclusive newsletters, commenting, and virtual events with our leading journalists
Already have an account? sign in
Join our new commenting forum
Join thought-provoking conversations, follow other Independent readers and see their replies