Mariana Castillo Deball, artist: 'I need the distance from Mexico to be able to do my work'
Karen Wright meets Deball in her studio in the lively Kreuzberg sector of Berlin
Karen Wright
Thursday 30 October 2014 15:00 Comments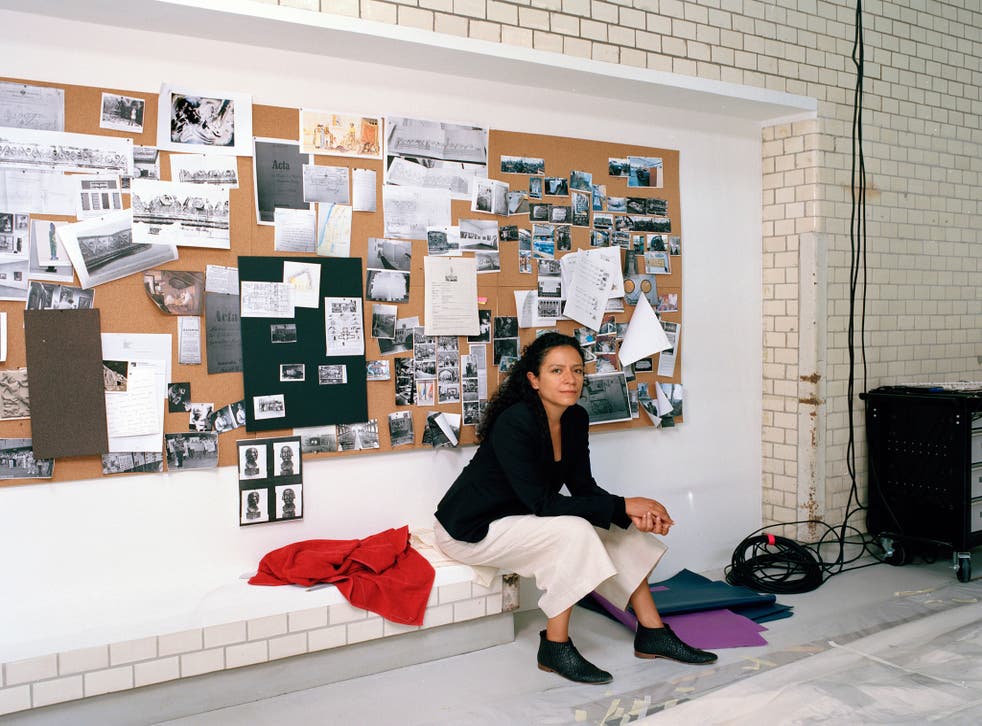 Mariana Castillo Deball is working today in a studio in the lively Kreuzberg sector of Berlin. The beautifully light tiled space, formerly the laundry for a hospital, sits on a spacious site that has been transformed into flats and a nursery, as well as the workplace. Deball lives nearby and says she is lucky to have found this as a temporary workplace. Her usual space is too small to prepare the large theatrical curtain that will be the centrepiece for her next exhibition. This year she won the Preis der Nationalgalerie für Junge Kunst and is preparing to show a project developed for the historic hall at Hamburger Bahnhof.
When I enter, three women are lying prone, painting architectural patterns projected from an overhead camera on to a large curtain. Music plays quietly. The work is based on an object from the Pergamon Museum, an architectural ruin. "I am not bringing in the original as it weighs tonnes, so we have transformed it into a curtain and it will create a temporary architectural atmosphere." When finished, the large screen will wind sinuously through the main space in the gallery, punctuated by sculptural elements. By the time I leave, the women are sitting up and are cross-legged: "Position two," says Deball smiling.
Deball was born in Mexico City in 1975 but left her home country in 2003, migrating first to Amsterdam to continue her studies and then to Berlin to take up the DAAD scholarship. "I need the distance from Mexico to be able to do my work." A separation so as not to be considered "a Mexican artist" caught up in the country's muralist tradition.
In the past she has explored the historical archives of the Scottish artist Eduardo Paolozzi, looking both at his work and how he stored and displayed it. This led to her mastering the "paper squeeze" method, a practice that archaeologists would use on site to reproduce unmovable objects.
She has scoured the ethnographic archives of her native South American city. Now she is tackling the richness of Berlin. Her investigations include tracking objects from museums. "There was a painting, The Poor Poet by Carl Spitzweg, which was first vandalised in the 1930s and then stolen for a day – an artistic action – and finally in 1999 they stole the painting and left a wheelchair. The police destroyed the wheelchair 10 years ago, so we will make a copy of the wheelchair," she explains. Her philosophic practice is that of an artist who is fundamentally concerned not with object-making but with the space and history behind the object.
As I leave she is settling in to paint. "I like to participate. It might not be my particular expertise, but I like to participate. I have to do a lot of logistics. It is really frustrating. At one point you need to let go."
Mariana Castillo Deball, Parergon Hamburger Bahnhof – Museum für Gegenwart, Berlin (smb.museum/en) to 1 March
Register for free to continue reading
Registration is a free and easy way to support our truly independent journalism
By registering, you will also enjoy limited access to Premium articles, exclusive newsletters, commenting, and virtual events with our leading journalists
Already have an account? sign in
Join our new commenting forum
Join thought-provoking conversations, follow other Independent readers and see their replies