Melanie Laurent: Quentin Tarantino star is on the right track
She found fame fighting Nazis in Inglourious Basterds. Now Mélanie Laurent impresses again in the drama Night Train to Lisbon
Kaleem Aftab
Friday 01 March 2013 20:00 Comments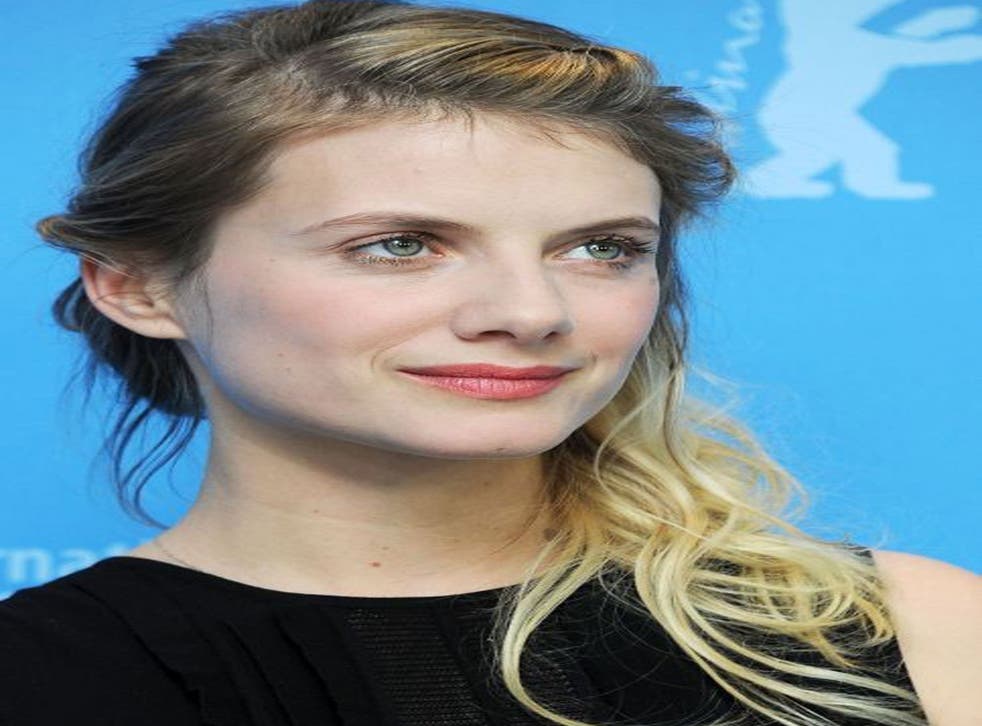 "I love saying I love you, it's so much easier to say in English, so much easier than Je t'aime," spouts Mélanie Laurent. It's Valentine's Day, the day after her latest film, Night Train to Lisbon, has unveiled at the Berlin Film Festival, and I find myself in a hotel room with the blonde 30-year-old actress and there is talk of love. "I forgot it was Valentine's Day today," she admits. "I got a call from my husband saying happy Valentine's and I thought I should have sent some flowers."
The surprise is that Laurent is talking about a husband. She got married rather quietly and mystery surrounds her nuptial as she refuses to name him. The Paris-born actress says that she also had a coup de foudre on the set of Requiem pour une Tueuse, "With my boyfriend/husband, I say that because I don't like the word husband, he was a crew member and I was an actress and we would looked at each other seductively for a few days before we talked."
Laurent has an allure about her that makes her fun to talk to. She says things for dramatic effect that makes chatting to her sometimes seem like watching a one-woman show. Thankfully, the performance is as good as those she gives on screen.
When talking about Quentin Tarantino, who she credits with changing her career after he cast her as the feisty revenge-seeking Jew Shosanna in revisionist Second World War drama Inglourious Basterds, she says, "I'm not going to say we are great friends, I know that's what normally we are supposed to say, that we worked together and it was so amazing and now we're friends forever... but I went to the big premiere of Django Unchained in Paris and thought it was so good. I wrote him a long email telling him how much I liked it."
She took the part of young Estefania in the adaptation of Pascal Mercier's book Night Train to Lisbon without reading the script because she wanted to work with director Bille August. It was a quick-fire decision that could easily have backfired but her one lament is that she didn't get to do any scenes with Jeremy Irons and adds, "It was the same with Brad Pitt on Inglourious Basterds."
On set, she claims she has a laid-back attitude that she blames on Gérard Depardieu, who helped her get her first break in the movies when she starred in The Bridge, a drama co-directed and starring the mammoth-framed personality: "He would turn up on set and not know his lines, and just get on with it on the day. It was the less-is-more approach. I can get away with that sometimes in French, but in English I have to work harder."
Night Train to Lisbon sees her acting in English again. How many English-language parts are on the CV has almost become a measure of a French actress's success. Of the young belles that have exploded on to the scene over the past two decades only Audrey Tautou hasn't made a regular habit of performing in English. Laurent is now a lot more confident speaking English than she was three years ago when she starred in Mike Mills's Beginners.
Her forthcoming films are all English language, including the thriller Now You See Me, in which she plays an Interpol detective alongside Morgan Freeman, Mark Ruffalo and Woody Harrelson, and Canadian director Denis Villeneuve's adaptation of the book An Enemy, with Sarah Gadon, Jake Gyllenhaal and Isabella Rossellini.
If she has hit a career roadblock, it's when she's branched out from acting. Her 2011 album, En T'Attendant, was released to scathing reviews. So much so that the Parisian admits, "I'm taking a break from music... everyone was so mean about it and it was so hard that I wanted to die."
She also co-wrote and directed the family drama Les Adoptés (The Adopted), which came out in 2011 to a very mixed reception. She is determined to direct again, as she says of her experience behind the camera: "For the first time in my life, I felt like I was in the right place."
'Night Train to Lisbon' will be out later this year
Register for free to continue reading
Registration is a free and easy way to support our truly independent journalism
By registering, you will also enjoy limited access to Premium articles, exclusive newsletters, commenting, and virtual events with our leading journalists
Already have an account? sign in
Join our new commenting forum
Join thought-provoking conversations, follow other Independent readers and see their replies