'Mummy, I could have done that' - new book pokes fun at modern art
Contemporary artwork satirised in new parody book for under fives
Alice Jones
Thursday 06 February 2014 16:51 Comments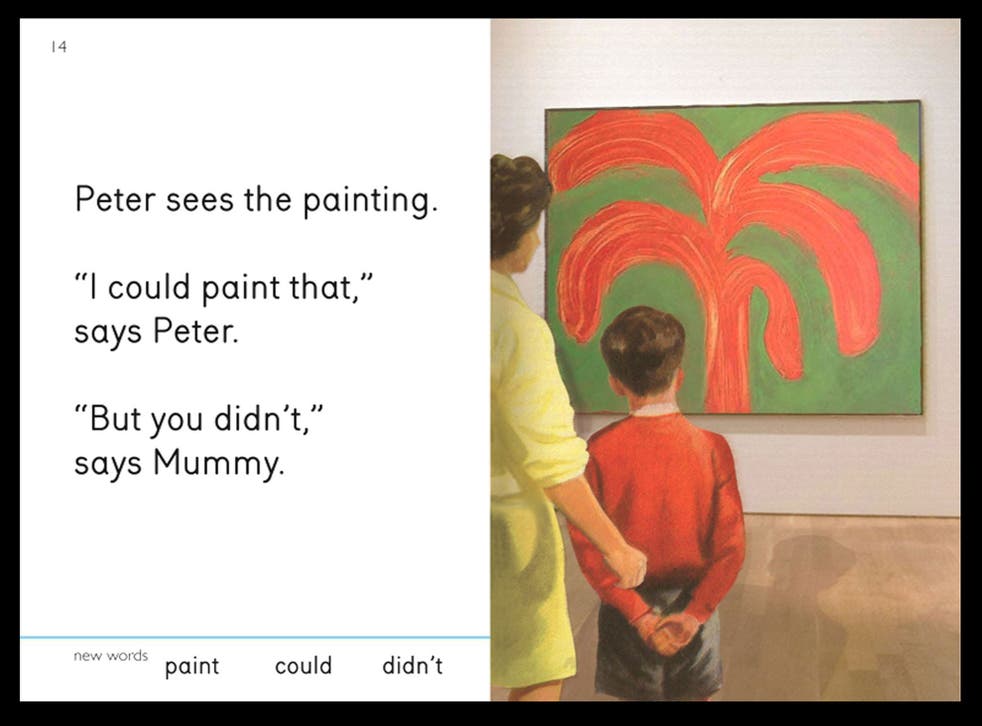 Peter and Jane go to a modern art gallery. In one room there is an old master that has been defaced with a giant penis; in another a canvas scrawled with the words 'Why did you f**k me and leave???' hangs on the wall; in another there is nothing at all.
"There is nothing in the room because God is dead", says mummy. "Oh dear," says Peter.
It may look and sound like a Ladybird Book, but We Go to the Gallery is probably more suitable for adults. Miriam Elia, artist and comedy writer, created the spoof children's book to poke fun at the art world.
"I thought it would be humorous to see Mummy, Peter and Jane going to a really nihilistic modern art exhibition", she says. Among the works confronted by the trio on their cultural outing are pastiches of Emin, Creed and Koons, through which they learn about sex, death, nothingness "and all of the debilitating, middle-class self-hatred contained in the artworks."
'Mummy, I could have painted that'

Show all 6
The book faithfully reproduces the Ladybird 1960s style down to the children's old-fashioned outfits and "key words" on each page, "to help the child to identify the key concepts, so that they may repeat them at dinner parties and impress educated guests."
"It's not people I'm criticising, it's work, and that's fair game as far as I'm concerned", says Elia who raised the £5000 to self publish the book through Kickstarter, "because people were scared of what Ladybird might think."
What do they think? "Well I didn't ask them for permission because it's art. My take is that it's satire so you can pretty much do anything you like."
The book launched at London's Cob Gallery last night. After that, Elia hopes to publish more. "I might do fundamentalist religion for the under fives next", she says.
Register for free to continue reading
Registration is a free and easy way to support our truly independent journalism
By registering, you will also enjoy limited access to Premium articles, exclusive newsletters, commenting, and virtual events with our leading journalists
Already have an account? sign in
Join our new commenting forum
Join thought-provoking conversations, follow other Independent readers and see their replies