Transforming the Body in Ancient Egypt looks beyond the Pharaohs and shines a light on ordinary citizens
Claudia Pritchard reports on this new show of artefacts sourced from our local museums' rich collections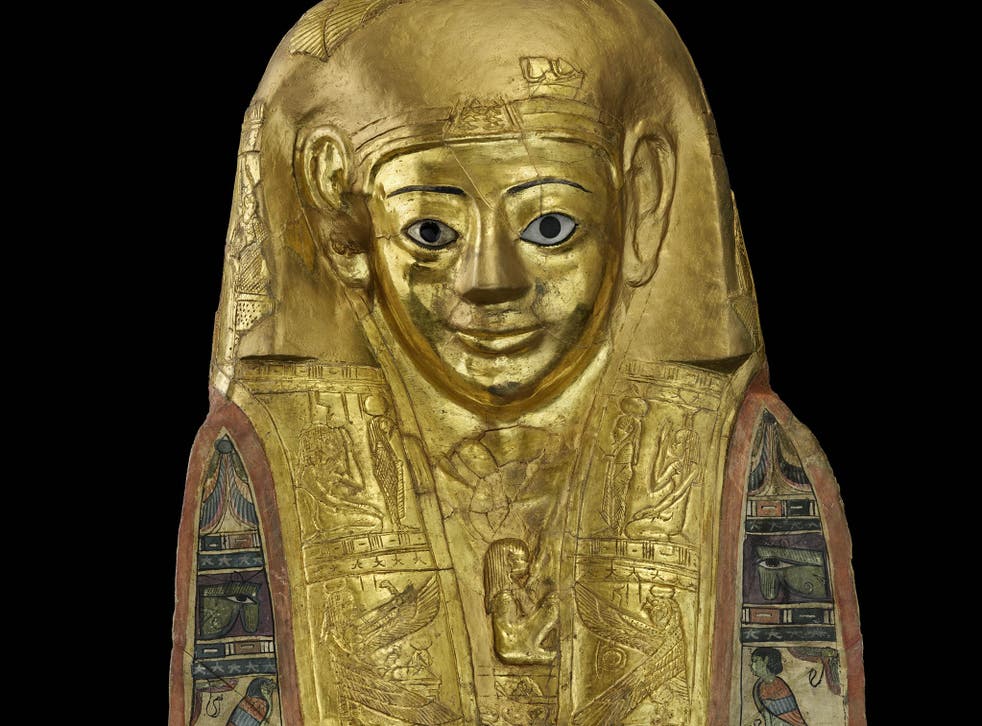 The gilded young man gazing out with huge eyes from the Egyptian mummy mask has all the trappings of a youthful pharaoh, with strong facial features beneath a headdress that sweeps behind large ears, his eyes outlined in black as deep as the black of his pupils, while brightly painted deities and mourners observe their rituals below.
But this is no successor to Tutankhamun's famed burial piece. For inscribed, not in hieroglyphs but in Greek, is the name of the high-ranking citizen so honoured in death, Titus Flavius Demetrios – and there is nothing Egyptian about a name like that. As an object illustrating cultural diversity, it takes some beating.
Titus, probably a Roman soldier who had acquired a taste for things Egyptian while stationed in northern Africa 2,000 years ago, eschewed a traditional memorial for himself in planning his own funeral rites, and picked out something local. The mask is one of the many objects retrieved from ancient Egyptian cemeteries and conserved in what can be regarded as our national collection of such artefacts.
For while the British Museum and the Ashmolean hold thousands of such pieces, the Egypt Explorations Fund (now Society), in effect the world's first crowd-funding exercise, ensured that provincial museums were enriched with their own relics. And it is pieces from a handful of these remarkable collections that are shown together for the first time in Beyond Beauty: Transforming the Body in Ancient Egypt, a free exhibition at Two Temple Place in London.
A 19th-century passion among philanthropists for educating and expanding the working classes' horizons coincided with a rash of archaeological digs in ancient Egypt that unearthed grave artefacts that were often spectacular, but which also revealed vast amounts about those who commissioned them – their aesthetic taste, yes, but also their customs and domestic life. And to encourage organised and accountable digging, the EEF invited Egyptology enthusiasts to subscribe to their projects, with the promise that their subscription would be rewarded with objects brought back to the new, local educational resource, the local and public museum.
Such objects can no longer leave their country of origin, so those now in British collections are irreplaceable, says Egyptologist and curator of Beyond Beauty, Dr Margaret Serpico. She has brought together important and touching personal items from Rochdale, Ipswich, Macclesfield, Bexhill and other unsung repositories.
This is not the story of royal power and privilege, but of families, albeit of some social status, mourning children and parents, preparing them for the afterlife by kitting them out with jewellery, cosmeticst and clothing. In death gender becomes unimportant – the lavish personal ornaments are as likely to be those of deceased males as females.
Culture news in pictures

Show all 33
On the other hand, at a time when exotic travel and scholarship was often the preserve of the Victorian male, the quests for these exotic objects, were often undertaken by women who were in no way held back by society's expectations. Among them were the novelist Amelia Edwards, who made her first trip to Egypt in 1873, and the adventurous Marianne Brocklehurst, whom Edwards met in a convoy on the Nile. It was Edwards who established he EEF; and Brocklehurst's travelling companion and sister, Mary Booth, became one of the fund's local secretaries, whose job was to raise funds and attract subscribers and donations.
Amelia Oldroyd, whose family were in textiles in Dewsbury, joined excavations by the great Egytologist William Matthew Flinders Petrie, sewing and cooking for the team. On marrying, she became her home town's EEF secretary.
Artefacts handed to Dewsbury's museum, in exchange for funding digs, include an electron pendant in the shape of an oyster shell from Abydos (1800-1600BC). Objects held by Brighton and Hove include an incised clay female figure with a decorative necklace – and tattoos, suggesting that body art was practised. The ideal body presented for the journey to the afterlife often reflected tastes in earthly life, says Dr Serpico Assistant curator Heba Abd el Gawad, a PhD student from Durham University and an Egyptian by birth, explains the importance to modern Egypt of these collections.
Far from wanting its objects back, she says, her country values their preservation. It is only the sale of unique objects that causes offence and uproar, such as Northampton Borough Council's disposal of its precious sculpture of Sekhema the scribe, snapped up by a private buyer for £15m in 2014, to fund other museum projects. A move criticised by Egypt's Ministry of Antiquities.
"It doesn't matter where in the world the objects are as long as they are accessible to all – they belong to us all," she says. And she believes that modern cultures can learn from Flinders Petrie, whose practice from the start was to respect the knowledge of local workers and pay them well.
In this way he fostered in Egyptians a tradition of working on excavations over many generations, some descendants to this day working on new digs. By contrast, she points to the current destruction of important archaeological sites elsewhere in the Middle East by Islamic State.
"Unlike Flinders Petrie, many Middle Eastern excavations don't involve local communities much. To do so might not stop all looting or desecration. But we can teach future generations that they have a link with the past that has an impact on their identity. It's important for them to know who they are."
'Beyond Beauty: Transforming the Body in Ancient Egypt', Two Temple Place, London (twotempleplace.org), 30 Jan to 24 Apr
Register for free to continue reading
Registration is a free and easy way to support our truly independent journalism
By registering, you will also enjoy limited access to Premium articles, exclusive newsletters, commenting, and virtual events with our leading journalists
Already have an account? sign in
Register for free to continue reading
Registration is a free and easy way to support our truly independent journalism
By registering, you will also enjoy limited access to Premium articles, exclusive newsletters, commenting, and virtual events with our leading journalists
Already have an account? sign in
Join our new commenting forum
Join thought-provoking conversations, follow other Independent readers and see their replies