New Rubens exhibition: painter, superstar, and multimedia factory manager
He was an artist, diplomat, peace-treaty broker and even ran a Warhol-style factory. As a major exhibition on Rubens opens in Britain, Boyd Tonkin visits his home and studio in Antwerp to find out why he remains a controversial figure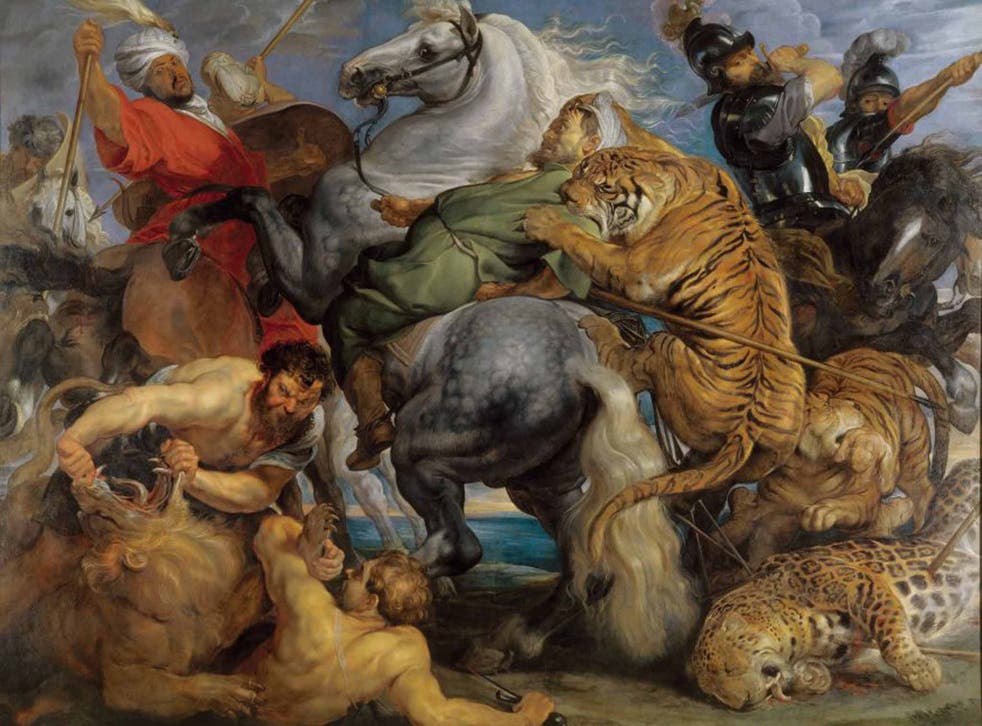 The word "studio" does scant justice to the space in which Peter Paul Rubens worked. Galleried, grandiose, even palatial, it feels as much like a theatre – or a throne room – as a painter's workshop. The Flemish master added it to his house in Antwerp in the 1610s, during the building works in which Europe's most sought-after artist transformed a modest merchant's residence in the port on the Scheldt into a showcase that borrowed the style of an Italian "palazzetto".
Ben van Beneden, director of the Rubens House, explains the proud statues of Mercury and Hercules: "Together, these deities proclaimed that his house was dedicated to art, wisdom and virtue." Every detail of the neo-classical décor "helps us understand Rubens' artistic ideals and ambitions". No other Renaissance painter owned such a mansion. After all, says Van Beneden, it belonged to "the most renowned artist of the first half of the 17th century, a central figure in the European Republic of Letters, and a diplomat".
Martine Maris, curator at the Rubens House, which has been a museum since 1946, walks me around this stage for a celebrity. In the studio, she tells me about the respect, bordering on awe, that Rubens attracted. One fan describes him painting there "while he was dictating a letter in one language, and someone was reading to him in another language. He was doing those three things at the same time. We know that's not a fact, but it gives an idea of how people perceived him."
In pictures: Rubens and His Legacy

Show all 4
Sir Peter Paul Rubens, superstar – or maybe superman. Painter, designer, print-maker, sculptor, architect, intellectual, he also found time to moonlight as a highly effective diplomat. In 1630, this trusted fixer for the rulers of the Spanish Netherlands brokered the peace treaty between England and Spain that led to a double knighthood, from Charles I and Philip IV. But the Rubens House in Antwerp, with its homely original flanked by the studio theatre, fronted by an Italian portico and beautified by a showpiece garden complete with classical pavilion, reveals more than the traditional tale of art in the service of power. It tells a very modern-sounding story too. Rubens, his home-cum-workshop thronged with pupils, partners and assistants, ran not just a thriving business but an art industry. Maris suggests a contemporary kinship as we walk around this multipurpose home, showroom, workspace and gallery: "We often make the comparison with Andy Warhol and the Factory."
On 24 January, the exhibition Rubens and His Legacy opens at the Royal Academy. A few tweaks and additions aside, above all from the English landscape tradition that Rubens did so much to inspire, this is the same show that the Bozar centre in Brussels hosted last autumn. Nico van Hout, curator of the Brussels exhibition, recalled Rubens' reputation as the "Homer of painting": a one-stop shop or art encyclopaedia who could deliver you any narrative, theme or motif on an epic scale. "He treated almost all the biblical and mythological subjects. So within this gigantic work, you'll always find something to touch you."
The show reveals not only the depth and extent of Rubens' impact on later painters – from Watteau to Delacroix, Reynolds to Renoir, Turner to Manet – but their deep ambivalence about him. Busy, fluent, adaptable, the go-to guy for an altarpiece, a tapestry, a set of engravings or a triumphal ceiling from London and Brussels to Paris and Madrid, Rubens in his facility and productivity aroused suspicion as well as respect. As early as the 18th century, sniffy classicists scorned his famously generous nudes as "mountains of flesh".
For the French critic Hippolyte Taine, Rubens could do almost everything except "the loftiest heights" of human nature. Renoir dismissed him as "all surface" – but admitted he had learned from the Flemish artist's handling of colour. Joshua Reynolds accused him of lacking "nicety of distinction and elegance of mind". Too big, too rich, too vulgar, too sensual, too servile, too pious: the Rubens factory came under a long hail of critical fire. John Ruskin was more honest. Beyond routine censure for his "unfortunate want of seriousness and incapability of true passion", the Victorian sage acknowledged that "the world may see another Titian and another Raffaelle, before it sees another Rubens".
Partly owing to the abundance of his output, Rubens can elicit yawns or sneers from gallery-goers across Europe. In the Victorian period, one German connoisseur calculated that British great houses alone hosted 262 works by Rubens and 420 by the star hiring for his Antwerp studio: Anthony van Dyck. But cease to treat him as a wholesale dealer in aristocratic flattery, mythological titillation or religious uplift, and we can get over Rubens fatigue.
Some may think not just of Warhol but of Jeff Koons or Damien Hirst. Van Beneden finds that "a little anachronistic". Rubens remained the foreman, not just the frontman: "Contrary to Warhol and Hirst, Rubens not only stayed closely involved in every stage of the production process. He often did quite a bit of the work, if not all of it, himself." But he did pioneer the multitasking role of entrepreneur, impresario and merchandiser as well as primary creator. As Maris says, Rubens – who lived in Italy between 1600 and 1608 – knew about the workshops of the Renaissance, notably Raphael's. In Antwerp, he took "this idea of the complete studio with an artist and his assistants" to a new level. As both artist and entrepreneur, "he had the best of both worlds".
He would draw designs that helpers and students would then finish; oversee projects for tapestries or engravings; supervise panel schemes for churches or palaces. "He designed everything, he painted the sketches, he overlooked everything," even when "for the actual work he had other people. He was the man in charge." With his own brush, he specialised in human figures. High-profile collaborators included his Antwerp friend Jan Brueghel the Elder, a wizard at animals and plants. If a patron wanted a "Rubens" painted solely by the master, it commanded a premium fee.
Inevitably, nagging questions of authenticity cluster around the Rubens factory. The house has a splendid self-portrait by the young Van Dyck. Or did the boss himself portray his most talented sidekick? For Maris, "It's sometimes very hard to say if it's Rubens, or Van Dyck working for Rubens and emulating his style." The studio also holds a study from a second, unfinished series of pictures commissioned to celebrate the life of the French queen mother, Marie de Medici (the first set now hangs in the Louvre). It's a dramatic battle scene.
"This is how the studio worked," explains Maris. "Rubens made the composition; you see that there's no underdrawing. And then he asked a specialist in fighting scenes to work out the front. The back part is finished but the front isn't. He's still thinking about what the best composition would be." Around 350 years before Warhol's silk-screened soup cans or Hirst's dot paintings, Rubens knew how to delegate, supervise and authorise to the greater glory of his brand.
The painter-entrepreneur of Antwerp often worked with graphic artists: via widely circulated prints, they could build an international public for his work. They included the leading engraver Lucas Vorsterman and the woodcut virtuoso Christoffel Jegher. In a very 21st-century twist, the idea for a series of Rubens prints might precede the designs. So the concept for branded merchandise generated the "original" artwork rather than merely reproducing it. Remarkably for his time, Rubens copyrighted his images not only in the Spanish Netherlands, but in England, France and Italy as well. In an age of very short licences, he took care that his rights should not expire. "He had to calculate when the protection ended, and he had to renew the copyrights," explains Van Hout.
Above all in his religious scenes, Rubens became a truly global marque. Devotional images such as his 1620 crucifixion painting Coup de Lance travelled the world. In prints or church copies, they supported Catholic missionary work as far afield as Peru, the Philippines and Quebec. Prints of an engraving of Coup de Lance by Boetius Bolswert reached Qing Dynasty China in the 1720s. A local interpretation of the scene appears on a vividly tinted porcelain dish made in China's ceramic capital, Jingdezhen. Even Hirst or Koons might struggle to put their stamp on household items in East Asia now.
However vast his scope and broad his reach, Rubens as a multimedia factory manager can still feel like a lofty, even remote, figure. His intimate portraits – especially of Isabella Brant and Hélène Fourment, his first and second wives – bring us closest to him. For Van Beneden, who is about to host a rare exhibition devoted to this domestic Rubens, "they are uncommonly honest works and at the same time expressive of great tenderness. These portraits not only show Rubens as a family man, but also as a man of flesh and blood." Even in his swanky home, the superstar could and did come down to earth.
Rubens and His Legacy, Royal Academy of Arts, London W1 (020 7300 8000) 24 January to 10 April. The Rubens House at Wapper 9-11, 2000 Antwerp, Belgium, is open daily (except Mondays). Rubens in Private runs there from 28 March to 28 June
Register for free to continue reading
Registration is a free and easy way to support our truly independent journalism
By registering, you will also enjoy limited access to Premium articles, exclusive newsletters, commenting, and virtual events with our leading journalists
Already have an account? sign in
Register for free to continue reading
Registration is a free and easy way to support our truly independent journalism
By registering, you will also enjoy limited access to Premium articles, exclusive newsletters, commenting, and virtual events with our leading journalists
Already have an account? sign in
Join our new commenting forum
Join thought-provoking conversations, follow other Independent readers and see their replies