Old Hong Kong: Photographer Fan Ho's memoir of the city
Fan Ho grew up in bustling, chaotic mid-century Hong Kong, where solitude was but a dream – until, that is, he turned his lens upon it
Peter Popham
Sunday 16 November 2014 01:00 Comments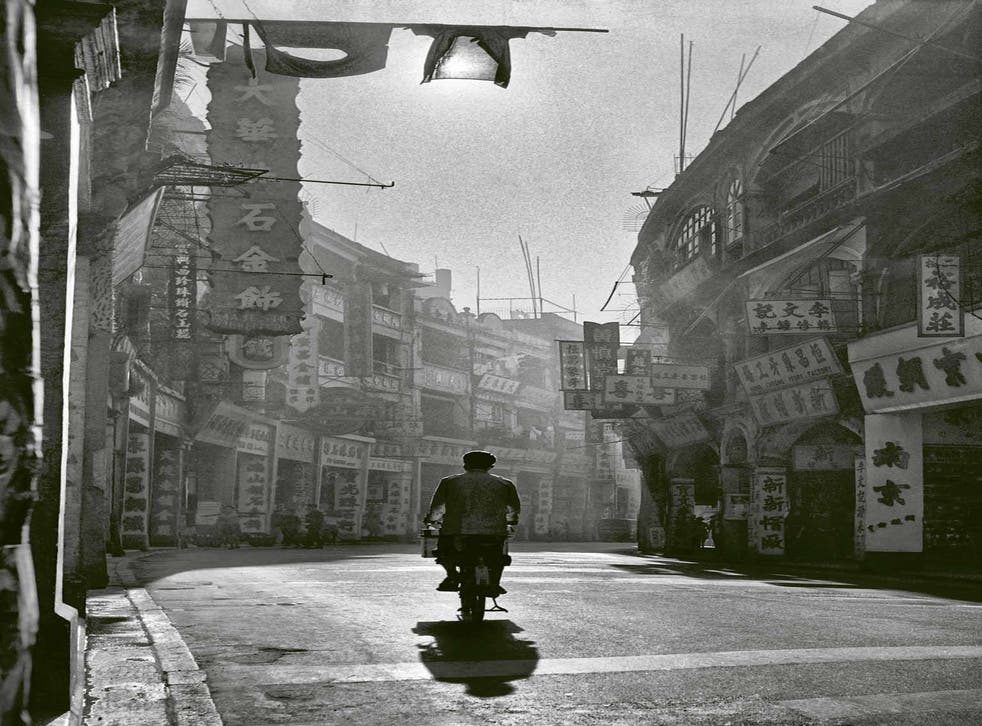 Where are we? The signs plastering the old shops lining this shabby street are all in Chinese. A tattered shirt and another garment with a gaping hole hang from a drying pole that protrudes from an upper floor. The sunlight is fierce and tropical, the shadows hard and short. Yes, we are in old Hong Kong. But here's a thing: the street is empty. Only those who have visited Hong Kong will appreciate how strange this is. For in Hong Kong, you are never alone: given the population density, which in places such as the shopping district of Mong Kok is higher than anywhere else on Earth, solitude is a dream.
And that word "dream" is the key to Fan Ho's miraculous photographs. Born in Shanghai in 1931, raised there and in Canton (now Guangzhou) until his family moved to a flat in Hong Kong Island's Mid-Levels in 1948, Ho's early life was spent in the thick of China at its most chaotic and congested: as Japan's bloody invasion flowed then ebbed, as the long civil war raged between the Communists and Chiang Kai-shek's Kuomintang, and as hundreds of thousands of refugees streamed into Hong Kong, doubling then doubling again the Crown Colony's population.
Ho's own family was not among the huddled and desperate: his father was a prosperous merchant, and once installed in Hong Kong he set up a factory printing labels. But the desperation and struggle to survive raged all around them. Yet when the young photographer hit the Hong Kong streets with his uncle's Rolleiflex camera, it was not the tumultuous life of the city that he wanted to capture. The sunlight and the shadows, sure; the iconography of Hong Kong, by all means: a distillation of the city's atmosphere, with its tramlines, rickshaws, bamboo scaffolding, small boats propelled through viscous water with a single oar, the strong yet hazy light. But no crowds. Instead, a solitary individual – this woman with a traditional white jacket and a long pigtail, this man on a beaten-up bicycle, this rickshaw puller with his hat and vest: a single figure, or two at the most, always with their backs turned, moving sedately away; lonely representatives of a vast, dynamic population who in fact were never alone except in their dreams.
Of his photographic technique, Ho says, "At the beginning you must find the ideal location. Then you must be patient to find the right subject that arouses your interest, even if it's just a cat . You must have the precise moment to catch the spirit, the essence, the soul of the person… If you don't have the exact moment, you have to wait for the right feeling. It's real creative work because you have to have the feeling inside."
Now aged 83 and settled in San Jose, California, since the 1980s, Fan Ho had a long and distinguished career as a Hong Kong film director; on several occasions, he took the starring role in front of the camera. But he is in no doubt that it is his photography, for which he has won hundreds of awards worldwide, that mattered most. "Film-making is my profession, photography is my passion," he says. "I love photography more because I have more freedom of expression, no pressure from the box office." And within photography, he has always had a fixed preference for monochrome. "I liked to concentrate and simplify the world in black and white, it was more suitable to my nature. I could express my emotions more freely, they were more fully under my control, [and the results were] surreal and semi-abstract. I liked this distance: not too close, not too far away…"
'Fan Ho: A Hong Kong Memoir' (£47, Modernbook Editions) is published next month. For more information: modernbook.com
Register for free to continue reading
Registration is a free and easy way to support our truly independent journalism
By registering, you will also enjoy limited access to Premium articles, exclusive newsletters, commenting, and virtual events with our leading journalists
Already have an account? sign in
Join our new commenting forum
Join thought-provoking conversations, follow other Independent readers and see their replies