Palestinian artists transform smoke-filled Gaza into symbol of resistance
Artists turn to 'universal language' of drawing to spread message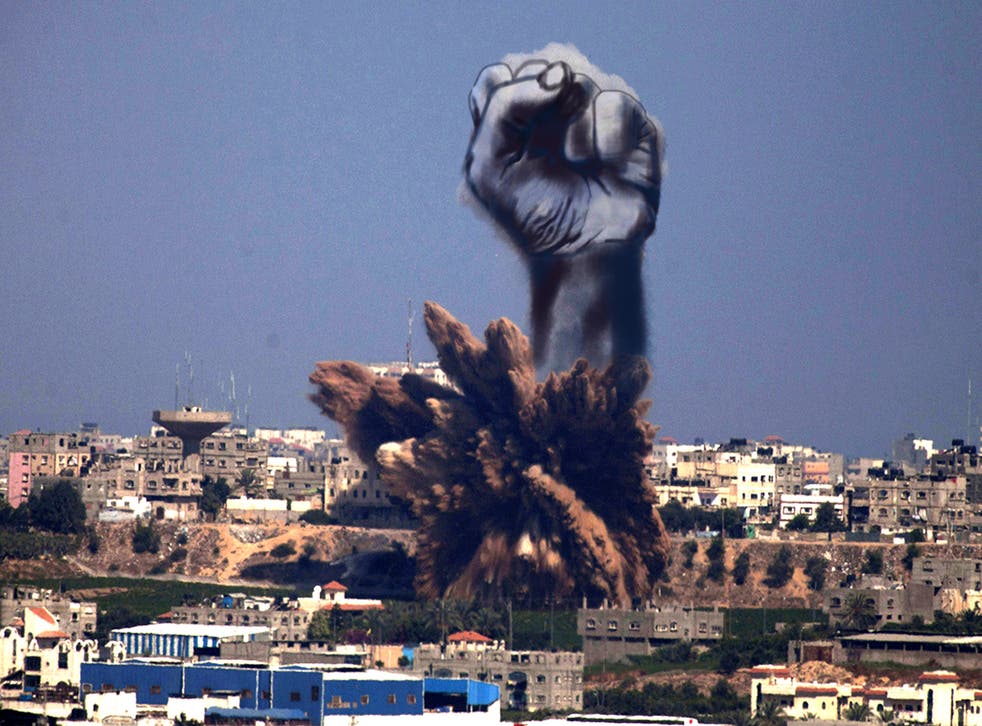 A group of Palestinian artists have turned the current fighting in Gaza into a symbol of hope and resistance by transforming photographs of rocket explosions.
Scroll to see more images
Artists Tawfik Gebreel, Bushra Shanan and Belal Khaled have drawn images of peace signs, clenched fists and parents playing with their children onto photographs of the smoke-filled region.
Gebreel, a Palestinian architect based in Gaza, said he began drawing images in the smoke from Israeli rocket strikes as a way of reconciling his work with the reality he saw.
He said he turned to drawing because he wanted to send a message in the "universal humanitarian language understood by all peoples of the world".
Gazan art - a symbol of resistance

Show all 10
"I have the ambition to do several exhibitions in several countries and publish my depictions of the suffering of the Palestinian people through graphic art and so the world knows the Strip," he told design website inhabit.com.
Yesterday, an Israeli attack on a UN school housing refugees in Gaza was described by the UN as a possible war crime.
Pierre Krahenbuhl, the commissioner for UN agency for Palestinian refugees, described the killings as "a source of universal shame".
But a spokesman for the Israeli Defense Forces, Lt Col Peter Lerner, said the Israeli military did not knowingly target UN buildings, adding it was "a huge challenge…to keep civilian impact to a minimum".
Register for free to continue reading
Registration is a free and easy way to support our truly independent journalism
By registering, you will also enjoy limited access to Premium articles, exclusive newsletters, commenting, and virtual events with our leading journalists
Already have an account? sign in