Photographer Haley Morris-Cafiero's revealing project looks at passers-by, looking at her
When Haley Morris-Cafiero sets up her camera and strikes a pose, she can't see the expressions of passers-by – not, that is, until she develops the photos. Gillian Orr talks to her about an extraordinary project
Gillian Orr
Saturday 08 August 2015 02:11 Comments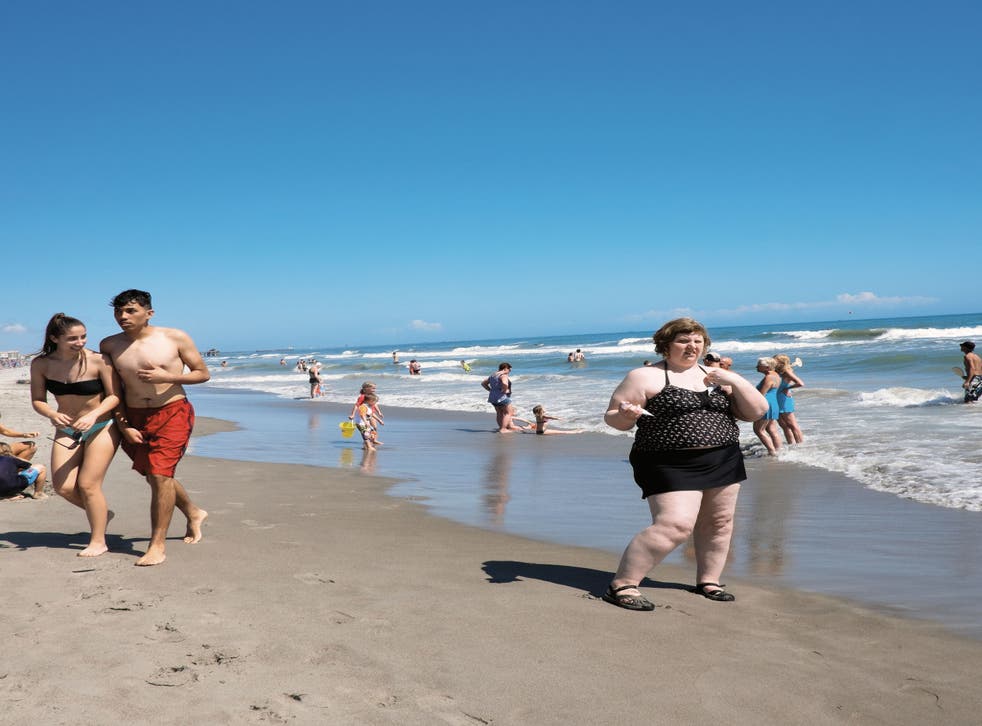 Long before she caught them on camera, Haley Morris-Cafiero noticed them: the stares, the glances. Then, while working on a self-portrait series in Times Square in 2010, the photographer captured it by accident. A man looking at her seemingly in disgust (see gallery below).
"We were there in the sensory overload capital, yet he seemed fixated on me," she recalls. "And he's kind of sneering, kind of laughing at me."
Instead of being upset at a stranger's negative reaction to her appearance, Morris-Cafiero went to work. She had her next project.
"This idea of being able to capture the way someone looks at you was so thrilling. I wanted more. So I started setting up the camera and I've been doing it ever since."
The result is an astonishing series of portraits that are variously amusing and sad, shocking and liberating.
Taken all over the world, from Miami to Madrid, Prague to Peru, Morris-Cafiero deliberately chooses crowded spots – tourist attractions, beaches, shopping malls – that she knows will be rife with curious onlookers. She positions a camera, then poses, taking shots by remote. She only sees the results and the faces of passers-by when she develops the pictures. The work is both performance art and a study into our obsession with checking one another out.
Haley Morris-Cafiero's self portraits

Show all 7
The 39-year-old from Memphis started to post the pictures online in February 2013, and the project soon went viral. Feedback was mixed; some applauded her bravery at so brazenly putting herself out there, while others responded with insults. In her soon-to-be released book, The Watchers, the online comments, good and bad, run alongside the images. For every person who tells her that she has given them hope and inspired them, another tells her that she's ugly and going to die.
"It never hurt me, though. Ever. And I think it's because I don't care what people think about me. I just thought it was kind of funny."
Morris-Cafiero is the first to admit that, whatever their outward expressions, she can never truly know what onlookers are thinking. They might seem disdainful, but it's impossible to say.
"I've come to understand: you can never judge someone's gaze."
She has listened to people's feedback throughout. A number of people commented that she should dress better. That if she wore better outfits she would be more "accepted" by society. It led to the picture Dress.
"People told me my life would be better if I wore make-up or did my hair better or wore a pretty dress. So I was like, 'You want me to improve? Let's see what happens when I go into a store to improve my wardrobe.' And you can see the result."
She says she wouldn't want to subject anyone else to her experience, yet she seems unmoved by the vitriol: "It just made me a little frustrated about our culture. Would you walk up to me and and tell me these things that you are posting online? Would you really?"
Register for free to continue reading
Registration is a free and easy way to support our truly independent journalism
By registering, you will also enjoy limited access to Premium articles, exclusive newsletters, commenting, and virtual events with our leading journalists
Already have an account? sign in
Join our new commenting forum
Join thought-provoking conversations, follow other Independent readers and see their replies