Photographers capture the relationship between dogs and their owners - including Simon Callow and his beloved boxers
Photographers Ollie Grove and Will Robson-Scott have spent the past six years taking traditional 'family' portraits that reveal the changing nuances of our relationships with our best friends. Now... sit!
Charlotte Philby
Sunday 15 March 2015 01:00 Comments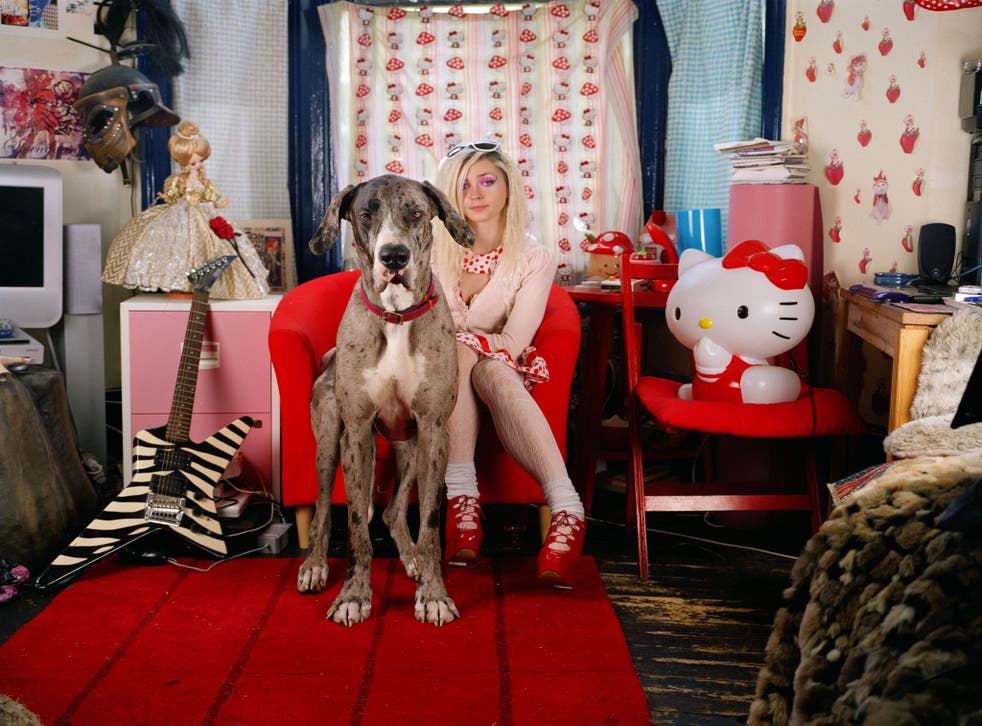 What does your dog say about you? French bulldog: you wear brogues and buy artisanal bread. Staffordshire bull terrier: Nikes and sliced white.In reality, of course, the answer is more complex, and for centuries the relationship between man and his best friend has provided an interesting filter through which to observe social history. Think of the Sealyham terrier – once popular among the elite, now facing extinction; or the ongoing news reports of pitbull cross-breeds being trained for use as weapons.
As the dynamics of modern dog ownership continue to shift, British photographers Ollie Grove and Will Robson-Scott have spent the past six years capturing canines and their owners – from rappers and their pitbulls in Compton, Los Angeles, to Highgate's Pearly King and Queen and their motley crew of mutts – in order to capture the simplicities and nuances of this special bond. "The original idea was for a series of photographic sittings, like traditional family portraits," Grove explains – the pair being inspired by The Dog Album, a collection of antique postcards of dogs and their owners published in 2000.
While forging their respective careers in photography and documentary film-making, the 31-year-olds – friends since their childhoods in north London – launched the joint project in 2008, shooting numerous pairings in Britain and the United States. There have been plenty of characters along the way, with subjects including politician Roy Hattersley and his late bull terrier Buster; and actor Simon Callow and his beloved boxers, Ruby and Roxy see gallery above). "Simon was very welcoming," says Grove, "and he's lucky enough to have a permanent assistant who doubles up as his dog-walker and takes the dogs on long walks on Hampstead Heath."
'In Dogs We Trust'

Show all 6
It was in a nearby part of London that Grove found the unlikely duo of Nazrin and Syf, pictured top. " I encountered this girl called Nazrin in Camden Lock; she was dressed like a doll, walking over the bridge with a Harlequin Great Dane, which you hardly ever see. I asked if I could come to her house and photograph her dog. She and her boyfriend were there; it was the hottest day of the year and all the elements of the room stood out like they'd been prepared for a photoshoot: the doll, the gladiator's mask, the thunderbolt zebra-stripe guitar. Syf was wonderfully gentle."
There is a poignancy to a few of the images, too. The shot of the man with the two dogs, above, "is one of my favourite images and has become quite an important picture in the series", says Robson-Scott. "It was taken in 2011 and is of Felix Kiernan, a good friend who died last year. He was a doctor who everyone loved. He lived locally in Parliament Hill, where he walked his dogs and where this photo was taken. He died last year climbing in [California's] Yosemite Park. Sadly, Moffy has since died as well."
Nevertheless, Robson-Scott says this project, resulting in the book In Dogs We Trust, has "restored my faith in humanity. Dogs are a product of their upbringing, just like children; there aren't really bad dogs, just bad owners. We didn't come across too many of either."
'In Dogs We Trust' is published by Victory Edition, priced £30
Register for free to continue reading
Registration is a free and easy way to support our truly independent journalism
By registering, you will also enjoy limited access to Premium articles, exclusive newsletters, commenting, and virtual events with our leading journalists
Already have an account? sign in
Join our new commenting forum
Join thought-provoking conversations, follow other Independent readers and see their replies