Photos of teenage bedrooms in the 90s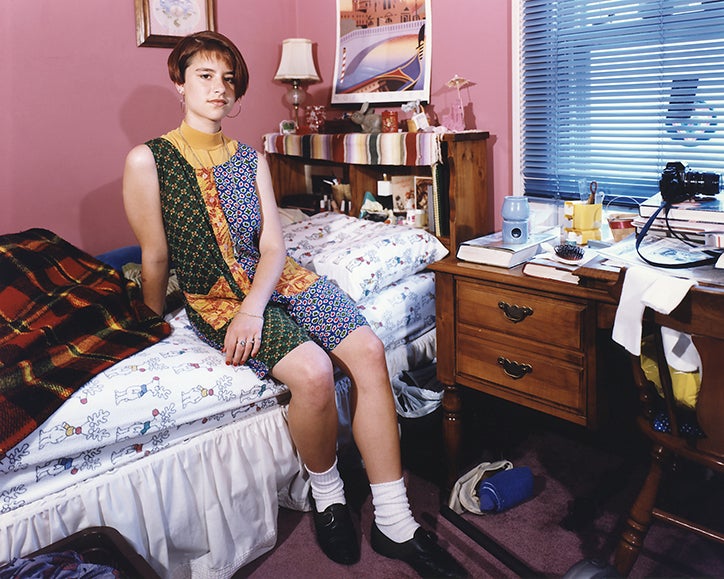 There's a strange abstraction about the aesthetics of the near past. Look at bedrooms from the 1920s and you feel like you're simply taking in historical information, but gaze on ones from just a couple of decades ago and you're met with the odd realisation that a period that felt devoid of character while you lived through it had just as defined a look and corresponding temporal paraphernalia.
Photographer Adrienne Salinger's 'Teenager' series displays this perfectly, consisting of very simply, blankly shot photos of teenagers in their most natural habitat.
"Our bedrooms tell stories about us. They become the repository for memories, desire and self-image," she told It's Nice That. "I was fascinated going into strangers' homes and into people's bedrooms, asking them about their lives and hearing their stories. I was interested in the rich visual information showing the contradictions and ambivalence of coming of age."
'Teenager' by Adrienne Salinger
Show all 13
The bedrooms of teenagers were in particular of such interest to Salinger because of their clashes of lingering childhood items with more recent and grown-up purchases.
"I chose teenagers because they're on the edge of rapid change," she explained.
"It's almost the last moment they'll be living with their parents, in rooms that contain all of their possessions. The past is squeezed together on the same shelf as the future."
The temptation when someone is about to view, let alone shoot, your room is to clean and curate it, but Salinger asked her subjects to resist.
"I told them not to clean their rooms," she added, "not to prepare in any way and no parents allowed."

Join our commenting forum
Join thought-provoking conversations, follow other Independent readers and see their replies