Polly Morgan: The taxidermy artist talks llama rides, eyeball scarves and how to deal with despair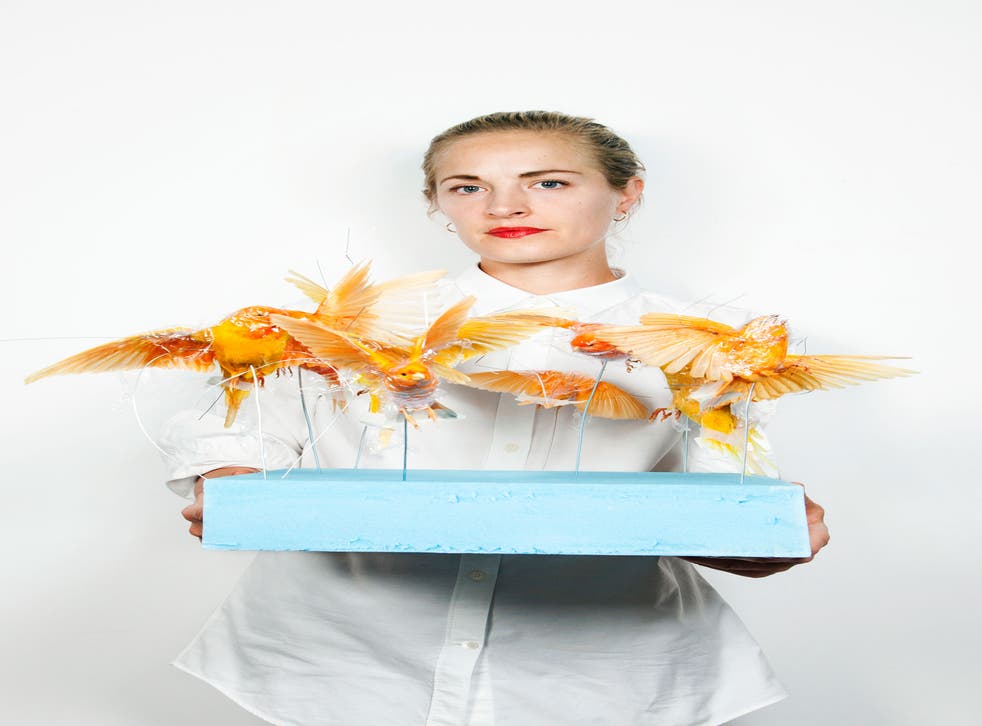 Taxidermy is part butchery, part sculpture Once you peel back the skin and see the body beneath, there lies a whole new world. By knowing animals, I now know myself, how I am put together, and understand the lumps and bumps under my own skin. It's frightening to realise how fragile we are: it'd be so easy to chop a hand off now I know where to aim for.
I grew up in the Cotswolds, surrounded by animals We didn't have a farm, but my dad traded animals, and his affection towards them was endearing. He'd put me on the backs of llamas for entertainment, but it's not practical when you end up with baby goats in the dog basket and a budgie flying around and landing on your head when you're watching EastEnders. It could be exasperating. He cared for all these animals, but as a child I wanted to be the centre of his world. I used to see our dogs as annoying little brothers, who'd creep into my bed at night.
You accept what you're brought up around as the norm When I moved to London I was struck by the absence of animals: suddenly all I could see was street pigeons. But I enjoyed watching them and developed an affection for them, so I still resent it when people call them flying rats.
I first thought of taxidermy when I was looking for art for my flat The problem was, I didn't find anyone creating what I was looking for: I wanted animals to look dead, rather than the traditional way of rendering them to look exactly as they had in life. So it occurred to me to start making some myself [Morgan's sculptures now fetch up to £100,000 from collectors].
I would never skin my own pet Every taxidermist I have ever spoken to has been horrified at the idea of doing their own pets. You have to be dispassionate as a taxidermist. So if, say, a fox resembles one of my pet dogs too closely, and it creates an emotional connection, I couldn't do it. I'd also never kill an animal for the purpose of taxidermy [All Morgan's works are either road casualties or have been donated by owners or vets after natural or unpreventable deaths]. It's about waiting for a body to be vacated by its owner.
My dogs sit with me while I work If I get a surprise arrival [of a dead animal] in the post, they start sniffing around it. They're even more interested when they follow me to the freezers, where I store the animals. They jump up and have another sniff, though these days they rarely walk off with dead animals in their mouths, as they've got used to it.
My glass-eye chart has inspired a silk scarf I've just collaborated with a fashion label called Mother of Pearl for its autumn/winter collection. The designers came to my studio and I showed them some of the tools I use. The scarf has beautiful patterns filled with rows of eyeballs on it.
There is a well of despair or loneliness in everyone It lies just beneath the surface. Keeping busy keeps it at bay for me. I just need to see the results of my labour – cook something, or work on some taxidermy – to feel better. I'm almost evangelical about sharing that: if you're suffering or down, just create something.
I socialise best with food I love to eat with people. I find standing at a bar with a drink in my hand awkward. Maybe that's because I was never a smoker, which gives people something to do with their hands.
Polly Morgan, 33, uses taxidermy to create works of art. She will be appearing at the Vauxhall Art Car Boot Fair, Brick Lane Yard, London E1, on 9 June (artcarbootfair.com). For more: pollymorgan.co.uk
Register for free to continue reading
Registration is a free and easy way to support our truly independent journalism
By registering, you will also enjoy limited access to Premium articles, exclusive newsletters, commenting, and virtual events with our leading journalists
Already have an account? sign in
Register for free to continue reading
Registration is a free and easy way to support our truly independent journalism
By registering, you will also enjoy limited access to Premium articles, exclusive newsletters, commenting, and virtual events with our leading journalists
Already have an account? sign in
Join our new commenting forum
Join thought-provoking conversations, follow other Independent readers and see their replies