Portfolio: Maciej Dakowicz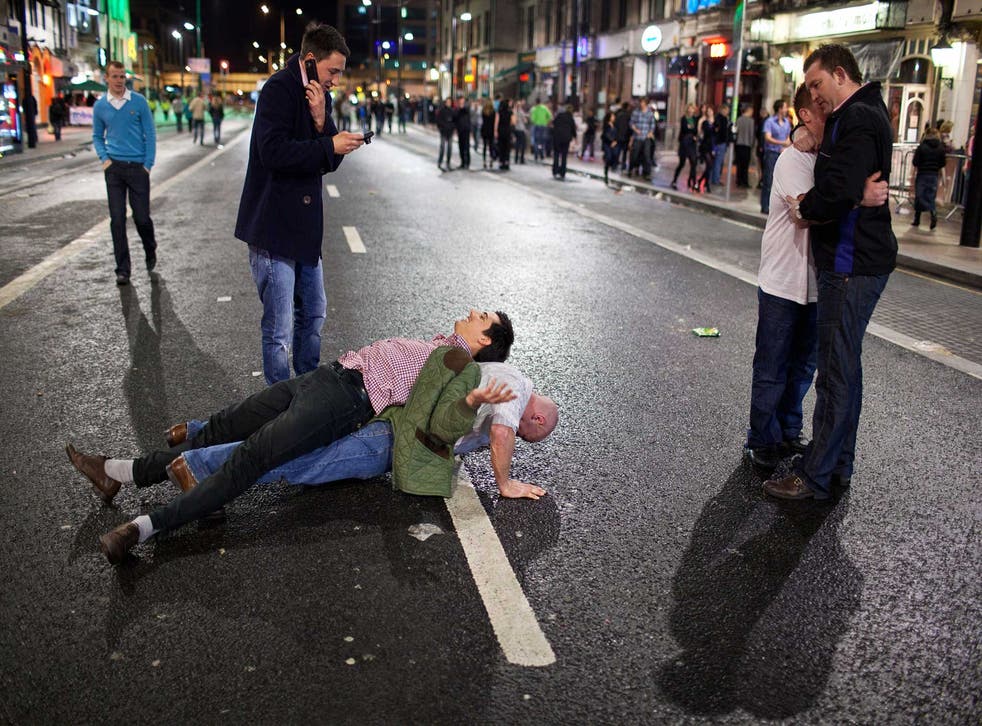 Many of us have been there (or at least been there witnessing it) – standing in the middle of a road, locked in an emotional embrace with someone we might not have known a few hours earlier but who is now our best friend, while our actual friend is doing press-ups with some bloke on his back to prove his strength.
But while that sort of activity tends to be restricted to New Year's Eve for the majority of us (watch out, world!), this is but a random Saturday night out for the denizens of Cardiff, who gave the Polish-born photographer Maciej Dakowicz reason enough to keep shooting his series "Cardiff After Dark" for six years.
Dakowicz documented the weekly scenes of revelry while studying for a PhD in the Welsh capital. "I moved to Cardiff in 2004 and soon noticed the vibrant weekend nightlife," he says, "so I started taking my camera with me when I went out with my friends for a drink. Instead of chasing girls, I was chasing interesting situations.
"People [in Cardiff] do whatever they feel like, dressing up in Superman or Playboy bunny outfits and expressing themselves so openly. In my home town of Bialystok, you don't really see any of that."
His series, shot on the city's drinking mecca of St Mary's Street, has been the subject of condemnatory headlines for its depiction of graphic drunkenness, what you might politely refer to as sexual liberation and what most right-thinking members of society would see as a disturbing streak of casual violence – yet more of us will recognise the sort of harmless high jinks seen here, in his favourite shot, taken in March 2010. Just, try not to embarrass yourself by recreating it tomorrow night…
'Cardiff After Dark' is published by Thames and Hudson, priced £24.95 (maciejdakowicz.com)
Register for free to continue reading
Registration is a free and easy way to support our truly independent journalism
By registering, you will also enjoy limited access to Premium articles, exclusive newsletters, commenting, and virtual events with our leading journalists
Already have an account? sign in
Register for free to continue reading
Registration is a free and easy way to support our truly independent journalism
By registering, you will also enjoy limited access to Premium articles, exclusive newsletters, commenting, and virtual events with our leading journalists
Already have an account? sign in
Join our new commenting forum
Join thought-provoking conversations, follow other Independent readers and see their replies