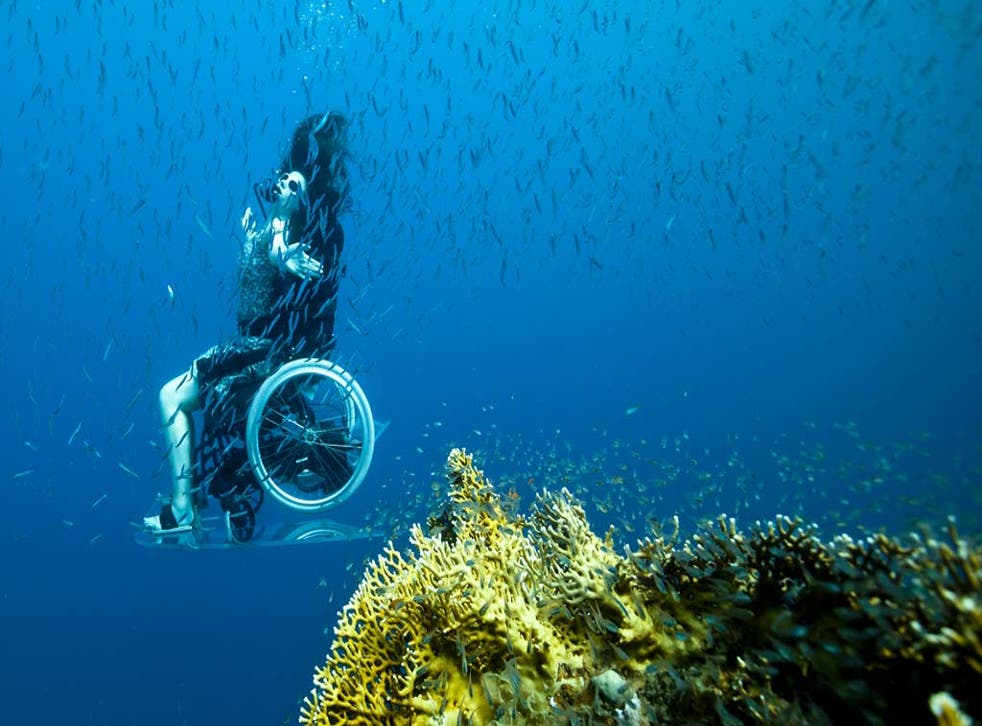 It was at a swimming pool in Weymouth that Norman Lomax first saw Sue Austin propelling herself through the water in an adapted wheelchair – and it was something of a eureka moment for him. "As a photographer," he explains, "the best stories are of ordinary people doing extraordinary things – that's what I saw here."
Austin is a disabled artist who is putting on a show as part of the Cultural Olympiad, an umbrella organisation for 25,000 artists creating 12,000 events around the Olympics. And it was her ambitious idea to capture a series of underwater performances on film that led her and Lomax to the diving mecca of Sharm-el-Sheikh, by the Red Sea.
The result is a series of seascapes in which shoals of fish swarm around sun-dappled coral – and the less-expected sight of Austin. Clothed in a summer frock, her arms are outstretched as she freewheels through the sea in her NHS wheelchair, which is fitted with thrusters and two large Perspex wings strapped beneath her feet for manoeuvring.
"Watching Sue fly around the reef was incredible," adds Lomax. "It looked like an extraordinary underwater ballet. It also broke down a deeply engrained perception that I had of disability that I think a lot of us share."
For details of live pool performances and screenings, visit wearefreewheeling.org.uk
Register for free to continue reading
Registration is a free and easy way to support our truly independent journalism
By registering, you will also enjoy limited access to Premium articles, exclusive newsletters, commenting, and virtual events with our leading journalists
Already have an account? sign in
Register for free to continue reading
Registration is a free and easy way to support our truly independent journalism
By registering, you will also enjoy limited access to Premium articles, exclusive newsletters, commenting, and virtual events with our leading journalists
Already have an account? sign in
Join our new commenting forum
Join thought-provoking conversations, follow other Independent readers and see their replies