Rannva Kunoy, painter: 'I keep reining the paint in, to prevent it from being overly luxurious'
Karen wright meets the artist at her studio in Stoke Newington, north London
Karen Wright
Thursday 18 February 2016 18:31 Comments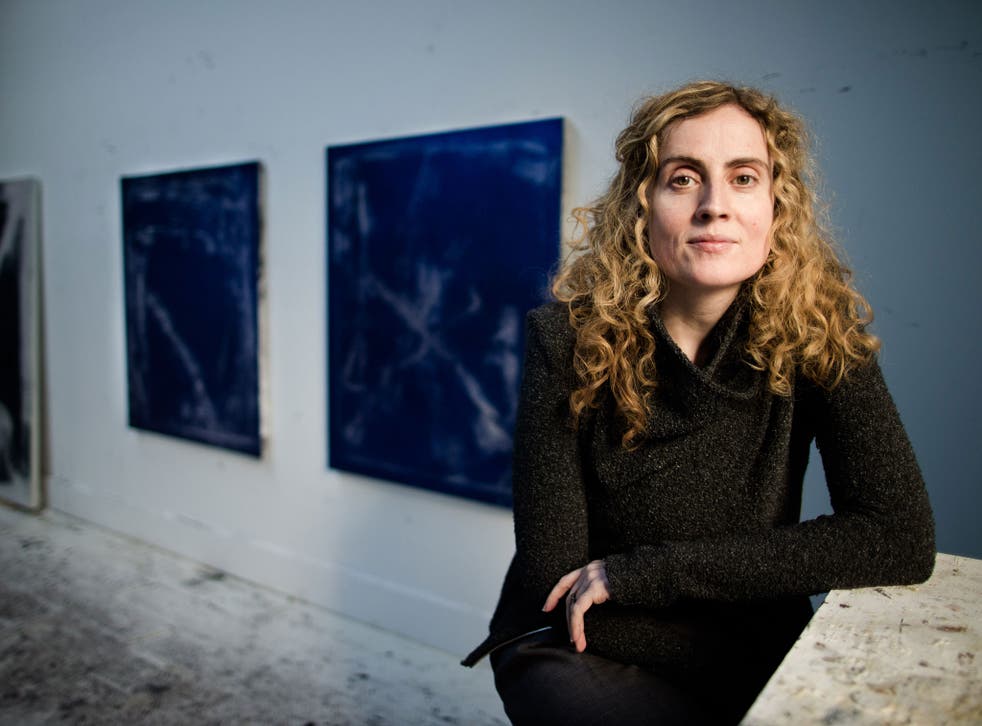 Painter Rannva Kunoy works in a studio adjacent to Clissold Park in Stoke Newington, north London. The industrial building contains around 60 studios although Kunoy does not know any of her neighbours. It is refreshing to enter her small top-lit space and see simply paintings, a rarity in today's curator-led art world.
Kunoy was born in 1975 in the Faroe Islands, an archipelago midway between Norway and Iceland. "If I was not from there," she says. "I would not know where it was." She lived in Grimsby for some years when she was young, a period she recalls fondly. Her parents then returned to live on the islands. Kunoy says that everyone leaves the islands to study abroad, usually between the ages of 18 to 30, but about 95 per cent return. Most go to Denmark but she had always loved London. She completed her MA at the Royal College of Art, settled in the city and married fellow artist, Michael Raedecker, a few years ago.
Culture news in pictures

Show all 33
Kunoy's studio is pared down. A single chair and few books give scant clues as to her sources. She lives 10 minutes away and walks here, having first spent an hour at home looking at books and reading, admitting that she finds objects a distraction in the studio. It is almost disturbingly neat with little evidence of paint on any surface or the floor.
For the past few years she has hunkered down, choosing to work behind closed doors. "I did not let anyone in, not even fellow artists. I was looking for something specific, my own mark, and was not prepared to compromise." A large deep blue canvas dominates one wall, its surface incised with abstract marks. Kunoy has been using crystal pigment paint, the kind that is usually used for luxury cars. The paint acts almost like a reflective surface and the incised marks draw the eye in. "I keep reining the paint in to prevent it from being overly luxurious. My obsession is not being able to paint with texture, I am always pushing towards the immaterial."
One of her influences is Lucio Fontana and his cut paintings; another is the Minimalist Dan Flavin. But when I look at them here I see hints of Minimalism shaken with touches of restrained gesture, resulting in an ephemeral, shifting language. It is like all great painting, changing in the light, revealing itself slowly.
Kunoy's recent exhibition in the prestigious museum CentrePasArt in Biel, Switzerland, encouraged new collectors including Charles Saatchi to invest in her work. She is working towards an exhibition next year but shows no signs of stopping experimenting. It is clear that her time alone in the studio has borne fruit. The paintings do not look effortful. As Kunoy says, "It just took time."
Register for free to continue reading
Registration is a free and easy way to support our truly independent journalism
By registering, you will also enjoy limited access to Premium articles, exclusive newsletters, commenting, and virtual events with our leading journalists
Already have an account? sign in
Join our new commenting forum
Join thought-provoking conversations, follow other Independent readers and see their replies