Ron English: If it hadn't been for Ron, there'd be no Banksy
With his first solo UK show under way, the guerrilla artist tells Fiona Sturges how he's waging war on corporate America one 'liberated' billboard at a time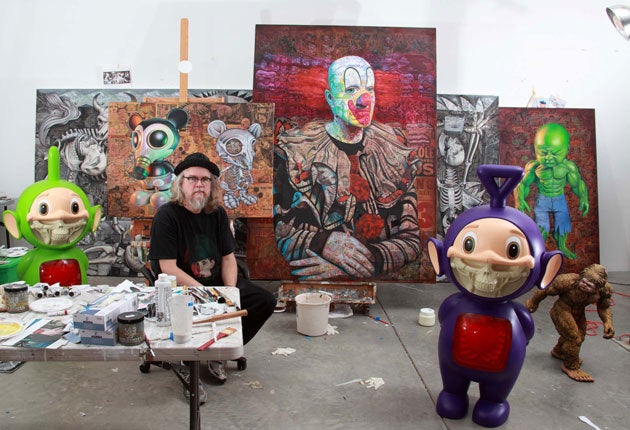 In the late Nineties, the American guerrilla artist Ron English received word from his agent that he had an admirer: a young Englishman who went by the name of Banksy.
"At the time I was writing on billboards and painting shadows on walls," recalls English. "Apparently he loved what I was doing, he said he wanted to be 'the Ron English of Britain'. I hear he's done pretty well since then."
English, 52, hasn't been doing badly either. According to his people, English's work sells at between £18,000 and £135,000. Over the past 30 years the man hailed as the "godfather of graffiti art" has been waging war on corporate America by "liberating" its billboards. Among his targets is Apple, whose image of Gandhi next to the words "Think Different" he substituted with Charles Manson; and Camel cigarettes, for whom he invented the slogan "Hooked any kids yet?".
Big business isn't his only target. Giant posters reading "The King of the Jews for the King of the Beers", featuring Jesus with a bottle of lager, or his Times Square offering "Jihad Is Over (If You Want It)", a riff on the John Lennon/Yoko Ono-sponsored slogan "War Is Over! If You Want It", reveal a fearlessness that has often landed him in hot water. English reckons to have seen the inside of a prison cell on more than 30 occasions – but concedes that some were a result of a misspent youth robbing gas stations – and has often been threatened. After being spotted in Jersey City pasting up the slogan "Let's get drunk and kill God," he and his crew were chased down the street by a baseball-bat-wielding mob.
While it's his hoardings that grab headlines – they were the subject of a documentary, Popaganda, The Art and Crimes of Ron English – the artist is increasingly known for studio paintings that appropriate popular images: Marilyn Monroe with Mickey Mouse breasts; Barack Obama's face superimposed over that of Abraham Lincoln; and child-clowns drinking beer and sucking on Lucky Strike cigarettes.
Several of these images appear in Skin Deep, English's first UK solo show, which he says is about "all the things that go on beneath the surface of who we are. We all have a million voices in our heads, multiple narratives that create the person we become."
The exhibition unveils English's latest interpretation of Picasso's Guernica, of which he estimates he has painted 100 versions. His first, New World Order, was created in 1991 as a protest against the Gulf war, and replaced Picasso's war-ravaged civilians with Disney characters.
His latest is Graveyard Guernica, an imagined X-ray version of the original. "It's kind of like a challenge for me," says English. "What can I do with it next?"
Elsewhere there are paintings of Fred Flintstone, Marilyn Monroe and a bust of George Washington, all smothered in comic-book images. "I'm from the lower classes, so I had no exposure to art when I was growing up," English explains. "All I knew was comic books, Disney and advertising logos .... I'm interested in what images remain, and what gets thrown out and forgotten."
English was born in 1959 and was raised in a trailer park in Decatur, Illinois. His father worked in a factory though English never knew what it produced. "All I know is that it stank and lots of people working there died of brain tumours. I went there to be interviewed once, but I took acid before I went. I didn't get the job."
In his late teens, English moved to Dallas and got a job putting up plasterboard walls in "the projects" (housing estates). He would stay behind in the evenings and draw on the walls. His co-workers, impressed, said: "You should be in college." English duly enrolled at junior college and then at North Texas State University. It was there he began what he calls "billboard modification", pasting his own murals over existing adverts.
From the outset, English worked anonymously, refusing to sign his work and modifying up to 15 billboards a week. He had a crew of "buds" who would help him carry the ladders, rollers and buckets of glue. "They said 'We don't like art but we like breaking the law'," says English.
In 1984 the police caught English and eight others redecorating 27 billboards in a parking lot in Dallas, and charged them with criminal mischief. Faced with two years in jail, English phoned the firm that owned the billboards daily, pleading for leniency. They dropped the charges, in return for $800 to cover the costs of restoring their advertisements. In the Nineties, the CEO of another company offered him the use of some of their billboards, if they could approve his work. He declined, telling them he'd rather get arrested.
These days, English is more focused on his gallery shows, though his guerrilla activities are by no means behind him. Earlier this year, he planted a picture of Uncle Sam holding a skin-colour chart at the Mexican border in Texas – "You must be this color to enter this country," says Sam, jovially pointing to a strip of pink.
English tells me he's going to Michigan next week. A couple of days after our chat he emails me a copy of a mural showing a crown of thorns wrapped around a jug of red fizzy pop next to the words "Jesus drank the Kool-Aid". "Going up next week!" he writes cheerfully. "I just want people to look and question," he says. "I want them, just for a moment, to be critical thinkers, and say to themselves: 'What the hell is that?'"
'Ron English: Skin Deep' is at Lazarides Rathbone, London W1 (020-7636 5443 lazinc.com) until 23 July
Join our commenting forum
Join thought-provoking conversations, follow other Independent readers and see their replies