Sheila Hicks, artist: 'I am never bored. I do not ever allow myself to be bored'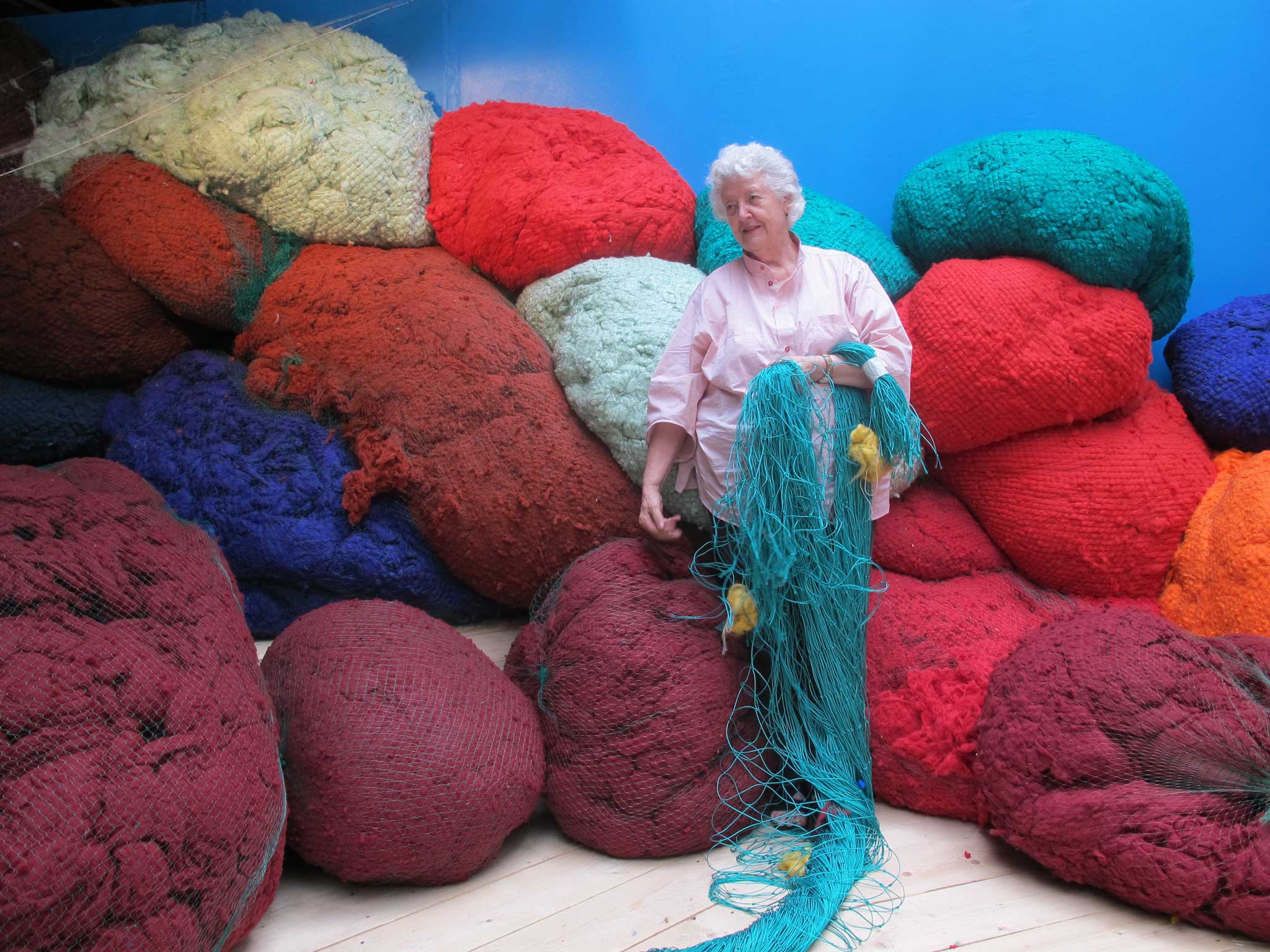 Sheila Hicks makes her vibrantly colourful textile sculptures in a courtyard off the Boulevard Saint-Germain in Paris. The spot is so picturesque that I enter with a tangle of tourists who are on a tour of "secret Paris". Looking round at the spools of threads and ropes of woven colour, it is clear whose studio I am in.
Over lunch with Hicks at the Palais de Tokyo, the location of her other studio, we discuss her past. Hicks was born in 1934 in Nebraska and has just turned 80. She studied painting at Yale University, with Joseph Albers among others, receiving a BA and MFA in painting.
She describes those years succinctly as "having my head in a vice". I ask if she studied with Anni Albers and she virtually spits. "There were no women faculty members at Yale." She did, however, meet her.
"Joseph thought we might have something in common as I was doing my thesis on pre-Columbian textiles. I had read her books about structure and design. I thought they were interesting but our only connection was the crossing of threads, junctures, literally."
Later, Albers got Hicks a Fulbright scholarship to go to South America. He had set up a course at the Pontificia Universidad Católica de Chile in Santiago and he "used to send a protégée" while he was in the US.
Back at the Palais de Tokyo, when the director offered Hicks free rein in a space in the bowels of the building she leapt at the challenge. Kitting it out with the help of an internal team, she clad the space in wood, to form a meeting space more akin to the Greek stoa than anything French. Two large industrial pillars carry cascading ropes of colour, softening their industrial rawness. They recall Pillar of Enquiry/A Supple Column, her work in the recent Whitney Biennial.
Hicks has always used her work to highlight architecture. Today she is installing Metamorphosis. "They are bundles, I put netting around them to particularise the colours. I compose with them as masses of colour."
When she is not using the Palais de Tokyo as an extended studio, Hicks retreats at her smaller space to a small greenhouse upstairs where she continues to make her small woven pieces. Each is unique; she never makes editions. "I am never bored. I do not allow myself to be bored."
Sheila Hicks continues at the Palais de Tokyo, Paris to spring 2015 (palaisdetokyo.com)
Join our commenting forum
Join thought-provoking conversations, follow other Independent readers and see their replies