So what is it about Jeff Koons that has so captured art world's imagination as Balloon Dog sells for record $58m?
His early heroes were Salvador Dali and Andy Warhol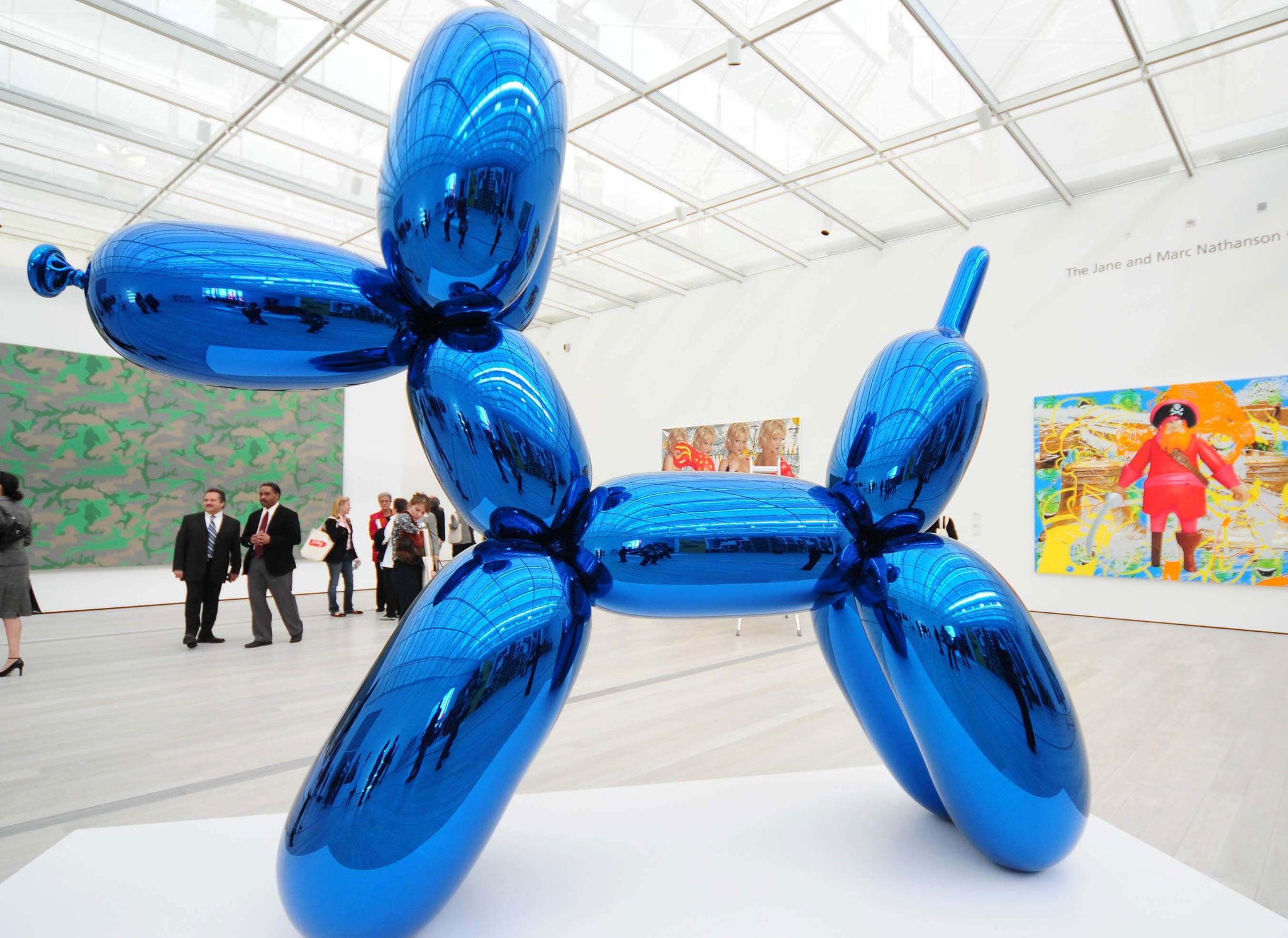 It was a crowning moment in Jeff Koons's long and extraordinary career. While Francis Bacon's $142m triptych depicting Lucian Freud was grabbing the headlines, at the same Christie's sale in New York, the man who has turned banality into high art was this week enjoying his own triumph. He did it with one of his celebrated series of toy balloon dog sculptures – 10ft tall and constructed of stainless steel but faithfully reproducing the contours and shiny plastic colours of a party balloon toy. It went for a staggering $58m (£36m) – the highest sum ever paid for a work by a living artist.
So what is it about Koons that has so captured the art world's imagination over the past three decades? He was avidly ambitious from a young age; his early heroes were Salvador Dali, whom he met once while the Spanish surrealist was in residence in New York, and Andy Warhol. From Warhol he borrowed the idea that, in a godless world saturated by media, art itself was just another commodity, albeit one with extraordinary added value. And while Warhol made silk screen prints in his "factory", Koons took the industrial metaphor much further, employing dozens of skilled artisans to manufacture works such as the balloon dogs without any hands-on input from the artist himself.
Nearly three years ago, Koons threatened legal action against a bookshop in San Francisco selling bookends with a balloon dog motif. But as a lawyer for the bookshop pointed out: "As virtually any clown can attest, no one owns the idea of making a balloon dog." Originality of inspiration is not part of the Koons recipe: most of his work has its origins in pre-existing works of art or kitsch. But although critics often use the words "arid" and "sterile" to describe his art, pieces such as the balloon dog have enduring fascination, and not only for the collectors who watch their value rise and rise. The one exhibited for years outside Venice's Palazzo Grassi, overlooking the Grand Canal, became one of the watery city's more endearing monuments. The artist himself claims to find emotional release through his work. "I think art takes you outside yourself, takes you past yourself," he has said. "I believe that my journey has really been to remove my own anxiety."
Born in York, Pennsylvania, in 1955, Jeff Koons studied art at Maryland School of Art and in Chicago, idolised the Pop artist Ed Paschke and became his studio assistant, then moved to New York where he worked on the membership desk of the Museum of Modern Art.
But then his career took a different turn. Instead of starving in a garret or waiting on restaurant tables while his talent flowered, he became a Wall Street commodities trader. In contrast to the artist of popular imagination, the world of commerce was his natural home. Here was an artist who felt no shame about making money but on the contrary made a profound study of what the contemporary artist needs to do to become rich. And then he did it.
Since the Romantics, we have been in the habit of seeing the artist as a rebel, a distillation of popular resistance to the dreary rules of trade, a prophet who sees and allows us all to see a reality that is greater and deeper. Koons's hero Dali was perhaps the last, wildly camp embodiment of that model. Even Andy Warhol, his other hero, retained some shreds of the Romantic mystique, with his mysterious and reclusive persona, his white hair and gnomic utterances. But with Jeff Koons we have entered a new, hard-headed age.
Koons's work has travelled through many phases. The fascination with industrial production was present from the outset: an early show contained vacuum cleaners fresh from the store, exhibited in brightly lit Plexiglass cases. Soon after that he hit the rich lode which he has been exploring ever since, launching his mission to rehabilitate kitsch for the delectation of the art-buying classes, and beginning his fascination with the painstakingly accurate re-creation of existing artefacts in unlikely materials. These included classic corny ceramic statuettes – Bob Hope, Louis XIV, the German pedlar figure known as Kiepenkerl – refashioned in stainless steel, twice or five times the size of the originals: instantly understandable, indestructible, eminently collectable.
Later he extended the theme by inventing kitsch objects of his own, most famously the ceramic Michael Jackson and his pet chimp, Bubbles. Koons has always been content to batten on images which are already of mass fame and mass appeal. His dalliance with the Hungarian-Italian porn star Ilona Staller is typical of this unabashedly parasitic approach.
La Cicciolina, as she was better known, was already famous in Italy when he discovered her, having moved on from a scandalously high-profile career as a porn star to become the country's most improbable MP. He persuaded her to pose with him for a long series of tableaux, Made in Heaven, executed as elaborately staged and lit photos, as oil paintings and as glass statuary, of the pair of them having sex. They also got married. Whether Koons saw that as part of the artistic performance or whether it was merely a rare, human aberration is unclear, but the marriage ended soon and in bitter tears, with a fight over custody and maintenance that went on for many years. La Cicciolina had dreamed of settling down with her wealthy and wholesome American and becoming a respectable housewife. What Koons had in mind in the longer term is unclear.
Whatever the emotional fallout from that messy affair, its effect on Koons's career was – as he doubtless intended – to cement him in the public imagination as a scandalous character quite as securely as Warhol or Dali before him. And this firm foundation of notoriety has enabled him to launch his siege on the citadel of the contemporary art market, which achieved its most remarkable success this week.
When creativity in the classic sense is not an issue, where does inspiration come from? As any good commodity trader could tell you, it comes from close analysis of the market. Amy Cappellazzo, the former curator from New York who has transformed Christie's, wrote in Artforum some years back that contemporary art is "an asset one can borrow against, or trade on and defer capital gains taxes on". She went on: "Art's recent financial appeal stems from the idea that high-quality works of art were undervalued and that … their worth would increase in value as a result of a) heightened demand for scarce objects; b) an enormous roll-up of private wealth that remains unprecedented; and c) the market necessity for a new asset class that could trade among individuals globally."
But how is an artist to get his work into this "new asset class"? The key, according to art market expert Olav Velthuis, is the needy condition of the mega-rich buyers, who have "a tremendous surplus of economic capital" but "an equally large deficit of social and cultural capital". Vastly rich but painfully insecure, they want art that will, without a shadow of a doubt, win them the prestige they crave, without challenging their critical faculties.
A shiny toy balloon dog, 10 times life size and made of stainless steel? What could be more desirable?
A Life In Brief
Born: Jeffrey Koons, 21 January 1955, York, Pennsylvania
Family: Son of furniture dealer Henry Koons, and Gloria Koons, a seamstress. In 1991, he married porn star La Cicciolina (Ilona Staller) with whom he has one son. Now married to Justine Wheeler, an artist. They have six children
Education: Received BFA at the Maryland Institute College of Art in Baltimore; studied at the School of the Art Institute of Chicago
Career: Worked as a Wall Street commodities broker when his early works were not enough for him to make a living. This week his sculpture Balloon Dog sold at auction for $58m, the most ever paid for a work by a living artist
He says: "All that matters in life and in art is human interaction"
They say: "There is something nightmarish about Jeff Koons," Peter Schjeldahl, critic
Join our commenting forum
Join thought-provoking conversations, follow other Independent readers and see their replies