Space, Not Spikes protest artist says 'hostile architecture' is 'anti-human'
One of the artists behind a clever subversion of anti-homelessness spikes explains her motivation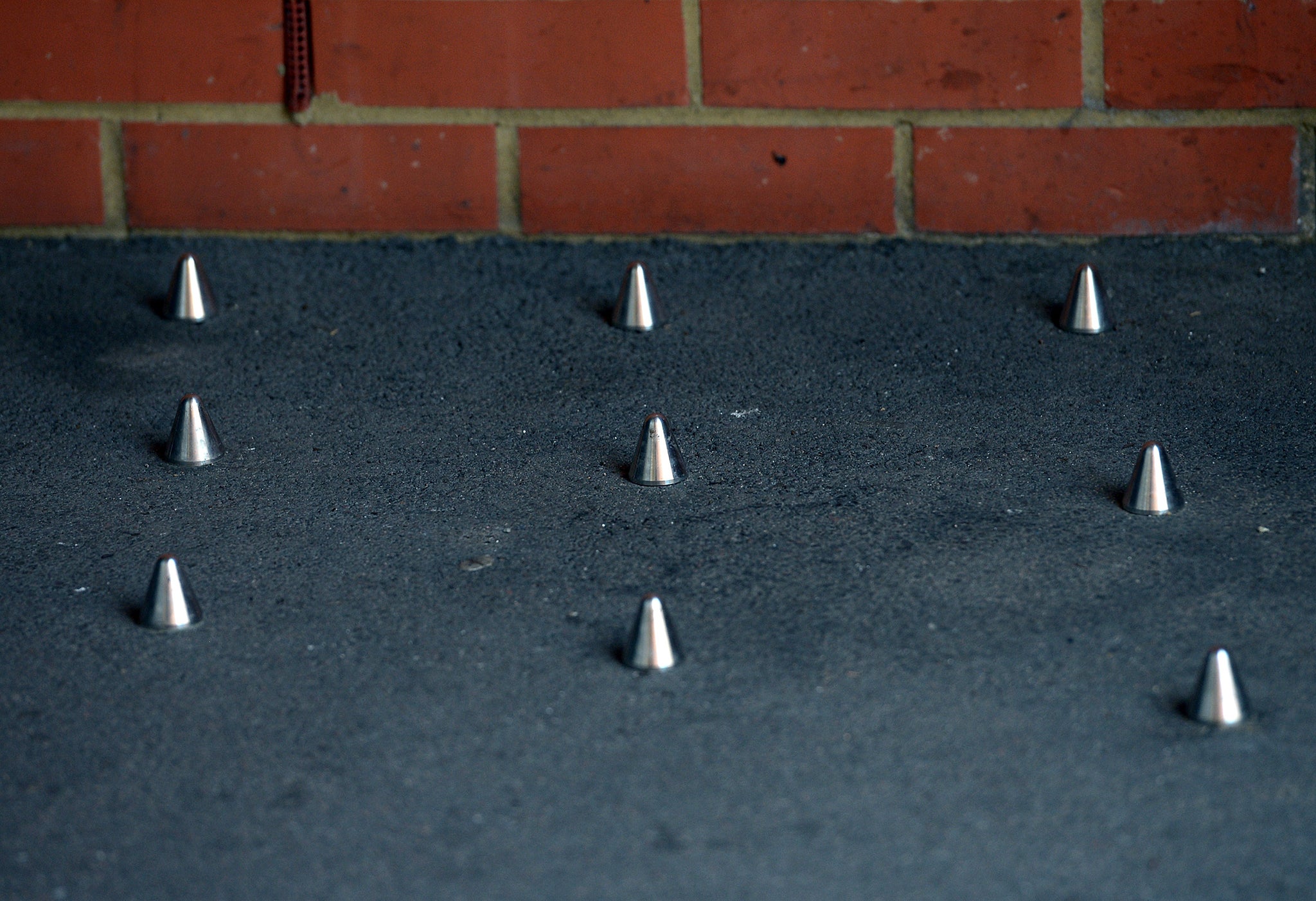 An artist has condemned anti-homelessness spikes as "anti-human" and says disabled people are particularly at risk from so-called "defensive architecture".
The metal studs, installed outside office buildings in cities to discourage rough sleepers, last week prompted art collective, Space, Not Spikes, to install makeshift beds and libraries to make these "hostile areas" more comfortable.
The protests artworks were erected along Curtain Road in Shoreditch, east London at the weekend.
In an interview with the Independent, Leah Borromeo, said the term "defensive architecture", used to describe buildings designed to discourage sleeping or loitering, was a "misnomer" and should be known as "hostile architecture".
"What are [businesses] defending against?" she questioned. "If you are doing something in defence there has to be an attack and I don't see people encumbered with large shopping bags, or homeless people, or people without any money on the attack for anything."
Ms Borromeo said the project started as a homelessness project but when they dug deeper they realised it was actually "anti-people".
"'The genesis of [the idea] was when I walked past the spikes at Piccadilly outside the Tesco and there were a whole bunch of homeless people who were just sort of standing around or sitting just in front of them," she said.
"Regardless of whether you own, rent or even have a home, the streets are ours."
"Suddenly some other people came out and one of them had restricted mobility and whined about not having somewhere to sit down."
She said the project was designed to show that if landlords were going to install something "that was essentially a weapon" they needed to think about how it could be "a hindrance to health and safety."
"Somebody could collapse on that road and need to sit there," she said.
Ms Borromeo claims the attitude of these big corporations seemed to be "more and more about favouring people who have money and are able-bodied."
"It doesn't get rid of the problem of homelessness, it doesn't get rid of the problem of poverty it just pushes it out so it is no longer your problem so you no longer have to look at it and that is really selfish", she added.
Last year Tesco was forced to remove one-inch homeless spikes from its Regent Street store after protests.
They insisted the spikes were designed to discourage anti-social behaviour but Left Unity, which led the calls for their removal said: "We don't want to live in a society where public space is covered in spikes. Homeless people are not pigeons."
Join our commenting forum
Join thought-provoking conversations, follow other Independent readers and see their replies