In the studio: Nahoko Kojima, paper-cutting artist
'I never make the same image – ever – I don't want to cut the same thing'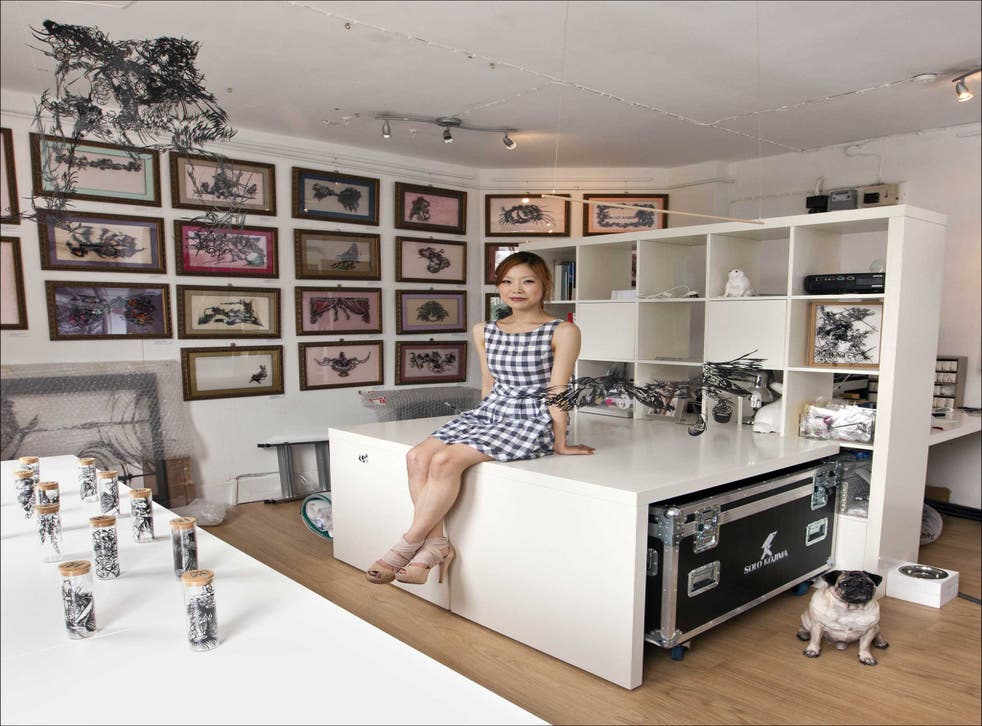 Entering the studio of Nahoko Kojima, I am propelled into an exotic world. We may be in a hive of craft studios in fashionable Clerkenwell, but here I am in the domain of a paper-cutting artist, a craft with a long history in Kojima's native Japan but virtually unknown in this country. Having completed her training in Tokyo, Kojima came to London seven years ago, and moved into this space last year. She shares the light bright studio with her pug Duke and her partner and creative partner, Shari Solo, who manages everything in the company, bar the cutting.
Kojima was born in Hyogo, Japan, in 1981 and began her training at school aged five. She tells me that "I was always drawing as well" and was already exploring her love of nature that still permeates her work today. As a child she used to lie on the grass and paint the underside of flowers. "It is things moving in the wind that fascinate me.
"Those are cloud-scapes," she says, pointing to another set of works. The diversity of shape and form is unmistakeable and unique. "I never make the same image – ever – I don't want to cut the same thing."
The Cloud Leopard appeared in the Saatchi Gallery, in a show selected by the Craft Council Show in 2012. It is a work that took around five months to complete, made entirely of one very large sheet of black paper. The process starts with sketches and tests, she says, showing me a small piece of paper that she was experimenting with for her recent large work Byaku, a swimming polar bear which is in the Jerwood space in London as part of their makers series. Most of the £7,500 stipend she was given for the show has been spent on the specially commissioned three-metre square paper needed to make the work.
Kojima's practice is labour-intensive in the extreme, and demands tremendous concentration; if she makes a mistake there is no way to repair it. She uses scalpel blades that are half the thickness of normal blades and are replaced every three minutes. She brandishes a jar half-filled with discarded blades.
On one side of the room hang a group of wall pieces, illustrations from Alice Adventures in Wonderland; a white rabbit scurries across an empty background, watch chain anxiously held in one hand. Each link of the chain is industriously cut from paper. These works contain different layers of paper in colour, something that she uses to "capture the processes of change and augmentation" and "give motion to the piece".
Kojima's wants to make paper cutting a legitimate art form. "The curiosity of paper-cut art is to express all dimensions of the world by using one piece of paper." She is creating sculpture, not craft, and she is clear in her desire to push the medium as far as she and her deft hands can propel her.
Nahoko Kojima is in the Jerwood Makers Open 2013, Jerwood Space, London SE1 (020 7654 0171) to 25 August
Join our new commenting forum
Join thought-provoking conversations, follow other Independent readers and see their replies