In The Studio: Quentin Blake, illustrator
'I don't regret children's books at all. They allow you to do lots of things'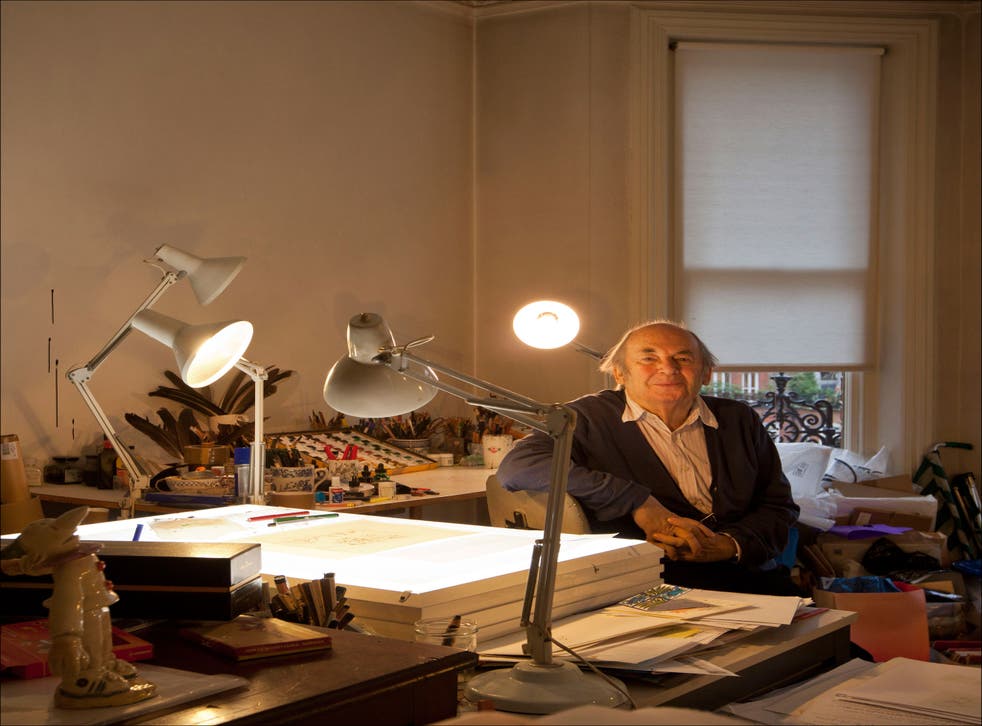 Quentin Blake has become so synonymous with his beloved spiky drawings, that I am half expecting an angular character to open the door of his studio in Earls Court. Blake is sparkling-eyed but not gawky, and leads me into his studio, a large bay-windowed room overlooking a quiet square.
This is the place of work for someone who loves to draw: a table laden with pots containing every kind of pencil, a meticulously labelled watercolour palette, and most intriguing, jars full of quill pens still topped with large and luxurious looking feathers.
Blake, born in Kent in 1932, started his career when he was still in school. Encouraged by a friend to send his cartoons to Punch, he had his first accepted aged 16. He became "bored with jokes" so moved on to read English – not art – at Cambridge, as "I didn't want to stop reading. After I left Cambridge and got a teacher's certificate I thought, "I don't know how to draw the things I want to draw," so I went and did life drawing classes for two years, and I have lived off it ever since. I never started teaching. Never had a proper job."
Now almost 80 and reflecting on a career that has included prodigious books and being named the first Children's Laureate, does he resent being pigeon-holed as a children's book illustrator? "I don't regret children's books at all. It allows you to do lots of things, and relates directly to education. People don't understand that a children's book illustrator is an illustrator."
Beyond the page, Blake has been experimenting with large-scale drawings – the biggest being five stories tall. This is an example of "something I didn't know I always wanted to do. This has happened a few times: a few years ago I did a poster on the underground. You get a buzz off the scratchy line being as big as a person. It is better if it is scratchy because if it is neat work nothing happens. If it's scratchy or textured it takes on another life.'
More recently his interests have been gravitating towards adults. We sit near to his desk where he stands to work, sitting only to think, read or rest. He pulls out some recent drawings he calls his "Big Healthy Girls". "I was attracted by the materials, big, fat pastels that you work into with a brush. I was experimenting so that they can be wrong."
The candy-floss colours and closely drawn lines portray bonny lasses; these are "woman who are doing sport without equipment", and are very adult, showing the influence of "adult" artists such as Fernand Leger, Henri Matisse and Niki de Sant Phalle, being so physiologically awkward they are right. "They do not have titles. In a way I wish they did, because they can't or they would anticipate your thinking of what the story is."
'Quentin Blake, Etchings, Lithographs and Drawings' is at Marlborough Fine Art, 12 Dec to 11 Jan 2013
Join our new commenting forum
Join thought-provoking conversations, follow other Independent readers and see their replies