How Tate Britain overhauled 500 years of art history with its first rehang in a decade
The most comprehensive collection of British art in the world is having a reshuffle. Tate Britain director Alex Farquharson tells Eloise Hendy about how the gallery's 'interventions' will expand and diversify the canon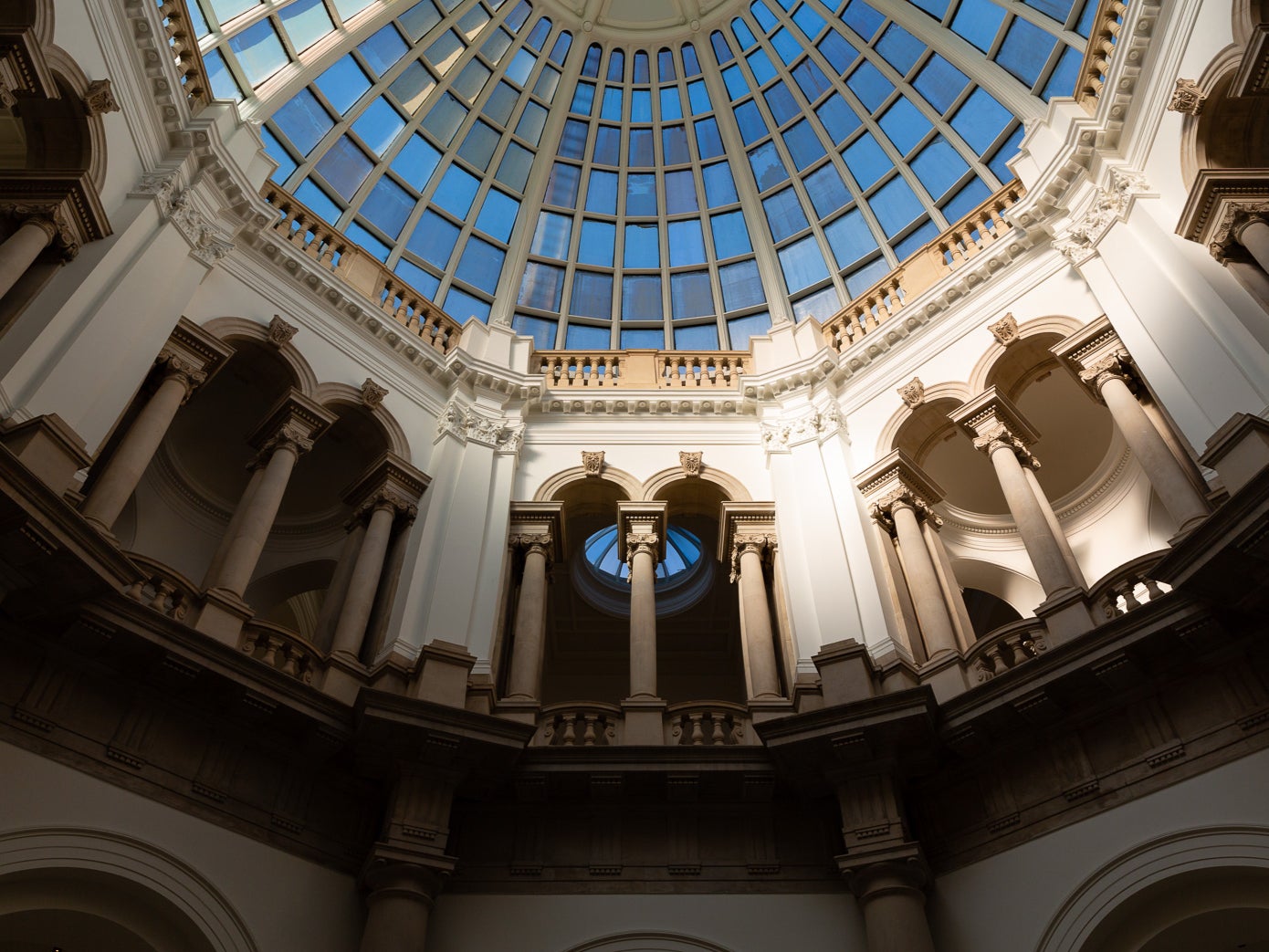 For the first time in a decade, Tate Britain is rehanging its collection displays. At the world-renowned Millbank gallery, it's all change for 800 artworks spanning five centuries of history from the Tudor period to the present day. Old favourites such as JMW Turner, Dante Gabriel Rossetti and Henry Moore will remain in pride of place, but the reshuffle will also introduce recent discoveries and newly commissioned contemporary works, giving visitors a fresh perspective on the most comprehensive collection of British art in the world.
Tate Britain's free-to-visit fixed display includes the work of 350 artists. Not only does it present a chance to widen the canon, but the opportunity to tell the nation's story from a more considered, modern perspective. There are rooms dedicated to the Pre-Raphaelites and Henry Moore, and 100 works by JMW Turner are featured, but the collection is also brought bang up to date, with over 200 works that have been acquired since 2000, and 70 from the last five years. Over half of the contemporary artists are now women, but another new addition is a portrait by Joan Carlile dating from between 1650 to 1655; she is thought to be the first woman in Britain to work as a professional oil painter. The youngest artist featured is Rene Matić, born in 1997.
So far, most of the coverage about the project has focused on the increased representation of female artists. Yet, this barely scratches the surface of what Tate Britain is attempting: nothing less than a complete overhaul of 500 years of art history. It is a vast and complex project, director of Tate Britain Alex Farquharson tells me a week before the new displays open to the public. As he explains, "there's always a lot at stake" when you have responsibility for what he describes as "the most amazing collection of its kind". "The better profiling of British women artists throughout the rehang across different periods is really significant," he says. "What we've been keeping a bit under wraps is really the overall approach."
Now, however, the closely guarded secrets can begin to be revealed. More than anything, the rehang stems from Tate Britain's ambition to expand the canon and diversify British art history. "The approach we've taken is to relate art to its social and cultural context, throughout the whole history that we're responsible for here," Farquharson tells me. "So from the Tudors, to now." What is being kept is chronology, but every room will now also be curated according to a different set of themes – "hopefully ones that resonate now," Farquharson says. "We're trying to look at art from the outside in," he continues, "to show how art is absolutely entangled with these larger social, cultural, political contexts". Each room is an invitation to think about art in relation to society in its largest sense – covering industrialisation, the long road to democracy and women's rights, LGBT+ and black experiences, and histories of empire and the environment.
The first room covers the Tudors and early Jacobean period. "It's about dynasties, which you might expect. Powerful families. Lineages. It's about portraiture," Farquharson says. "But it's also about the fact that so many artists came from elsewhere. So, it's Exiles and Dynasty. It's a story of migration." There's a post-war room called Fear and Freedom, which grapples with "a world that's lost a lot of its beliefs and moorings, and the beginning of a whole new geopolitics – of Cold War and The Bomb." But it also explores freedom, as that changing world leads people to break with conformity, and colonised nations fight to dismantle the British empire. Art and society are inseparable, Farquharson seems to be saying.
Even in works that are ostensibly domestic, history and politics surge in. A space named A Room of One's Own, after the famous proto-feminist essay by Virginia Woolf, for example, is dedicated to early 20th-century interiors, often by women artists. Included are a couple of paintings by the renowned women's rights campaigner Sylvia Pankhurst, which were made during her 1907 tour of industrial working environments. "She wanted these images to help improve conditions and pay for women in her lifetime," Carol Jacobi, curator of British Art, 1850–1915, says of Pankhurst's paintings, "but they also have a place in historic British art as rare portraits of working-class women." Alongside her paintings, there is also a tea set designed by the preeminent suffragette, which is "quite a radical modern piece", Farquharson declares – "to the degree you can make a tea set radical and modern".
The radical and modern truly erupts in a room called In Full Colour – a realm of technicolour, television and the buoyant, abstract artworks being made in New York and London in the years post-war when pop culture infiltrated art, and when art itself became Pop. "There's a great moment in this room," Farquharson says eagerly. "Pauline Boty was a really significant figure, but she was largely forgotten for 30 years. We have one of our great paintings of hers, The Only Blonde in The World, which is a self-portrait of herself as Marilyn Monroe. Nearby is a work by Peter Blake, a contemporary of Boty's at the Royal College of Art, "presenting himself, in a self-portrait, as a fan of Elvis". Essentially then, in the rehang, each room is like a curated exhibition. "But they all relate to each other," Farquharson stresses, "and together they offer this complex portrait of different eras."
There are also a few surprises in store. Visitors will find that "some things that are deliberately out of place", Farquharson tells me. "One of the things I think we all found really interesting is when you relate arts and society, how do you do it when historic artworks were much more closely tied to the elite?" The answer, Farquharson says, was to enlist the help, support, and work of contemporary artists, to stage what Tate describes as "interventions". These will bring the past and the present into direct dialogue, mining and making visible histories that the Tate's collection has previously omitted – radical social histories, women's history, and histories of the working classes in particular.
By way of an example, he describes the second room visitors will enter. "It's going to be called Court versus Parliament," Farquharson says. "And you're surrounded by these Baroque portraits of the great and the good – thankfully, including portraits by women artists now as well. But you're looking around, and you're thinking what's the big story here? Of course, the biggest story of all is the civil war. The first civil war of any advanced nation, resulting in a commonwealth, the republic, regicide, the whole world turned upside down. Where is this?" This, in his view, is one of the clearest examples of how the collection, and art history in general, resists its historical context. "There are violent gaps, huge gaps." This is where an intervention by the contemporary artist Nils Norman comes in. "He's designed wallpaper," Farquharson explains, "where he's researched and reproduced pamphlets from the 1640s – a time, during the civil war, that relates to all these radical utopian movements." What this shows, that the Baroque paintings do not, is that this was a time of social and political fervour, with groups like the Levellers and Diggers dreaming of a world where everything was held in common.
The same principle applies in the third room, which will be called Metropolis. "Basically, London in the Age of Hogarth," Farquharson explains. There visitors will find a watercolour by contemporary Argentinian artist Pablo Bronstein, titled Mrs Clap's Molly House – named after Margaret Clap who ran a coffee house that served as a club for the underground homosexual community in the 1700s. "Bronstein imagines this as a fully out, extravagant molly house," Farquharson says, "which looks a bit like a facade of a modern-day cinema, and it's full of iconography from art history that is as homoerotic as you can get, ending with an aubergine and a banana emoji."
Even more than radical or working-class histories, LGBT+ histories are particularly hard to visualise in Tate's collection, for the simple fact that for much of history queer people were persecuted, oppressed, and driven underground. Farquharson hopes that these interventions make possible what the collection doesn't or can't. "They're sort of saying, 'I'm with you. I'm 2023, we're travelling together'."
Within this remarkable journey across time, however, there is also space for close focus on individual artists. "Most rooms are group displays," Farquharson says, "but they're also interspersed with a number of solo rooms." For returning Tate visitors, many of these will be familiar. There are seven rooms dedicated to Turner, one to John Constable, and two to Henry Moore – although one of these will also introduce works by Francis Bacon; a pairing that was shown to work exceptionally well in a major exhibition at Oxford's Ashmolean Museum in 2013. There are other shifts of focus too. "We're moving William Blake onto the main floor of the gallery," Farquharson says excitedly. "So he is in his own time as this kind of radical visionary." The 20th century will begin with Richard Hamilton's Pop Art work, and there is also a room for abstract expressionist painter Aubrey Williams, who emigrated to the UK from Guyana in 1952 at the height of the independence movement, and, along with a group of London-based Caribbean artists and intellectuals, founded the Caribbean Artists Movement in the mid-Sixties.
During his lifetime Williams had limited critical success, but has gained greater recognition in recent years, as the work of Caribbean artists has finally started to receive representation and attention in galleries around the world. "In his paintings, Williams engaged with international developments in abstraction by exploring his enduring connection to ecology and forms inspired by the pre-colonial cultures of his native Guyana," Elena Crippa, senior curator of Modern and Contemporary British Art, tells me. He was also particularly inspired by the music of Shostakovich, and made over 30 paintings in response to his orchestral works. "Williams sensed an apocalyptic quality within the music and felt his work reflected similar anxieties about the fate of the world," Crippa suggests. Yet, she also highlights his 1981 painting Shostakovich 3rd Symphony Opus 20. "Shostakovich said that, while his music mostly spoke of human struggle, his 3rd Symphony expressed the festive spirit of construction," Crippa notes. "This might be reflected in Williams's painting – its bold colours, luminosity and sense of explosive energy."
In relating arts, society, and the larger British context, Farquharson stresses that the rehang will tell "very much a global as well as a national story". Indeed, as Williams's personal history indicates, separating the two is impossible, due to the profound and complex legacy of empire. As Farquharson puts it, "British history, perhaps more than any other history, is profoundly global." This understanding is laced through the entire rehang – "hence Exiles and Dynasty being the first theme," Farquharson notes – but comes into greatest focus in the post-war period. "I think the stories we're telling are really enriched by the decolonising context," he says. "The representation of artists of colour begins in depth in that post-war moment and gets stronger and stronger." Yet he is also keen to emphasise that this won't mean reducing these artists' work solely to issues of identity. "I would say it's more about the fact that artists – through being of identities that have been historically marginalised – bring with them perspectives that enable us to see mediums and genres in art that have a very established history, whether it's portraiture or abstract painting or documentary photography, in a whole new way."
Farquharson points to Lynette Yiadom-Boakye, who was the focus of a major exhibition at the gallery earlier this year, as a great example of this. "Her work resonates over time in terms of the history of portraiture," he says, and suggests that "partly through her own lived experience, she's able to just reinvent what that can mean".
This attention to reinvention and the ways contemporary artists are simultaneously deconstructing and enlarging traditional art history, is also evident with one of the Tate's most recent acquisitions – a film by Zineb Sedira, evocatively titled Dreams Have No Titles, which will be shown for the first time at Tate as part of the rehang. Sedira made the film for the 2022 Venice Biennale, where she represented France on the 60th anniversary of Algerian independence from French occupation. In it, she references the 1966 film The Battle of Algiers, and at the same time tells the story of her family and community life in Brixton, south London. "Dreams Have No Titles questions the very idea of national identity," Dominique Heyse-Moore, senior curator of Contemporary British Art, tells me. "Her family and friends play key roles in an ode to resistance and the anti-colonial ideas in 1960s-70s Algerian cinema. The film is warm and joyful, concluding with a call to 'dance to the tempo of life'."
It strikes me that the entire rehang may be calling for something similar – that it might be attempting to encourage visitors to understand the entire history of British art as a dance with life as its tempo; not separate from society and politics but intimately entwined with them; moving together, cheek to cheek. "I really hope it makes for a rich, multifaceted experience through time that is as engaging as it can possibly be," Farquharson says. "Both really welcoming people to what British art can be, in its most relevant, dynamic sense, and also really innovative for people who know this art history well – seeing it in a whole new light and juxtaposed with things they don't expect to be juxtaposed."
Ultimately, he hopes the rehang will inspire interest and curiosity in all visitors "to cross the historic floor, through these themes that act as waves that keep resurfacing, but also through the incorporation of a contemporary artist's work in a historic realm." It's certainly no small feat, but Farquharson hopes Tate's "ideal viewer, whether they're new to it or they're experienced, will want to take it all in".
Tate Britain's rehang of its permanent collection is open to the public from 23 May; entry is free
Join our commenting forum
Join thought-provoking conversations, follow other Independent readers and see their replies