Terrible acting, flimsy sets, wanton misogyny...Tommy Wiseau's The Room becomes a cult hit
This woeful vanity project was panned by the critics but a decade after its release The Room has become a surprise hit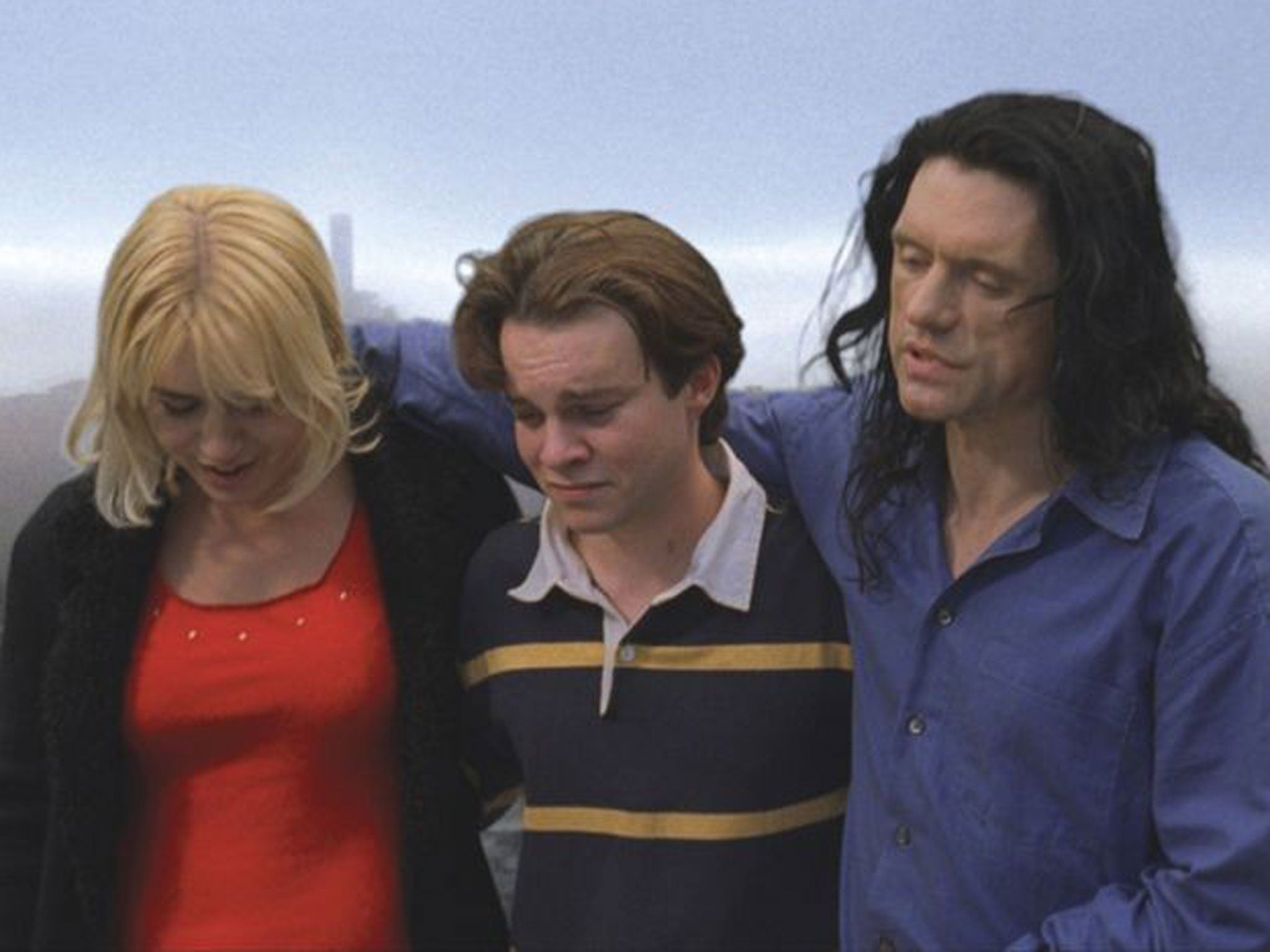 Inside the cinema, audience members are shouting at the screen, acting out scenes and throwing plastic cutlery. The experience is similar to watching The Rocky Horror Picture Show. It's more like a play than a film. A very bad play, with plenty of heckling.
Made on a shoestring budget, with a tenuous plot and excessive use of a blue screen, cult film The Room was panned by critics and could – and some would say should – have disappeared without a trace. But somehow, ten years on from its original release in 2003, the Tennessee Williams-inspired, 99-minute work of plot cul-de-sacs, deeply uncomfortable love scenes (Is he meant to be aiming for her navel? Why are they stroking each other with roses? Is the orphan child trying to join in?) and bad acting is selling out at regular late-night screenings across the UK and north America. The mysterious figure at the centre of this unlikely success story is former city worker and leather goods designer Tommy Wiseau. He is the director, producer, writer and central protagonist of the film.
The plastic cutlery is a reference to the framed stock photos that adorn the room where most of the action is set. It is meant to be the couple's home, but the framed photos are not of cherished family members, pets or happy holidays – but of forks. Lots of forks.
Another hint that this is not a real room, but a film set, is that characters come and go at will, without ever knocking; they leave the door wide open when they enter and leave ("close the bloody door!" the audience shout).
There's a pantomime feel in the audience. In one particularly sexist scene, the evil fiancée, Lisa, speaks to her mother about her hatred of Danny, Wiseau's character, which invokes a call and response from the viewers. "He supports you, he provides for you, and darling, you can't support yourself," says the mother. The crowd intones: "Because you're a woman!" "I don't know what to do," says Lisa. "Because you're a woman!" the audience responds. And so it continues, with rhythmic hilarity.
"It's so bad it's good. It's got a certain charm that's hard to place your finger on," says Becky Penn, one of thousands of fans who have queued to watch a late-night screening of the cult classic.
"Once you've seen The Room, your life is changed," says Jane Lee, a fan. "It's the sincerity and self-belief of Tommy Wiseau that fascinates me. David Lynch couldn't make something that weird on purpose."
At several points in the film, Wiseau's character hangs out with his buddies; this mostly involves throwing a ball around. During the live screening, these moments are savoured – audience members run to the front of the screen, sometimes fully costumed like the characters in the film, and ape the dialogue – at one point, both the characters on the screen and those in the audience begin playing catch in a carefree manner, ecstatically running and jumping. It's bizarre.
Variety critic Scott Foundas called Wiseau, "A narcissist nonpareil whose movie makes Vincent Gallo's The Brown Bunny seem the apotheosis of cinematic self-restraint."
Wiseau seems just as eccentric off-screen as on it. In real life, he likes to wear two belts as a sign of his fashion credentials. He amassed an $8m fortune from his leather goods business, which was ploughed into making the film. Wiseau insists in heavily accented (Russian? Portuguese? German? Polish? It's hard to say) speech that he is American. He has always lived in the States. "I used to live in Wallace in Louisiana and I have family there; that's in the south, but I have lived in San Francisco and now I live in Los Angeles. Yeh, I love to travel," he says.
Wiseau studied stage acting, then ploughed his savings into the semi-autobiographical tale of a man whose manipulative fiancée (or "future wife" as she is referred to in the script) cheats on him with his best friend. It's hard to know whether to take Wiseau at face value. Without a hint of irony, he says, "We submitted The Room to the Academy Awards. We didn't get anything, but we filled in the application and submitted it... I'm proud we did that."
'The Room' is showing at the Prince Charles Cinema, London WC2 from 21 March (www.princecharlescinema.com)
This article appears in tomorrow's print edition of Radar magazine
Join our commenting forum
Join thought-provoking conversations, follow other Independent readers and see their replies