The Baltic's guide to bluffing: How to become an art expert (in six hours)
The most he had managed until now was to make a clay jug as part of his GCSE exam. So could a beginner's course turn a self-confessed philistine into a connoisseur? Mark Hughes reports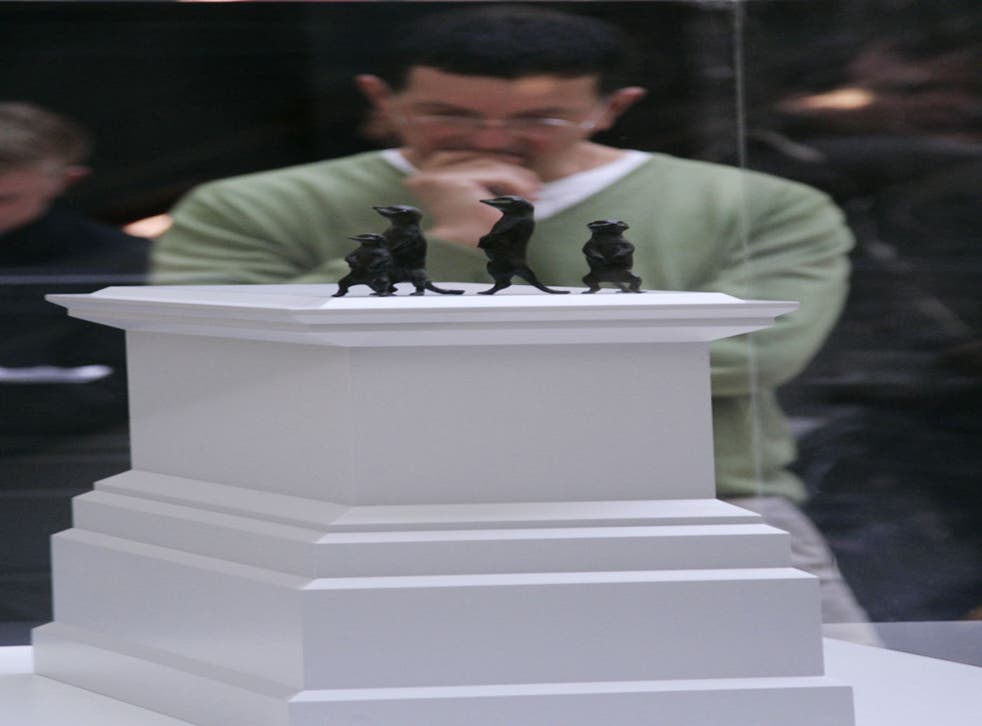 Dead sheep. Lights switching on and off in an empty room. A man disguised as a bear wandering the corridors of a deserted art gallery. The ways of contemporary art are mysterious indeed. So mysterious, in fact, that for years I have deemed it best never to mention the subject in public. The risk of humiliation and exposure as a philistine was just too great. If an attractive woman brought up the subject of the latest Turner Prize-winner at a party, I kept quiet and moved on.
But that was the old me. Things are going to be very different in 2008. At the Baltic Centre for Contemporary Art in Gateshead, on the banks of the river Tyne, a new course has just opened, offering the art ignoramus a lifeline. According to the blurb, students emerge from the tuition ready to "show off to your boss, friends, or date that you are officially a connoisseur in contemporary art". That sounded a highly attractive prospect. So I joyfully signed up to Smart Arts: A guide to bluffing contemporary art.
Stepping into the lift ahead of the first Saturday morning session, I wasn't too sure what to expect. To say my knowledge of art is poor is an understatement. A B grade in my GCSE art class for my manufacture of a clay jug remains the sum totalof my artistic achievement so far. I wasn't even sure exactly what contemporary art was. I had heard of Tracey Emin's unmade bed and seen pictures of Damien Hirst's cows and sharks in formaldehyde, but had no idea what they meant. As I was to discover, I didn't necessarily need to know what they meant before offering an opinion.
I exited the lift to encounter a vast room containing a camper van, tipped on its side, with a couch in the back and two hooded youngsters with spray paint on top. It was a Barry McGee piece. It was art, I was assured. I hoped I'd later come to understand why.
Our first session was more of a meet and greet than a meeting of artistic minds. For starters, Paul Merrick, a 34-year-old contemporary artist who would be our tutor for the next three weeks. Merrick studied art at Newcastle University and, since graduating in 1997, has remained in the North-east and has been commissioned to do work for Northern Rock, among others.
The class contained 10 ignoramuses in total. Among us was a translator, a radio producer and a retired science teacher, 62-year-old Tony Ridley. Tony said that as a teenager he was so bad at art, he was kicked out of the class and made to do metalwork instead. I started to feel rather proud of my clay jug.
We began reviewing our existing knowledge of the art world. Even in this group of self-confessed know-nothings, I felt rather inferior. Names such as Antony Gormley, Phyllida Barlow and Sam Taylor-Wood were bandied about. True to form, I kept quiet, scared to admit that I hadn't a clue who they were. I couldn't wait for the bluffing to start.
Week two started with a video of work by Barlow. We learnt how she made her work and the thought processes behind it. Apparently she came up with ideas impulsively and her art was simply designed according to how she felt at the time.
Alarmingly, our task this week would be to do the same with sculptures of our own.
I was given a choice of assorted plastics and other materials with which to craft my creation. Cunningly, the course structure meant that the first work of art I would bluff about would be made by me. Remembering Barlow's penchant for sticky tape and large sculptures, my "project" (a must-use word for art bluffers) was made up of coloured cardboard and polystyrene, held together by sticky tape and string. It looked appalling and, glancing at the rather more convincing sculptures made by members of my class, my inferiority complex returned. Two sessions of the three-part course had come and gone and I appeared to be getting nowhere.
The final session, week three, was when the sculpture-making exercise started to make sense. Members of the class, said Merrick, would now be required to explain their designs, what had inspired them and what they meant. There was an outbreak of nervous laughter. "I guess I was, er, trying to do something a bit like Phyllida Barlow," I offered. "Sort of unfinished."
Merrick nodded thoughtfully.
Back into the classroom and another video. This time we were told to listen for phrases and gestures artists used when describing their works. Suddenly I began to understand.
"Notice how they all appear to nod when they speak," said Merrick. "If you nod your head when talking about a piece of art people will assume you know what you are talking about and agree with you. You'll find they nod along even if they don't have a clue what you're on about." "And note the words they use," he added. "Never describe your work as an artwork, call it a project, it sounds better. And words with 'ism' on the end sound good too, like expressionism, urbanism or modernism."
We were handed The Bluffer's Bible, a nine-page booklet that contained a glossary of art terms which could be deployed to bamboozle the unwary. "Avant-garde", "post-modern", "conceptual", words that I had heard others use to describe art, but had never dared use myself.
"If you throw these in when discussing art, people will think you know what you're talking about," Merrick said. "They sound good, but few people know what they really mean."
Armed with the "bible" and nodding furiously, we returned to the studio and began to bluff with brio. My sculpture was no longer an abomination, made of plastic and cardboard and held together by string and sticky tape. It was an "avant-garde, hybrid expressionist piece, fully interactive and would ideally be exhibited in a White Cube setting". In wonder, I gazed at my creation, understanding for the first time just how innovative and exciting it really was.
It was time to impress the world with my sophisticated take on the current trends in contemporary art.
Elsewhere in the Baltic, I found a display by the Cameroonian artist Barthélémy Toguo. The display, Heart Beat, consisted of newspaper-covered walls, cardboard-covered floors and a looped video of a man shaving his hair playing on a television.
In the corner of the room was a wooden coffin with plastic hands, clutching mini globes. I cornered a gallery official and began to practise my bluffing. "Looks like aninteresting example of interactive art," was my opening observation.
"Don't touch it," was the immediate reply.
I climbed the stairs to the fourth floor and the Mark Titchner exhibition Run, Black River, Run. It featured a video of an unblinking eye set in front of a still pool of water. Along the side of the room were posters bearing advertising slogans. Remembering Merrick's advice on "isms" I asked a fellow gallery-goer if he thought the slogans represented an implicit indictment of commercialism.
"They could be, I suppose," was the reply. Hardly encouraging, but I hadn't disgraced myself.
On my third bluff I got lucky. Titchner's display also included a sculpture of two spinning discs. Deep in thought, a woman was studying the piece with abrooding intensity. Nodding, I explained my theory that the artist was seeking to convey in visual form the concept of hypnotism. She nodded back and said,"I thought that too," she said. I nodded again. There was a meaningful silence.
Merrick was delighted with my progress. Then, as I prepared to take my leave, he revealed the double bluff that lies behind Smart Arts: A guide to bluffing contemporary art.
"The point of this course," he said, "wasn't just for people to come and learn how to bluff their way through contemporary art shows. It was to allow people who are interested in contemporary art to come here and learn a little more about it.
"Art is part of people's lives nowadays and a lot of people want to know about it, they want to know what they are seeing and discuss it, but perhaps don't have the confidence to do so. We wanted to help instil that confidence in them so that they would go away and not be afraid to question art and give their views on pieces of work that they see. My aim was to make that happen."
Judging by the reactions of course colleagues Tony Ridley and Katrina Kellie, it did. "For me it was never about coming here and learning how to bluff," Kellie said. "It was more about wanting to learn how to properly enjoy the art I see. I like going to different galleries and looking at different work, but sometimes I didn't know what I was looking at.
"I wanted to know what to look for and what questions to ask and this course has really helped. Paul explained that sometimes he doesn't know what pieces mean and sometimes the artist who made them doesn't even know until after he or she has finished making them. That made me feel a bit better about knowing that it's not just me who is confused sometimes."
Ridley felt the same: "All I really wanted was to be able to have the confidence to discuss art with people and not feel like my opinion wasn't valid. I feel, with the knowledge I've gained, I would be able to hold my own in a conversation with someone who knows about art and not feel intimidated. In fact, I think I could now make a valuable contribution."
As for me, before my sessions at the Baltic, I would struggle to name more than one or two contemporary artists. Now I can trot out the names, cite examples of the relevant bodies of work and give my views on them.
I came thinking I would be given some quick tips on how to bluff my way through an art conversation, but left with some genuine, if basic, knowledge of contemporary art. I came as a sceptic with one objective: to learn how to bluff.
But as I leave the Baltic I can't help think that I am the one who has been tricked into learning more than I thought I wanted to. Now for my next project....
The reduced bluffer's guide
Paul Merrick's top five tips on how to bluff your way through contemporary art
* Always try to use the word "project" instead of "art". Most artists will describe their work as a project and not a piece of art. Using this word will make you sound like you have knowledge of the art world.
* Nod your head a lot when talking about various pieces of art. When you nod, others will nod along with you and find themselves agreeing with you, even if they don't want to.
* If you visit an art exhibition, try not to talk about art too much. These things are usually an excuse for social networking.
* If you are not too sure about what to say about the art itself, talk instead about the gallery and the space the piece is exhibited in. If you talk about how art is presented as opposed to just how it looks, people will think you know your stuff.
* Finally, remember that there are no right or wrong answers. So as long as you believe in what you are saying and can argue your point, people will respect your views.
Join our new commenting forum
Join thought-provoking conversations, follow other Independent readers and see their replies