The beauty of derelict buildings: Gina Soden
Photographer Gina Soden has broken into places all over Europe to capture their eerie attraction
Gillian Orr
Friday 03 October 2014 12:08 Comments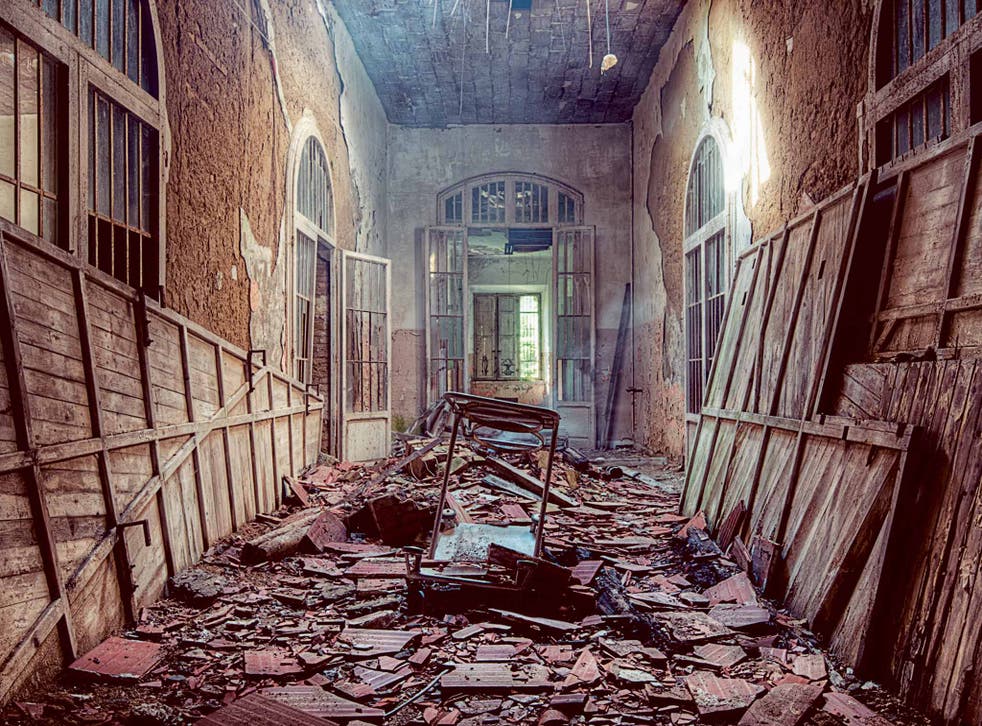 Searching for unusual locations to shoot portraits has led Gina Soden into some rather remarkable spots. In fact, the disused hospitals and deserted schools she has come across have had so much character that she decided to turn her lens on the buildings themselves.
"There was one particular asylum that caught my eye in a local newspaper and from that point on I was addicted," says the 28-year-old. "It was the idea of bringing a sense of life back into the places and photographing moments in time: these places always change from one week to the next as more decay sets in."
The Reading-based photographer has broken into places all over Europe since 2012 to capture their eerie beauty. She rarely gets permission, and in the past has abseiled down vent shafts, climbed through broken glass and evaded security guards to gain access to the sites.
Her work will appear later this month at Photo 21 – a celebration of the 21 best unrepresented photographers from the UK and beyond, which forms part of The Other Art Fair.
Soden's part-time job as a gum and sweet taster gives her the freedom to pursue her photography and she now plans to travel beyond Europe in search of more offbeat constructions.
"I'd love for people to see beauty in these places, even though they are being overtaken by nature," she says. "I like to think the painterly colour in the shots helps people imagine the former life these buildings had."
'Manicomio' (top): 'Built in the late 1800s, this mental hospital served a wide area in Tuscany,' says Soden. 'At capacity, it had 5,000 patients. It was right up in the hills and the architect built the pavilions in a scattered village style. I used a smoke pellet to diffuse the sunlight coming through'
'Church': 'This is a stunning 17th-century church I discovered in a tiny village in the Piedmont region of Italy. On the side of the road it just looks like a cluster of trees, with a small door revealing its true interior. Upon entry, the size blew me away. It felt so open yet so hidden'
'Plague': 'Locally notorious, this island in the Veneto region has been abandoned for decades. In the early 1700s, there were several cases of the plague from surrounding ships, and the island was transformed into an area of confinement. I bribed a local to ferry me across on his fishing boat. I spent at least half-an-hour battling through the undergrowth and nettles. Many roofs had fallen through and nature really had taken over'
The Other Art Fair takes place at Old Truman Brewery, London E1, from 16-19 October. For more information: theotherartfair.com
Register for free to continue reading
Registration is a free and easy way to support our truly independent journalism
By registering, you will also enjoy limited access to Premium articles, exclusive newsletters, commenting, and virtual events with our leading journalists
Already have an account? sign in
Join our new commenting forum
Join thought-provoking conversations, follow other Independent readers and see their replies