The Crystal Palace iguanodon: Rhodri Marsden's Interesting Objects No.93
Benjamin Waterhouse Hawkins, creator of the world's first dinosaur sculptures for the newly renovated Crystal Palace Park, came up with a ruse that might grab the attention of the press: to host a dinner inside a dinosaur
Rhodri Marsden
Saturday 26 December 2015 01:13 Comments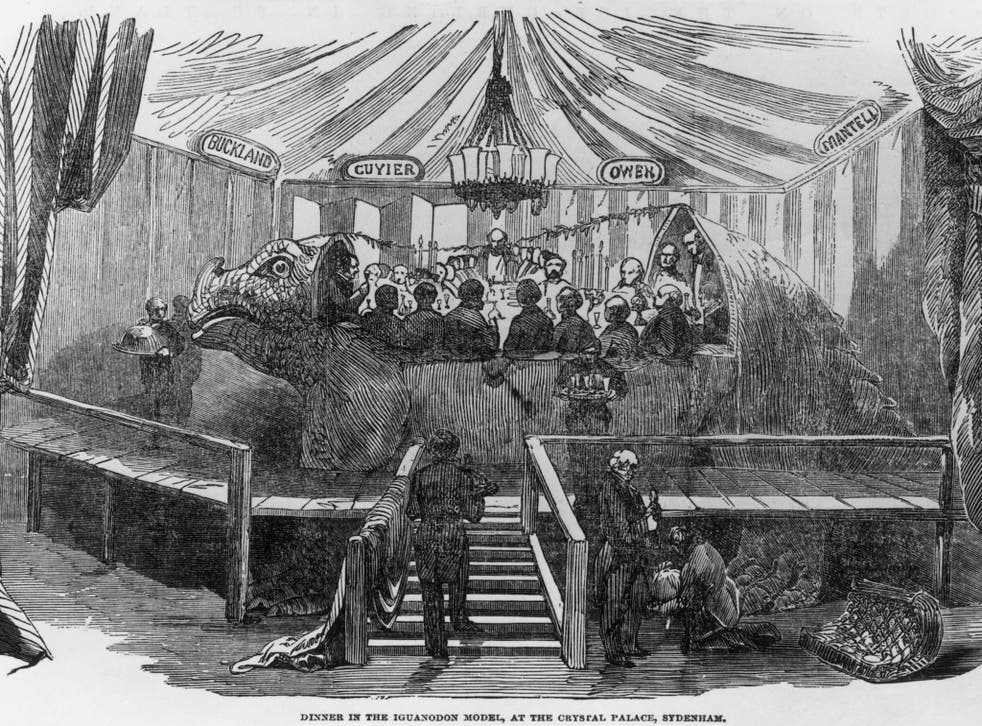 Benjamin Waterhouse Hawkins had a plan. Having spent a couple of years hard at work creating the world's first dinosaur sculptures for the newly renovated Crystal Palace Park, he'd come up with a ruse that might grab the attention of the press and thereby the public: to host a dinner inside a dinosaur. Invitations featuring a rather fantastical image of diners scaling ladders to get to their seats were duly dispatched: "Mr Waterhouse Hawkins requests the honour of ____ at dinner in the mould of the iguanodon at the Crystal Palace… An answer will oblige."
Said dinner took place this week in 1853, with 21 guests including paleontologist Professor Richard Owen, who sat at the head of the table (inside the iguanodon's head) and gave a "short, complimentary speech" to vouch for its scientific accuracy. The iguanodon was one of the largest of the new sculptures, and a stage had been built around it to facilitate delivery of meals – which, according to the website cpdinosaurs.org, included mock turtle soup, cod in oyster sauce, pheasant, woodcock and snipe, with "Nougat à la Chantilly" for afters.
By all accounts the dinner was a roaring success, going on until well past midnight. In an article entitled "Fun in a Fossil", Punch magazine attempted a humorous take on the event, while demonstrating total ignorance of the iguanodon's herbivorous diet: "We congratulate the company on the era in which they live, for had it been an early geological period they might perhaps have occupied the iguanadon's inside without having any dinner there."
The public loved the dinosaurs, but in 1855 funding was cut for some planned additional sculptures. The iguanadon went on to become one of the three "mascot" dinosaurs at the park; in 2007 they were all given Grade I Listed status.
Register for free to continue reading
Registration is a free and easy way to support our truly independent journalism
By registering, you will also enjoy limited access to Premium articles, exclusive newsletters, commenting, and virtual events with our leading journalists
Already have an account? sign in
Join our new commenting forum
Join thought-provoking conversations, follow other Independent readers and see their replies