The Empress at the Swan Theatre: People's play tells a tale of pride and prejudice
Tanika Gupta reveals how she gave the Indians of Victorian London a voice
Tanika Gupta
Monday 08 April 2013 15:15 Comments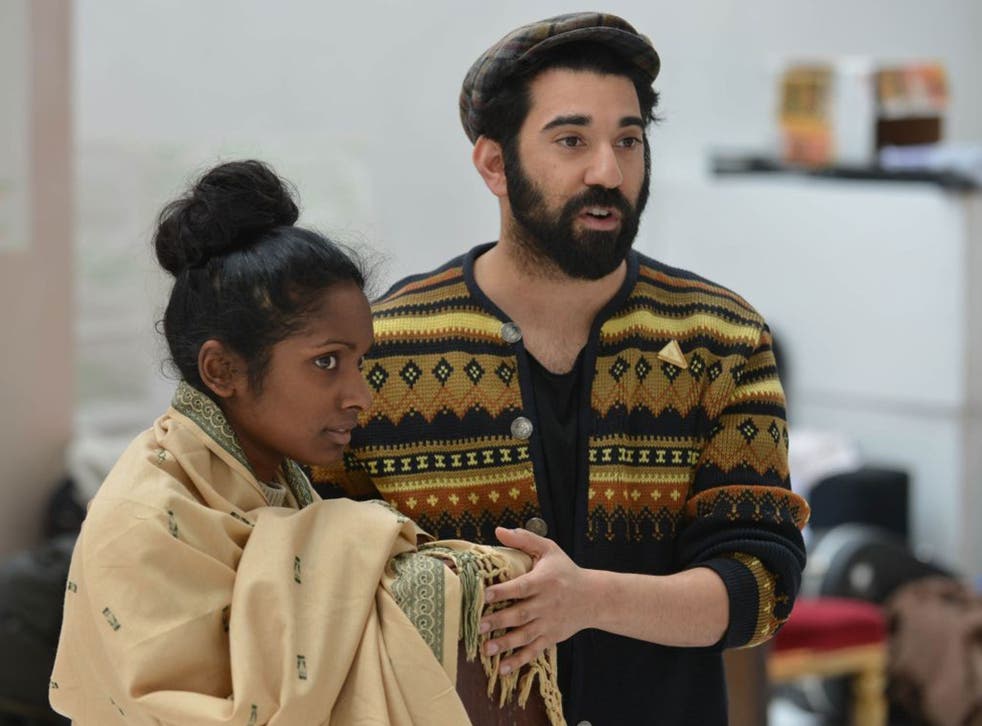 My new play, The Empress, follows the journeys of five characters in the final 14 years of Queen Victoria's reign – Rani, a 16-year-old ayah (nanny), Hari an impoverished lascar (sailor), Abdul Karim, the Queen's servant who rose through the ranks to be her munshi (teacher) and Dadabhai Naoroji, the first Indian (Liberal) MP, elected in 1892 to represent the constituency of Finsbury. And of course, Queen Victoria is in there too. Her relationship with Abdul Karim was too intimate for her race- and class-conscious Victorian court and caused political outrage and eventually a constitutional crisis.
The politics of Victorian Britain have always fascinated me but until I researched this play I never appreciated quite how important London was for the emergence of Indian nationalism.
Dadabhai Naoroji, a Parsi intellectual and educator, is remembered in India for his leadership of the Indian National Congress. His economic critique of British rule in India, "the drain of wealth theory", proposed that India was impoverished by British imperialism. He failed to win a seat in Parliament in the 1886 General Election and was taunted by Lord Salisbury: "However great the progress of mankind has been, and however far we have advanced in overcoming prejudices, I doubt if we have yet to go to that point of view where a British constituency would elect a black man."
The storm that followed Salisbury's racist comment in the Victorian press went as high up as the Palace and Victoria herself demanded that Salisbury apologise for his slander.
Naoroji believed in British "fair play" and justice and hoped to achieve progress by rational argument in parliament. But by the end of the century, he was disillusioned with imperial democracy and demanded immediate self-government: "Indians are British citizens with a birth-right to be free. It is futile to tell me that we must wait till all the people are ready. The British people did not wait for their parliament … Self-government is the only and chief remedy."
A teenage Mahatma Gandhi travelled to London in 1888 to train to be a barrister. He was introduced to Naoroji and the two men corresponded regularly throughout their lives, the older politician acting as a mentor to Gandhi. Naoroji believed in non-violence, the education of women and the universality of religion: "I am a Hindu, a Muslim, a Parsi, but above all an Indian First."
Another teenage Indian who arrived in London in 1892 and who was fired up by hearing Naoroji's maiden speech in the House of Commons was Mohammad Ali Jinnah. A trainee barrister, Jinnah (who would later become the first premier of Pakistan) worked for some time as Naoroji's secretary. He studied at the British Museum, and developed a keen interest in the theatre, even considering a stage career as a Shakespearean actor.
While there was a cast of remarkable and influential characters in London in the 1890s, I resisted their desire to dominate my play. I had to hold back on Queen Victoria and even on Gandhi, while allowing the voices of ayahs and lascars compete for centre stage. The contrast between the powerful and the powerless in Victorian London was dramatic, but Indians were to be found everywhere – from the East End docks to the Palace of Westminster, from the Hackney streets to the private rooms of Queen Victoria. This is an unknown history that has been silenced for too long.
'The Empress' by Tanika Gupta, Swan Theatre, Stratford-upon-Avon (0844 800 1110; rsc.org.uk) 11 April to 4 May
Register for free to continue reading
Registration is a free and easy way to support our truly independent journalism
By registering, you will also enjoy limited access to Premium articles, exclusive newsletters, commenting, and virtual events with our leading journalists
Already have an account? sign in
Join our new commenting forum
Join thought-provoking conversations, follow other Independent readers and see their replies