The Fall: Same old Mark E Smith. But different...
The Fall are back. Tim Cumming meets their unique, splenetic frontman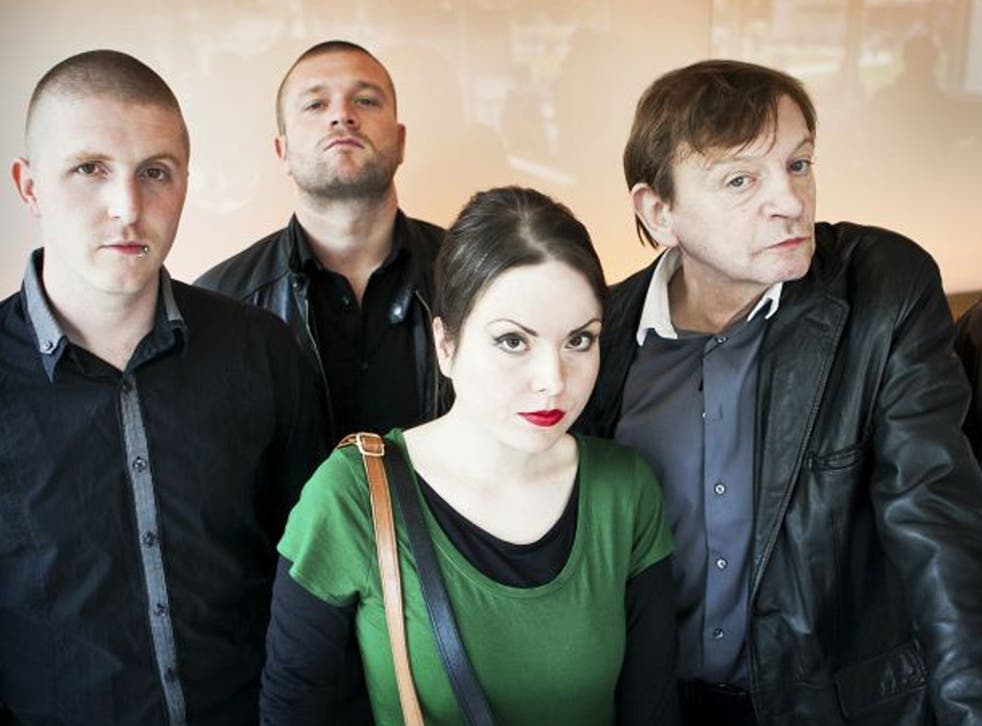 Mark E Smith and The Fall are one of the constant, cryptic undercurrents of English music. From Live at the Witch Trials, in 1978, through ballet with Michael Clark and Leigh Bowery in the Eighties to pioneering rock and electronica in the Nineties, near-collapse and rebirth in the 2000s, and now, with Re-Mit, the group's 30th studio release some 35 years later, no other band has reinvented itself along the same lines, album after album, and remained as fresh and challenging as The Fall. John Peel's famous dictum, "always different, always the same", holds true. Re-Mit is a brilliant and essential album, as essential as pain relief in surgery. The word "different" runs through it like Brighton through rock. It is also the same.
When Luke Haines heard an advanced copy, he Tweeted: "Got my mits on Re-Mit. It's extraordinary. MES, speaking in tongues, channeling Wild Man Fischer at the exorcism" (sic). Even set against the illustrious Fall canon, much of Re-Mit is freaky, unnerving and very weird.
On record and in conversation, Mark E Smith's words are often cryptic. On new songs like "Hittite Man", "Kinder of Spine" and "No Respects Rev", he's a vocalist singing beyond words, spewing an unsettling stream of cries, shrieks and moans, infant-like whimpers of terror, and cackling, multi-tracked laughter.
I've met Smith a few times and he is stimulating and entertaining, often hilarious, always serious. We meet in Manchester's Kro Bar, which Smith enters wearing a dark blue overcoat, moving slowly towards the bar, looking about him, hair dishevelled.
"It gets harder the more technology there is in the studio," says Smith of recording the latest LP. He describes the sound as "hard and clear and clean, and vocally, it's his strongest, most detailed work in years. "Kinder of Spine" crawls with cowering, overlapping pleas to "my captain, my judge" ("it's like miserable 19th-century novels where the captain's going down and all that") and throughout, there's the feel of a group playing on different levels, from art noise to pure pop, overlaid with surging, sluicing analogue synths and heavily collaged vocals. "When I do a vocal like 'No Respects Rev', it is deliberate. I want to layer it, but you get some dickhead producer come in and say, 'now can we have the proper vocal?' 'That is the proper vocal.' They think you're drunk." He describes it as an "up" album.
"Even pop, rock, it's all very miserable right now. Everyone I meet says that to me. All that I hear is that it's shit. Old people, young people, taxi drivers; there's just nothing there. 'When will the new Sex Pistols come, Mark?' It's not going to happen, is it? It's not. The occasions I go to award shows, they're just a bunch of shits. You sit next to The Killers, and it's like, am I on the wrong fucking train here? No, really. Talking about shares and stuff. Mumford and Sons, it's like sitting next to Ernst and Young."
The primal rock'n'roll glam stomp of "Sir William Wray" is an early highlight. "The idea of the song was to be anti-music," he says. "The verses aren't on it. The guy who was mixing it said, 'are you sure about this Mark?' and I said, 'yeah, leave it like that'. It's the bare bones of it, no lyrics, just the nasty bits. Stick that up your arse, X Factor. Anti-music."
Elsewhere, "Jetplane" is a very funny spoken-word narrative set at the head of an airport queue, while "Hittite Man" delves into ancient history, with a guitar sound just one remove from Joe Meek's "Telstar". "He's in the sand, isn't he?" says Smith, dreamily. "He's coming out from the past." It ends with the sound of Smith exhaling what sounds like TB or some kind of demon. "I caught a very serious chest infection and thought it would fit in." It does, but still pales before "No Respects Rev". This turbo-charged, two-note riot of sound and vocal confusion is ripped open in the middle by a wordless collage of whimpers, shrieks and moans. No one treads the twilight zone of sense and sound like Smith, and rarely has he done it with as much power. He cackles. "Our publisher got this deal with that film Twilight. They said they'd give us $50,000 to come up with a song. So I said, I'll give them some horror…"
The contract dictated payment whether they used the song or not. They didn't, of course. "They don't know anything about horror, do they? It might frighten the children. But it is frightening, isn't it? I've fulfilled my bargain with Satan…" He clears his throat, leans forward, gesticulates. "There's no way they're going to put that in Twilight. But if they were good, they would. Orson Welles would've done it. It's horror." He growls out the word, as if grinding it to dust. "Their horror is some guy like him" – he gestures to some young men behind us – "wandering through a forest with his eyes glazed."
The bar's crowded, and loud, and Smith suggests we move on. When I get outside, he's stood by his wife, Elena, the group's keyboard player. They've been married since 2001 and live where Smith has lived since the 1980s, in a semi in Prestwich. We head to an old hotel bar near the station. Smith orders a tequila. Targets of his humorous vitriol include the difficulties of bringing cash into the country – "if you've got more than 1500 euros they think you're a drug dealer" – and Leveson ("I think it is disgusting that some one like Hugh Grant can dictate what newspapers say").
Then there's the internet, downloads, and smartphones. He still won't use a mobile, and is caustic on his group's habitual usage.
"They are worse than heroin in my experience," he says. "It's like having the telly on all day. There's no let-up. They never get that rest, contemplation." Smith cups a hand to his ear, gurning. "It's like putting a little cockroach in your brain, that goes right through your brain and comes out the other side, after laying an egg." He cackles. It's a vivid image worthy of a great Fall riff. He hunches up, shrugs. "Who are they talking to, and what are they talking about?" Smith's outlook doesn't connect with smart technology; it's more about instinct, and the one loud channel of primal rock'n'roll.
'Re-Mit' is out on Cherry Red now. The Fall tour until 24 May
Register for free to continue reading
Registration is a free and easy way to support our truly independent journalism
By registering, you will also enjoy limited access to Premium articles, exclusive newsletters, commenting, and virtual events with our leading journalists
Already have an account? sign in
Register for free to continue reading
Registration is a free and easy way to support our truly independent journalism
By registering, you will also enjoy limited access to Premium articles, exclusive newsletters, commenting, and virtual events with our leading journalists
Already have an account? sign in
Join our new commenting forum
Join thought-provoking conversations, follow other Independent readers and see their replies