The great online art illusion: A cautionary tale
An art gallery's brush with some (very clever) 'Warhol and Haring' works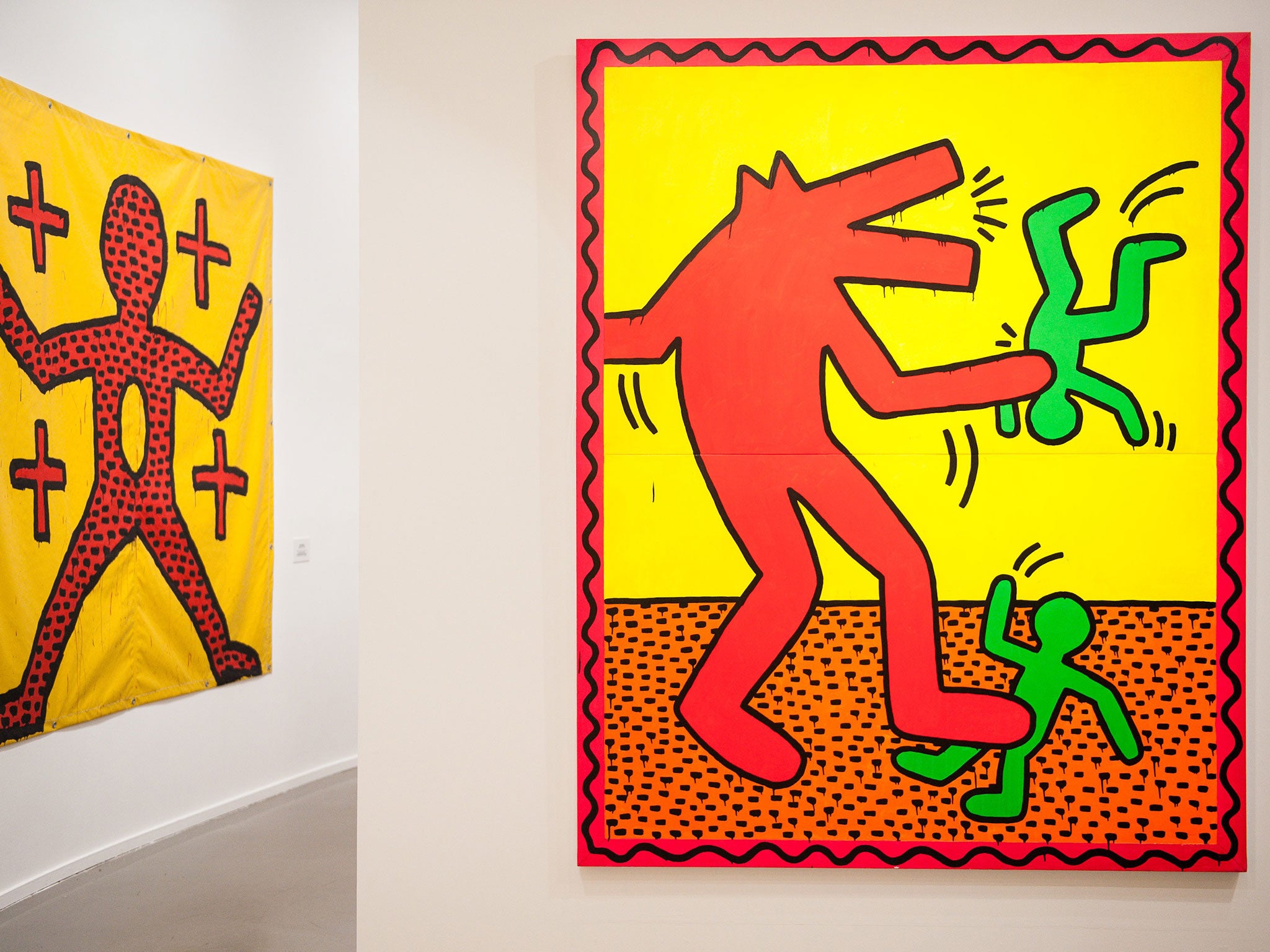 Sometimes a deal is just too good to be true. One London gallery owner learned the hard way when a treasure trove of work apparently by artists including Andy Warhol and Keith Haring appeared for sale on eBay.
Charles Uzzell-Edwards, a graffiti artist who uses the moniker Pure Evil and who runs a gallery of the same name in Shoreditch, east London, thought he had hit the jackpot two months ago when the works appeared online – many bearing a stamp of authentication.
Yet after spending "substantial sums", it appears his prize purchases were, in fact, high-quality imitations. He set about getting his money back, culminating in the threat "to go No Country for Old Men" on the seller; a reference to the thriller in which a hitman is sent to relentlessly track down a man who has stolen $2m.
"If it's too good to be true, it probably is," Mr Uzzell-Edwards told The Independent yesterday. "I've had a real education here, and doing the research is so important."
The great online art illusion
Show all 7
The row comes amid growing concern about the reliability of some online art sales. Last week a vicar's son called Geoffrey Spilman, 48, from Rugby, Warwickshire, was revealed to have sold hundreds of fake paintings, including copies of work by L S Lowry and Ashley Jackson, via eBay. He was cautioned by the police and eBay has banned him from the site.
Mr Uzzell-Edwards had been searching online for works by a range of contemporary artists, including his "holy grail", the graffiti artist Jean-Michel Basquiat. "I can't afford £2m. I have set up searches on eBay for his work though, and for Warhol and Haring."
About two months ago, Polaroids purporting to have been taken by Basquiat started to show up in his search results, as did works by Haring and Warhol. Many seemed to bear the stamp of the now dissolved committees that once authenticated the artists' work.
"We were thinking, wow we've found all this amazing stuff," Mr Uzzell-Edwards said. "We were thinking about doing an amazing exhibition and catalogue. 'Let's get on Antiques Roadshow and show them the soup can box [a shipping box from the Campbell Soup Company supposedly used as reference material by Warhol, which was among the lots being offered]'. We said we'll take it all right now."
Mr Uzzell-Edwards bought some works and contacted the seller to see if he had more. That seller, who has the username bobinga33, then offered him even more pieces.
"We bought a Perfecto jacket with a Haring on it. He did a bunch of those in 1988. We bought some Andy Warhol screenprints and metal subway signs," he said. "I did a lot of research into them to see if they were the right dimensions. Things checked out."
Warhol remains hugely popular to this day with his work regularly going for millions of dollars. Haring was one of the most important artists from New York's East Village scene in the 1970s and 1980s and his work appeared on the city's subways and streets before he arrived in prominent galleries, including the Museum of Modern Art.
But as Mr Uzzell-Edwards investigated his purchases further – and consulted a range of experts – it became clear they were not originals, but impressive imitations.
And it seems likely he may not have been the only one to have made this expensive mistake. An investigation by the Artnet website has established that a "spreading plague" of imitation Harings is currently being offered around London dealers – by a mysterious seller who also lives in Sweden.
Mr Uzzell-Edwards tracked down his Swedish eBay seller through the return address on the parcel that delivered the works. The man called himself Patrick Maske.
The Independent was unable to contact Mr Maske, but in an email to Artnet he wrote: "I am not an expert in this area ... I've been selling items on a site called eBay and tried to be as clear as possible with these objects. Whenever I've listed something on eBay, I've written that I have no purchase ticket or any other paperwork to accompany the item. That's why the listings are starting with 1 dollar."
Mr Uzzell-Edwards said: "We sent a letter to Maske two weeks ago saying: 'Pay us back or else'. Nothing happened so I sent a strongly phrased letter along the lines of 'if you've seen Javier Bardem in No Country for Old Men, I'm going to do that until you end up in prison'."
The full amount was finally returned on Wednesday, and Mr Uzzell-Edwards decided against going to the police. The imitation works remain in storage.
After going public with his experience, Mr Uzzell-Edwards was contacted by people in the US and Australia who had also bought pieces. "There are so many people doing this on eBay. There are all these terrible Jean Michel Basquiat drawings being sold. Because they say it's 'in the manner of Basquiat' those aren't against the rules."
Join our commenting forum
Join thought-provoking conversations, follow other Independent readers and see their replies