Valentino Garavani: The man who turned fashion into an art form
Christina Patterson is wowed by a Valentino show but hates his world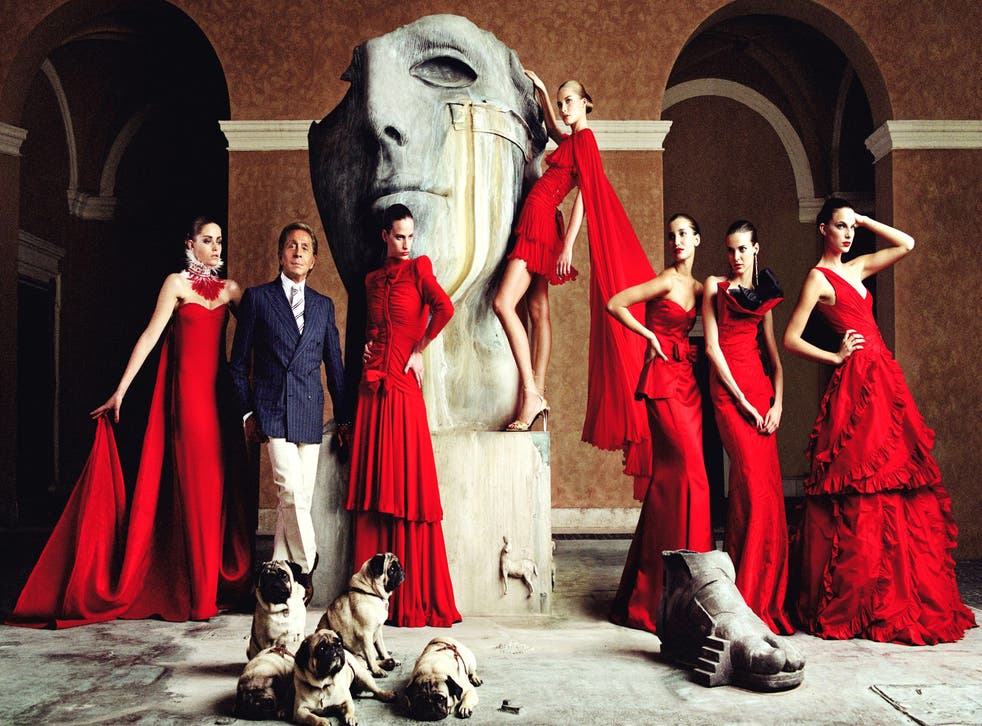 Audrey Hepburn wore them. Elizabeth Taylor wore them. So did Grace Kelly and Jackie O. It seems, in fact, when you go to the exhibition at Somerset House, that anyone who was anyone, and who was beautiful, and glamorous, and famous, and chic, wore Valentino clothes. And the clothes, it seems, weren't just clothes. The clothes, it seems, from the way they've been displayed, in a new exhibition marking the 50-year career of Valentino Garavani, were art.
When you walk into the main gallery, and down what you're probably meant to call a "runway", the clothes certainly look like art. The clothes are on mannequins where the audience would usually be, mannequins which look as if they're looking at you looking at them. And the clothes, which are arranged in clusters of colour – of cream, and orange, and red, and, of course, black – are amazing. Some of them, and particularly some of the clothes from the 1970s and the 1980s, are quite strange. The shorts and cape, for example, and the bat-sleeved sequined dress. But most of them are beautiful. Even to someone like me, who buys clothes as cheaply as I can, these clothes are beautiful.
You can see the work in them. Sometimes, it's just in the cut, but it isn't "just" a cut, because the cut, like a line in a Picasso, is the mark of the master's art. Sometimes, it's in the beadwork, or the edging, or the stitching of a piece of cord. Sometimes, it's in a piece of silk that's been cut to make a rose. When you leave the gallery, and go into the room that has cabinets showing close-up examples of the craft, it almost makes you gasp. It makes you think of those medieval artists who carved whole worlds on tiny bits of ivory.
It is art. Even to me, it's art. The exhibition, which is presented in white rooms with, apart from the one with the mannequins, very little in them, is a portrait not just of a master craftsman, but of an artist. But it isn't just a portrait of an artist. It's a portrait of a court.
Before you go up to the gallery with the runway, there's a room with those gilded chairs you get at banquets, glass cabinets and a giant rose. In the cabinets, there are magazines, with front covers of people wearing Valentino, and signed photos, letters and cards from people thanking him for designing clothes – people such as Julia Roberts, Jacqueline Onassis, Princess Diana, Anna Wintour and Meryl Streep. The letters say things like, "Thank you for a magical weekend."
And there's a room that makes you think of a real court. This is a room with a wedding dress that was made for Princess Marie-Chantal of Greece. The dress, apparently, took 25 seamstresses four months. Like, perhaps, the dresses of Marie-Antoinette. But at least the seamstresses are called seamstresses. What Valentino calls his seamstresses (or used to, before he sold the business on) is "le ragazze". "Le ragazze" means "the girls". It must be quite strange to be a 60-year old woman and called a "girl". It must make you think of those Brits who called their adult male African servants "boy".
"To dress stars or empresses is very pleasant," says Valentino, "because their concept of high fashion remains so pure." He isn't joking. He really seems to think that the world he displays, of money, celebrity, flattery, name-dropping, and, of course, an all-consuming obsession with appearance, is something to flaunt. Nice frocks, caro mio, but as for your world, you can keep it.
'Valentino: Master of Couture' is at Somerset House, London WC2 (somersethouse.org.uk) to 3 March 2013
Register for free to continue reading
Registration is a free and easy way to support our truly independent journalism
By registering, you will also enjoy limited access to Premium articles, exclusive newsletters, commenting, and virtual events with our leading journalists
Already have an account? sign in
Register for free to continue reading
Registration is a free and easy way to support our truly independent journalism
By registering, you will also enjoy limited access to Premium articles, exclusive newsletters, commenting, and virtual events with our leading journalists
Already have an account? sign in
Join our new commenting forum
Join thought-provoking conversations, follow other Independent readers and see their replies