How WeTransfer is helping artists
It gave away one billion page impressions to artists in 2016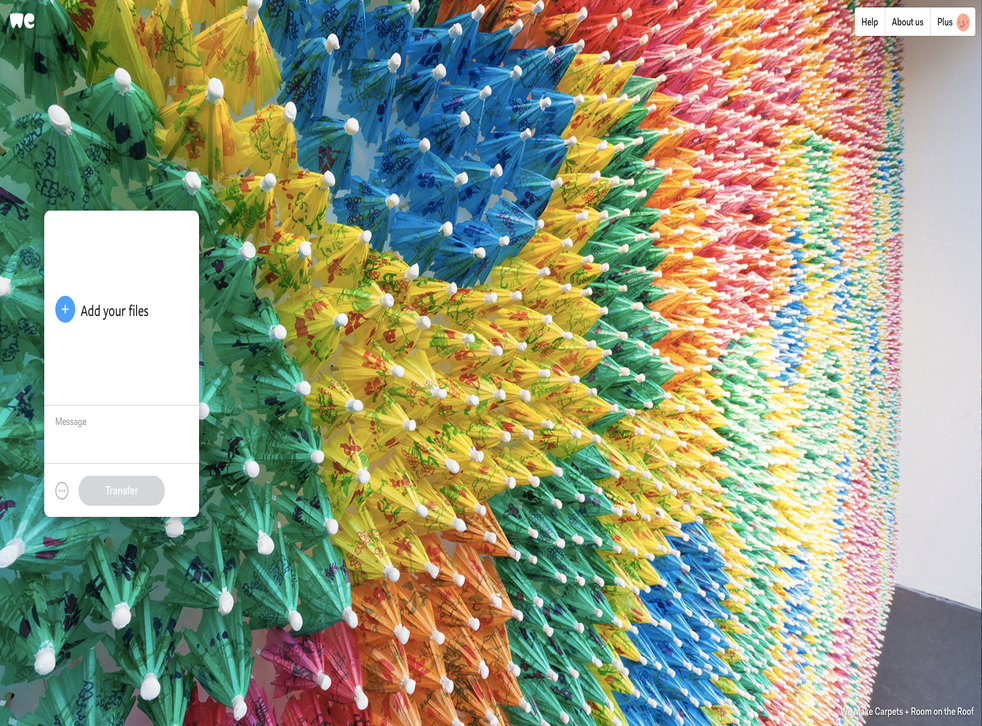 Like me, I'm sure you've been opened a WeTransfer link ready to download a .zip file, only to get momentarily distracted by a dazzling, often surreal piece of art.
With most file-sharing services just flooding their homepages with ads or their own graphics, what's the deal? We caught up with We Transfer's Editor-in-Chief Rob Alderson.
CH: When did WeTransfer start using art as its homepage wallpaper?
RA: Ever since we started in 2009, we have given away one third of our background images to support creative work. Obviously at the start that was a smallish commitment to people we maybe knew and whose work we admired, but at the scale we are at now, we gave away one billion page impressions to creatives in 2016.
How did it come about? Was the thought just 'Well, we have all this dead space around the upload box, may as well use it for something nice/positive rather than branding?'
The founders of WeTransfer are both creative blokes and so it felt natural to them to use the platform to showcase and promote great creative work. Also, the service is used by a lot of people who work in the creative industries, so there was a great opportunity to use that big, full-screen canvas to show our users work that would interest and inspire them.
10 of WeTransfer's favourite wallpapers

Show all 10
How has the curation evolved? How do you go about sourcing art to feature?
When I joined the team in February 2016 we put some new structures in place to select the work. We have a team of four people who help select what you see on the site. Ideas come from stuff we see online and in magazines, recommendations from colleagues and other people we know. We have a 50/50 gender split of artists that we feature and we try and have someone from every continent represented in each three-week rotation. We are looking for work that is original, either in terms of the ideas underpinning it or the execution, and it has to be well-crafted (whether that's street art or illustration, animation or architecture).
We also now have a blog, This Works, where we tell the stories of the artists featured on the backgrounds.
So exactly how many people are you reaching with these wallpapers?
Every artist/project gets between 10 and 12 million page impressions in a three-week session. So every month we are giving away between 100 and 150 million page impressions. The numbers are pretty intense, and the wallpapers click-through to the artists' own sites. It's nice because we can really drive a lot of people towards someone's work.
I guess you now find yourself as one of the key art influencers online - more so than many blogs; that's pretty cool. Any particular success stories that have come out of artists featured through WeTransfer?
I always quite like it when we crash someone's site from sending so much traffic (as long as it gets sorted for the artist quickly of course!). Because we have such a diverse user base it's a great way for artists to get seen by people who may not have otherwise ever come across their work. We have heard stories of people getting commissions having been spotted on the site, and collaborations starting because of a wallpaper.
There's a really nice serendipity about the fact that you can be served something you would never have thought to look for, never imagined you'd have been interested in.
Are there any favourite artists/pieces you've featured?
I think we all have particular favourites – for me recently I loved Sarah Illenberger's painted flowers, Scott Listfield's astronaut paintings and Andrea Koporova's trippy photographs [all in the gallery above].
Recently we worked again with World Press Photo and we had a super-sassy panda courtesy of the brilliant Ami Vitale. And we've been experimenting with more timely, reactive images too. When Dick Bruna (the creator of Miffy) died recently, our creative director Laszlito Kovacs created a really nice tribute which we had running on the site within an hour of the news breaking.
Register for free to continue reading
Registration is a free and easy way to support our truly independent journalism
By registering, you will also enjoy limited access to Premium articles, exclusive newsletters, commenting, and virtual events with our leading journalists
Already have an account? sign in
Register for free to continue reading
Registration is a free and easy way to support our truly independent journalism
By registering, you will also enjoy limited access to Premium articles, exclusive newsletters, commenting, and virtual events with our leading journalists
Already have an account? sign in
Join our new commenting forum
Join thought-provoking conversations, follow other Independent readers and see their replies