Great Works: A Pair of Boots (Les Souliers), 1887 (33cm x 40.9cm), Vincent van Gogh
Baltimore Museum of Art
Michael Glover
Friday 27 January 2012 01:00 Comments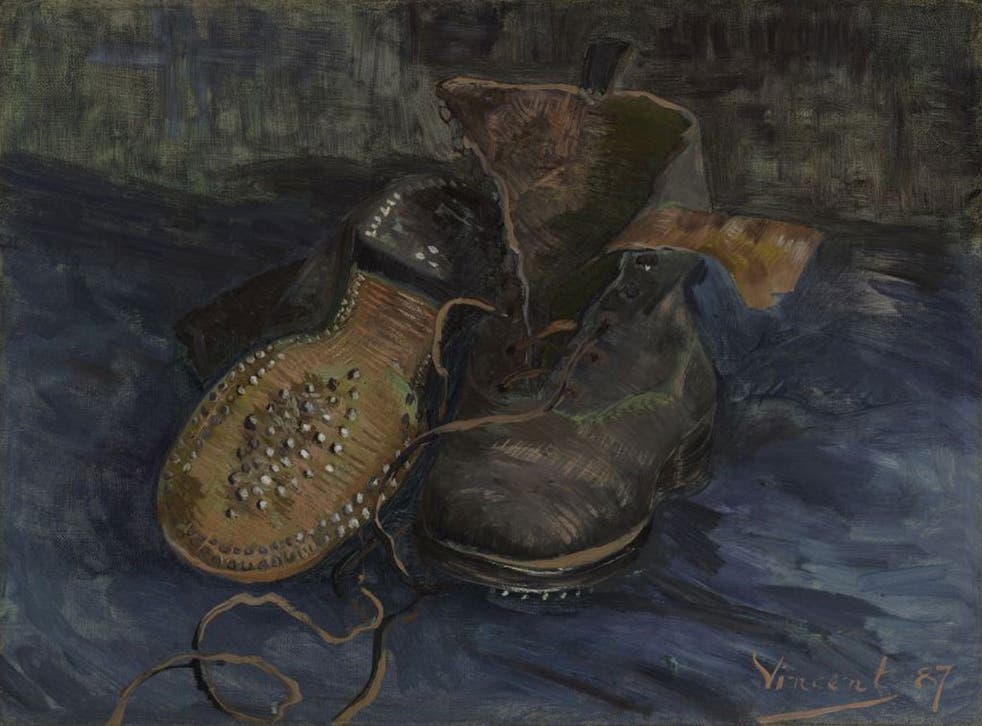 Enid Blyton, that writer adored by children and despised by the middle classes for her straitened vocabulary and unimaginative plots, once wrote a story called "The Brownie Biddle's Boots". It was read to me from a children's omnibus during the 1950s in Sheffield, when I lay a-bed at nights, and I always wanted it to be repeated again and again by my mother because, being an afflicted child of (presumably) imaginatively straitened, working-class parents, I found it imaginatively inexhaustible. It told the story of a pair of old boots that took matters into their own hands one day by going off on their own without a pair of legs to lead them. They were stout, wilful items of well used footwear that chose to please nothing but themselves, forever on the tramp, tramp, tramp. Yes, tramping was their game, on the road to the forever unpredictable excitements of nowhere in particular.
Temperamentally, those boots of Blyton's have something in common with Van Gogh's painting. Van Gogh too was rather fond of the imaginative possibilities of old boots, and he painted or drew them on a number of occasions. This one was done fairly early in his relatively short career as a painter, when he was living with his brother Theo in Rue Lepic, devouring subject matter of all kinds. You can tell that his eyes just could not get enough of these old boots, with their gleaming, tough-minded studs and riddling, near-dancing laces.
Sometimes a painting writhes and squirms before your very eyes, to such an extent that you feel almost uncomfortable in its presence. You find yourself protesting a little. You feel, in some rather ill-defined way, that it's not quite playing fair. Is not painting, you ask yourself, about reflection, slow meditation, gradual, painstaking appraisal – that sort of thing? Not here. There is nothing slow about this painting. It is hectic, impromptu, flung down. It almost stinks with the smell of the feet that it bade goodbye to perhaps just seconds before it became an object of that renegade Dutchman's delightful absorption. It is perfectly possible that Vincent himself had been the recent wearer of these boots – he is said to have bought at least one pair from a flea market in Paris.
You appeal for the painting to be still, to calm down a little, but it is not in the business of listening to your appeals. It is in the business of a kind of brutish, no-holds-barred presentation of itself. It is itself and nothing more. It is not schmoozing with art or elegance. It knows nothing about the embellishment of drawing rooms or the nature of refinement. It is a pair of recently squirmed-out-of boots, and that's all there is to be said about it. No wonder that Claribel Cone, when she bought the painting in 1927, wrote rather uncomfortably about her new acquisition to her sister Etta: 'I am not so pleased with my Van Gogh,' she confided to her sister from elegantly booted Lausanne – "it is so unlike his better (more forceful, more mad style perhaps). And the pair of shoes will not grace my livingroom with beauty – however – it is a Van Gogh – almost-certainly – Mr V. [Vallotton] says sans doutes..."
Oh dear! Claribel got what she bought – which was not a pair of shoes, for all her feigning. It was a pair of unlovely, working man's boots that Van Gogh painted during a year when he painted about one hundred other paintings too. He was getting into his stride as a painter. He was devouring subjects with his eye. This is such an act of devouring, this pouncing upon this pair of boots, voraciously, and laying them out (with just a hint perhaps in the direction of comedy) upon what looks like a piece of lovely blue fabric. What is a pair of battered old boots doing mingling with a piece of blue fabric? Would the fabric not recoil in horror? And there they sit, close to being animal in their atmosphere – see how bendy those uppers are, how they loll sideways so that we see the delicious ochre of their inside leather. We see so clearly how Vincent attacked them, feverishly, with his brush strokes, from all directions, across, up, down, sometimes wildly scrubbily. That fabric looks like a violent sea. These boots had miles to cover yet, and always so gracelessly.
ABOUT THE ARTIST
Vincent van Gogh (1853-1890) came, quite late on, to painting, and his mature work was done in an almighty rush over a period of about three years. The fact that his work almost always has an air of gasping, compulsive energy about it is explained by that very fact.
Register for free to continue reading
Registration is a free and easy way to support our truly independent journalism
By registering, you will also enjoy limited access to Premium articles, exclusive newsletters, commenting, and virtual events with our leading journalists
Already have an account? sign in
Join our new commenting forum
Join thought-provoking conversations, follow other Independent readers and see their replies