Great works: Backstage (2010-11) by Ryan Mosley
Alison Jacques Gallery, London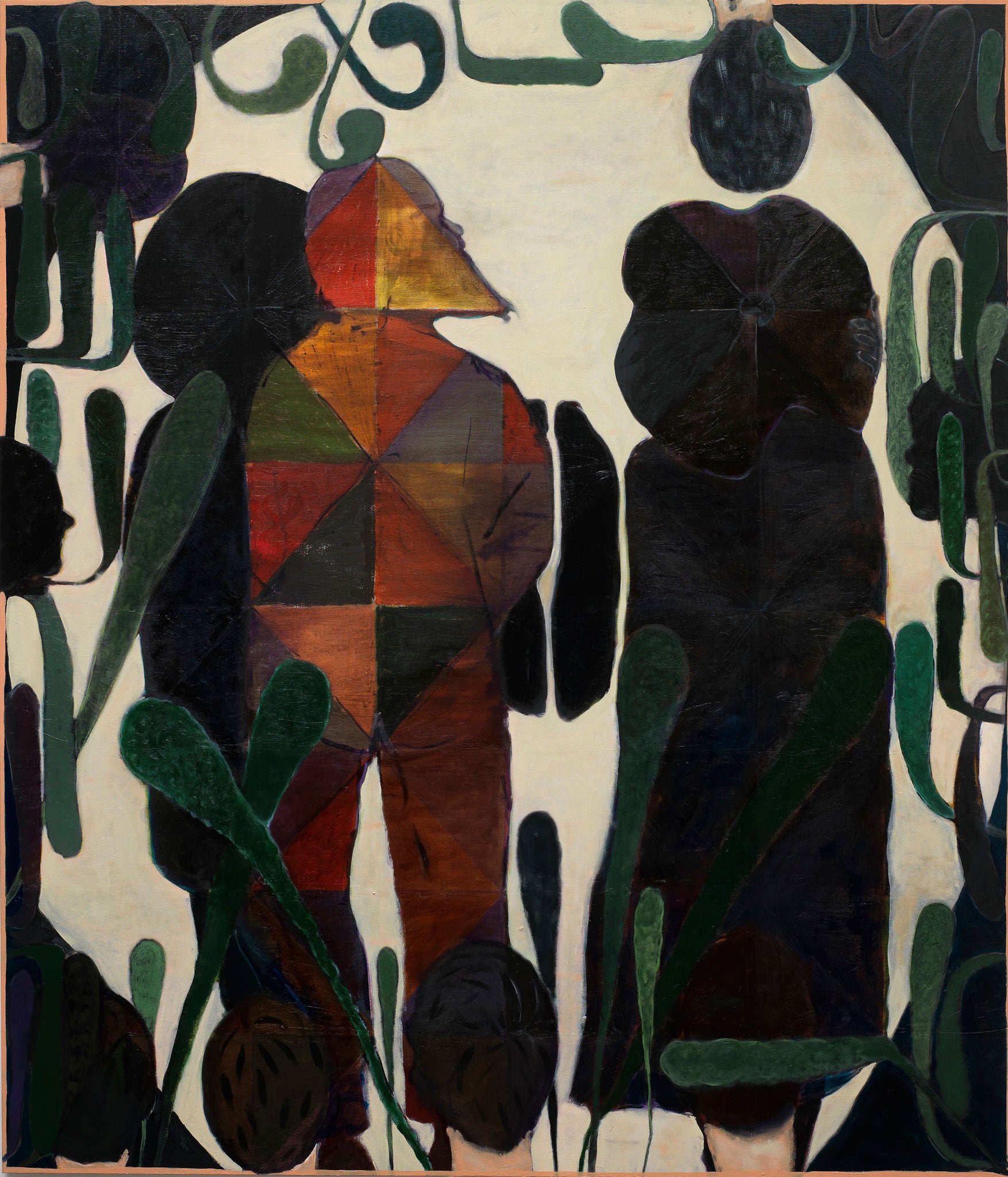 Good artists are often in a state of combat-readiness. They compete with each other for the world's attention, and they are in contention with much that has gone before. Poets, those scribes of an ancient craft who happen to possess a strong tendency to respect the traditional, fear the unsurpassable, unbeatable Shakespeare above all things else. With painters, it is the near present which is more inclined to breathe down their necks – provided, that is, that we are all prepared to agree that the present begins with the hallowed nativity of Pablo Picasso...
Yes, the ceaselessly inventive presence of Pablo Picasso mocks their imaginative shortcomings, and deftly points out new routes through the labyrinth. Ryan Mosley is one of the most inventive of the younger English painters at work today, and you can feel the ghostly presence of Picasso here, ceaselessly at work on one of his harlequinades perhaps, in Backstage.
Mosley is a fantasist, a maker of wild, irrational, dancing imagery, who seems to have learnt lessons from every modern movement. The idea of the artist as harlequin, clown among the clowns, has been with us for centuries, of course – think back to Watteau, Tiepolo and that grotesque face-puller Franz Xaver Messerschmidt.
This painting is about clowning too – look at that lovely patchwork glow of colour that adorns the torso and head of the birdman at its near centre – but it also manages to engage, often quite glancingly, with a whole pot pourri of preoccupations: the suspension of the idea of subject matter at all seems to be present in these hanging figures, which look like stock characters or prototypes of the human comedy, swinging in the void like a gaggle of wind chimes. Its delicate layering, flattened surface upon flattened surface, seems to suggest the art of collage, how imagery is hustled together and pressed into service from every conceivable source, printed, filmic or otherwise.
There is story-telling at work here too, but it is of a peculiarly arrested kind because many modern artists do not really know whether painting, as it is commonly practised these days, really allows them to tell stories or not. Isn't that what those drearily moralising Victorians used to do? And so what we have here is a hint of story. It is also a painting about the self-conscious art of the making of a painting. There is no question of seeing through it to a commonly recognisable world of illusion. Every brush stroke is a bold act of pictorial balancing.
In part, it looks like the props for a painting which is about to be staged on the canvas. Its making is a theatrical show. Those shadows are the performers themselves. We can never know what they will be doing on that stage because they exist in a kind of reversed shadow life. All we know is that they are playing to an audience in front of them, and that we are perhaps behind them. In fact, we may have staged the whole thing. Which means that we have been assigned the precarious role of the enabling artist. Such comedic japes as those.
About the artist: Ryan Mosley
Ryan Mosley was born in Chesterfield, Derbyshire, in 1980, studied drawing and painting at Huddersfield University, and then did an MA in painting at the Royal College of Art in London, where he currently lives and works. His passion for art was fed by his father, whose favourite occupation was redesigning the covers of his favourite long-playing records. Mosley's commitment to his subject is near insatiable. Even his one-year-old son is called Art.
Join our commenting forum
Join thought-provoking conversations, follow other Independent readers and see their replies