Great works: The Death of Marat, By Jacques-Louis David (1793)
Musées Royaux des Beaux-Arts de Belgique, Brussels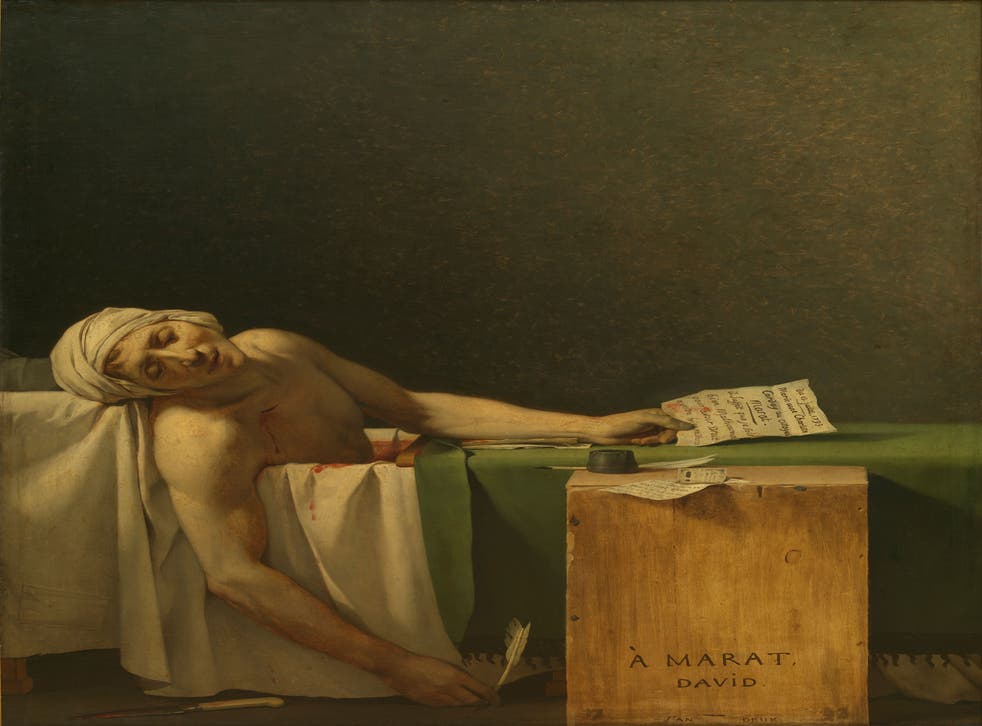 Revolutions are always such messy affairs – think of how Lenin strained every sinew to correct (or silence) turncoats, former friends... Here we are in the thick of another staging of brutal turmoil, four long years into the blood and factionalism of the French Revolution.
This painting, a species of partisan propaganda which is currently on display at Tate Liverpool, was executed by a man who could easily be denounced as a brilliant cynic. Having been elected to the National Convention as a Deputy, and then enthusiastically supported the guillotining of Louis XVI, David later accepted the role of Court Painter to a new Emperor, that sometime upstart from Corsica, and aggrandised him in a series of unforgettable paintings. But just for now, in the summer of 1793, Jacques-Louis David is a revolutionary zealot and friend to Robespierre.
Here we have the death of a secular martyr on our hands, a Swiss journalist and agitator by the name of Jean-Paul Marat. He was killed by a woman called Charlotte Corday – a fragment of her letter, to him, slightly bloodied, is held in the dying man's left hand. She too was a revolutionary – but the wrong sort.
She belonged to the Girondists and he to the Jacobins, and so, in her opinion, he had betrayed the spirit of the great cause, and the knife went in – you see it laid out, rather neatly, on the ground beside the tub, painted, smearily reddened, with such loving care.
Almost immediately, David, ever the man to seize the moment, saw in the death of his friend and fellow deputy an opportunity for political propaganda on a grand scale. The painting itself was hung in the assembly hall of the National Convention of Deputies. An engraving was made from it, images widely disseminated.
David did many paintings in the classical manner, investing figures from antiquity with vigorous new life. This is not one of those, and yet, curiously, this posed death feels classicising in its way. This is a scene of death in a hot tub – Marat was in the habit of taking regular baths to help with a skin complaint – but it could just as easily be a Roman sarcophagus wrapped, almost mummified, by Christo.
The dying man – can there be anything more helpless than a man naked in his bath? - lolls theatrically, blood streaming from his gaping chest wound. That wound sets our mind thinking about Marlowe's great line: See how Christ's blood streams from the Firmament... He is a veritable martyr to the cause. This could be a scene staged in a theatre against an austere, monochromatic backdrop.
That area of monochromatic uniformity, which consumes almost half of the canvas, brings to mind spiritual boundlessness. The fact that it is Marat, alone with his dying, ratchets up the religious intensity. A great journalist, sometime editor of a newspaper called L'Ami du Peuple, and charitable to the last in the cause of liberty, is being taken from among us.
See how his slumped right hand is still just capable of grasping his quill, which he has been using to give money to one of the needy – the note on the top of the signed crate, together with the cash, tell us that. That splintered crate, with its nails so visible, reminds us that he is a man of the people – this exemplary creature needs no mahogany writing desk!
It is a religious picture wholly lacking in overt religious iconography. The revolutionary impulse, death-dealing as ever, is religion enough.
About the artist
Jacques-Louis David (1748-1825)
Jacques-Louis David was born in Paris. He later studied in Italy. During the French Revolution, he was a member of the National Convention, and was responsible for feasts and public spectacles. He latter turned tail and became Court Painter to Napoleon. He died in Brussels.
Join our new commenting forum
Join thought-provoking conversations, follow other Independent readers and see their replies