Great works: Gassed (1919) by John Singer Sargent
Imperial War Museum, London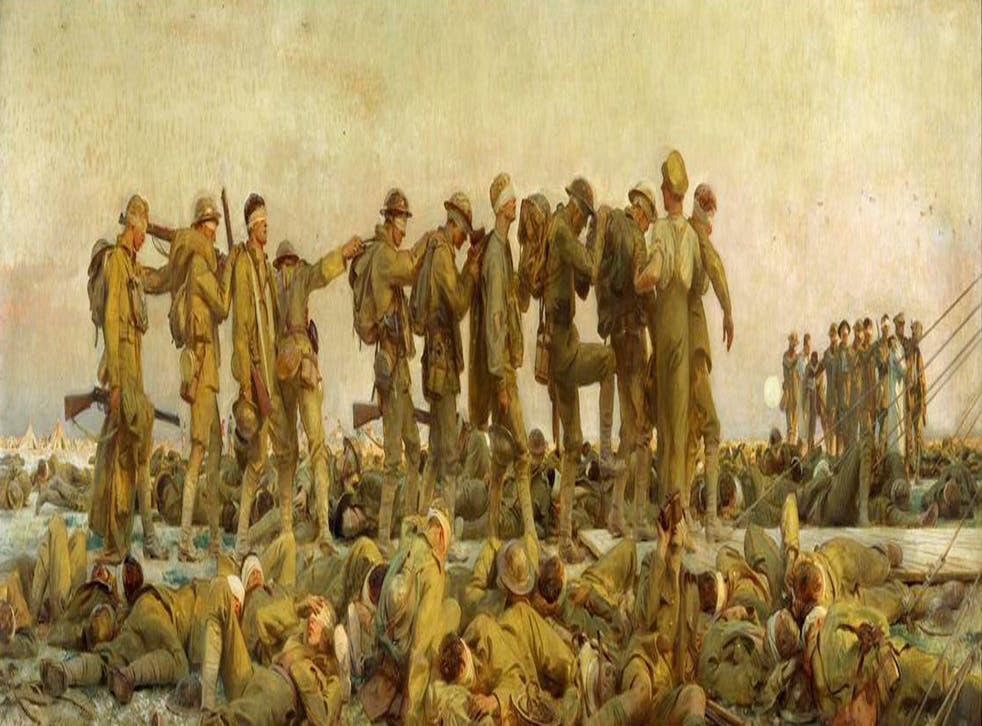 It is a curious processional of sorts, from left to right, solemn, grave, almost religious; pathetic, too, in the way that hands reach out to touch shoulders. The side-on view transforms it into something almost sculptural – a species of low-relief frieze from Hellenistic times, for example, which might be the enactment of some homage to a god. And yet the direction of travel is entirely directed by a medical orderly. Otherwise, it would be a vague forever-onwards blundering along a duckwalk to a neverland.
What shocks us almost more than anything else is the fact that it is John Singer Sargent who has made this work. It seems quite contrary to how we almost always think of him, that American master of the bravura brushstroke; that fashionable painter of drawing-room equipoise; that dealer in – and doler out of – easily persuasive flattery on the grand scale.
We never think of Sargent in the context of the depiction of human suffering. And yet the man was there, in the midst of war, at the age of 62. He had been sent there, to France, by the British Government to do justice to the sobering horrors of conflict, and, unsurprisingly he was in several minds about an appropriate subject at first because, well, this was not Sargent's habitual terrain, as we have already noted.
He witnessed the scene with his own eyes, the aftermath of this terrible gas attack. When it was done and displayed – it was nominated picture of the year by the Royal Academy – not everyone liked it. E M Forster thought it too heroic by half. Forster has missed the point, surely. It is indeed on a heroic scale, and its gigantism – including the fact that it is so much wider than it is high –adds a kind of plangent cinematic forcefulness to the scene, but its theme, all the same, is the brokenness, the helplessness of humanity in the face of barbarous devices. Terrible things are often slightly serio-comic too, and so it is here. This is a kind of strange perversion of blind's man's bluff, isn't it? And yet these bandages are for real. These men may never see again. They may not even survive at all.
They are being led, with their eyes swathed in lint, towards a treatment tent – see those guy ropes. There is more than one line of men. They are converging from several directions. And, meanwhile, other things are going on too. In the far distance, a game of football is being played. Back left, we can see tents. There is a hanging moon. The light is a strangely grainy mustardy yellow – with just a tint of rose – that suffuses everything. We can almost smell the air.
Heroism? That jumble of broken and helpless men that occupies the entire foreground of the painting, and continues behind the stepping men, makes that claim even less credible. All this is human flotsam and jetsam, done down by the nastiness of war. The soldiers have been felled, bludgeoned to the ground, by some hellishly new-fangled and treacherous poison that they are helpless to resist. No steely, cocksure weapon can save them from such as this. Some of these men have been set back up on their feet, frail, confused, awkward, and are being led away. One – the third from the front – looks like a high-stepping puppet. Perhaps he has just frightened himself by stumbling against that duckboard. Many are not so fortunate. They are not moving at all. This is Owen country: the pity of war.
When we think about paintings of the First World War, we often choose to batten down upon some of the more experimental works by Boccioni, Nevinson or Lewis, works that owe a debt to Cubism, Futurism, Vorticism. The very fact that these works belong among the achievements of the moderns lends them an atmosphere of excitable timeliness, as if up-to-the-minute art is proving that it can deal with the greatest of catastrophes. Art is keeping pace with the horrors of modernity. This painting by Sargent belongs to an older tradition of narrative realism. It claims kinship with the narrative paintings of a great Russian like Repin. It possesses a kind of trudgingly profound and monumental sobriety.
About the artist: John Singer Sargent (1856-1925)
John Singer Sargent was the scion of a couple of nomadic Americans. Before his birth, his father had practised as an eye surgeon in Philadelphia. John was born in Florence and, like his parents, spent his life on the move – Corfu, the Middle East, Florida... He trained with Carolus-Duran in Paris, and, well mannered and speaking perfect French, he soon became a society painter in great demand. Henry James found his precocious talent "unnerving".
Register for free to continue reading
Registration is a free and easy way to support our truly independent journalism
By registering, you will also enjoy limited access to Premium articles, exclusive newsletters, commenting, and virtual events with our leading journalists
Already have an account? sign in
Register for free to continue reading
Registration is a free and easy way to support our truly independent journalism
By registering, you will also enjoy limited access to Premium articles, exclusive newsletters, commenting, and virtual events with our leading journalists
Already have an account? sign in
Join our new commenting forum
Join thought-provoking conversations, follow other Independent readers and see their replies