Great Works: Madonna of the Long Neck, 1535-40 (219cm x 135cm), Parmigianino
Uffizi Gallery, Florence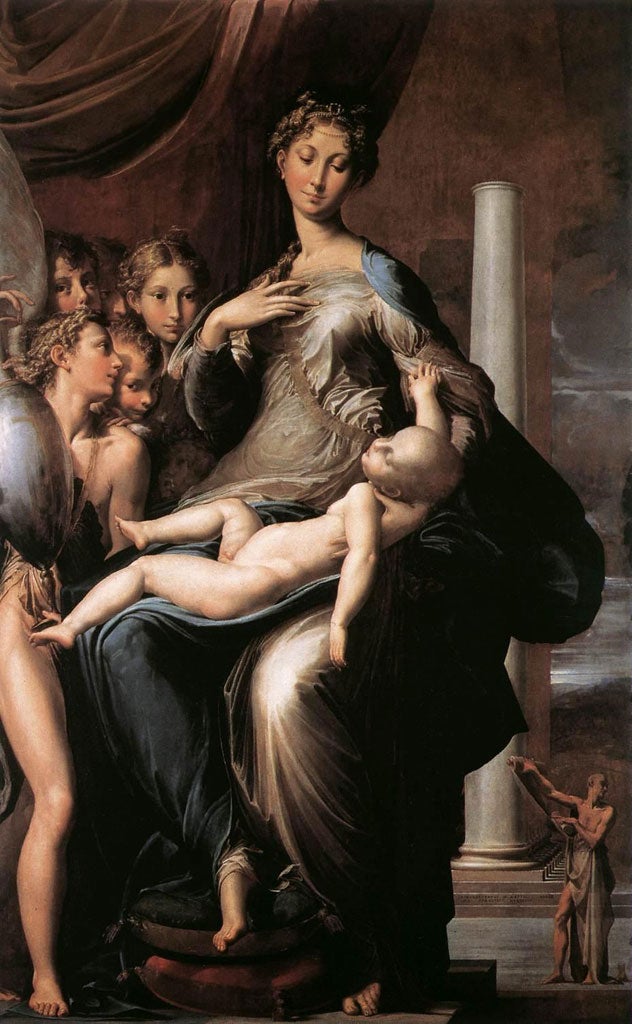 This late work is an unfinished painting. The very fact adds to its mystery, its interpretative possibilities. Had the baby been blessed with hair, for example, we might have thought of it slightly differently. Like Leonardo, Parmigianino found it quite difficult to finish a work, and especially in later life – such was his attention to detail, his level of perfectionism. There are umpteen drawings, staging posts (several of them highly worked) in the general direction of this work.
A single, full-length female figure has seldom seized hold and dominated a painting quite to this extent. When we stand in front of her hugely commanding presence at the Uffizi, it is almost as if she is slipping off the edge of whatever that is on which she is sitting (we never know exactly, do we, in spite of the fact that we can see so clearly those two tasselled, richly worked cushions that support her right leg) in order to make herself seem even closer to the onlooker. She wants to impress herself upon us, in all her monumental, courtly elegance. Those mighty spread legs. That extraordinarily long neck on top of which the head is poised, tilted, and given a slight downward twist, so that she can look, quite serenely, in the direction of the huge babe in her arms that lies so alarmingly, almost indecently, sprawled – the colour of its hairless head is almost spectral – across her lap. How her excessively long fingers do spider! The movement from top to bottom of her form makes for one single, slow, sinuous line. Her gorgeously meticulous coiffure – what an extraordinary fuss Parmigianino has made of that hair, with its loopings and criss-crossings of pearls – almost extends to the very top of the canvas. Her left foot, slightly drawn back, is within inches of its base.
And there she sits, more teetering on the edge than sitting perhaps, offering out to us her child, who sprawls and squirms out and down and across so far that he almost seems to be growing as we stare at his splendid, unbridled nakedness.
Can this really be a religious painting though? Of course. It was commissioned as an altarpiece. The fact is beyond doubt. But the characters in this scene seem as much secular as religious. Saint Jerome poses like a statue out of classical antiquity. The huddle of child-like angels, all pressing in from the right in such a teeming confusion of bodies, are almost too strikingly beautiful and apple-cheeked. The left-hand side of the painting is crowded with these keen observers, and each one is looking in a slightly different direction. The right of the painting, on the other hand, seem to luxuriate in the space available to it. By the time our eye has drifted down from the top of that single column, it has multiplied into an entire receding row of columns. Is Salvador Dalí in our midst?
ABOUT THE ARTIST
The Italian Mannerist painter Parmigianino (1503-40) was named after his birthplace of Parma, though very few of his paintings can be seen there. He is known best of all for his enthralling elongations and distortions of the human form. The most famous of all his works is 'Self-Portrait in a Convex Mirror', which is one of the most inscrutable portraits in the entire Western canon. That work gave its title to a long poem by the American poet John Ashbery, which is one of the key works of the second half of the 20th century. The best of his paintings merit hours of judicious study, and have spawned a wealth of interpretation.
Join our commenting forum
Join thought-provoking conversations, follow other Independent readers and see their replies