Martin Creed: Can an artist manage to remain angry in the landscaped beauty of Somerset?
The Turner Prize winner's new exhibition, which reflects his often angry reaction to politics, is set in the carefully manicured gallery Hauser and Wirth, in Somerset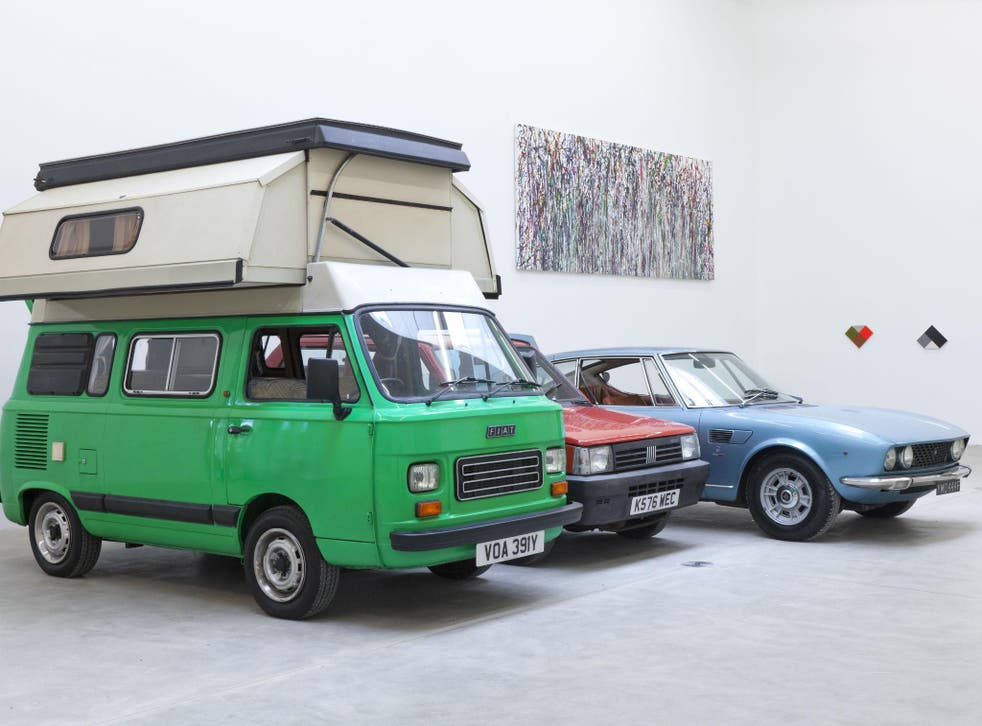 Martin Creed is probably best known for Work No. 227: The lights going on and off (2000), his entry in the Turner Prize 2001: a light bulb turning on and off in an otherwise empty gallery. There was outcry in the tabloid newspapers but he won against stiff competition. In 2008, Creed was in the Tate again with Work No 850 (he has been numbering his works since 1978). Every 30 seconds a runner sprinted through the gallery, with Creed's instruction to "run as though his life depended upon it". It was a fantastic idea creating that explosive moment amid the inert silence of the architecture. Accolades followed, along with a 2011 solo show in the Hayward Gallery and most recently this large show in Hauser and Wirth Somerset, to be followed shortly with a show in the Armory, New York City, concurrent with Work No. 2630: UNDERSTANDING, a neon installation by the Public Art Fund.
Creed was born in 1968 in Wakefield, moving to Glasgow when he was three; he studied at the Slade in London where he now lives and works. He has become a "hot" collectable artist, particularly his paintings, a medium he had previously eschewed but has recently returned to, introducing new conceptual constraints.
Iwan and Manuela Wirth who own the gallery as well as outposts in New York and Los Angeles were voted No 1 on the Power 100 (a list published annually by Art Review) eclipsing even Sir Nicholas Serota. Durslade Farm, their Somerset "campus", has attracted more than 200,000 visitors since its opening in 2014. It offers artists' residencies nearby and Creed has been working there for the past six weeks. Two new videos Work No. 2533 Border Control and Work No. 2530 Let Them In reflect his recent residency in Greece and engage with the topical issue of immigration and borders. Creed plays in a band that will soon release its second album. His unmistakable voice and deceptively simple lyrics reflect the intensity of subject matter. A more whimsical recent video shows Creed wearing his own assortment of clothes and styling his own hair in a variety of coifs while singing lyrics including "I'm a victim, I'm understanding". It may sound corny but it is surprisingly engaging.
The artist walks us around the exhibition explaining the rules of each work. Much contemporary art springs from Marcel Duchamp, whose adage was anything could be art, yet later proponents Bruce Nauman and John Cage are Creed's biggest influences. Creed tells us he is increasingly interested in paintings, seeing them as actions that allow the accident of making. There are several Jackson Pollock-like works that are created by throwing paint at the canvas, either forward or over his shoulder. On the window are smeary paintings and there is a large Perspex work illustrating Creed's recent fascination with transparency, and bringing the world into his work. There is a series of portraits of figures chosen, he tells me, almost at random by his hosts at various residencies and then related to him by an intermediary (he does not see the image) Work No. 2228 Portrait of Maria Callas and Work No. 2273 Portrait of Demis Roussos are engaging thickly painted cartoons.
Culture news in pictures

Show all 33
There are also piles of rubbish from Creed's hallway, carefully placed near the stacks of prosaic objects that create his more formal sculptures. There is Work No. 2698 a bunch of old flowers that Creed had "kicking around" coupled with a clothes hanger and a bottle top nestling in the bouquet under a vitrine; Work No 2693 a series of three cars that Creed has owned, with paintings in the boot. "a bit like a car boot sale". In Work No. 2694, a set of speakers projects the artist's often angry reactions to politics: "fuck" echoes around the polite galleries. Outside, Work No. 2708, a tree bedecked with the plastic bags (from under his fridge) sits near a menacing Louise Bourgeois spider among the beautiful landscape designed by Dutch master, Piet Oudolf.
Creed is everything that an artist should be. He is nervous, edgy and, while good at explaining the works, obviously not comfortable about doing so in front of an adoring audience. He speaks of the "difficulty of making things and then keeping them alive", continuing to say that "control is killing things off". The works themselves are totally under control by their various rules.
Creed is not a strict self editor; every work is given a number, many of which might well be lost in the mist of time. Creed's beautiful permanent commission for Edinburgh Scotsman Steps (Work No 1059), in which every riser is a different kind of marble, or the claustrophobic Work No 268, which filled exactly half the room with white balloons, or his lift work realised in Edinburgh's Fruitmarket gallery where in the space of lifting a floor a single note rises in crescendo.
I was recently told that this will be the future for seeing art: private foundations and carefully manicured galleries. Can an artist manage to remain angry in the landscaped beauty of Somerset? The gallery is free after all, bar what you spend on food or workshops and events. These exhibitions are often more interesting than what the public spaces are doing, so why do I feel uneasy? Creed says: "I treat all space as the same. I want to get real in the art and not go up my own arse with my work". He has fought against the gentrification and has won. Perhaps Creed's last laugh and confirmation of his status as angry artist was on us, eschewing the lunchtime hospitality to hang out with his band.
Martin Creed: What You Find, Hauser & Wirth Somerset, until 11 September, hauserwirthsomerset.com
Join our new commenting forum
Join thought-provoking conversations, follow other Independent readers and see their replies